SkiWelt Austria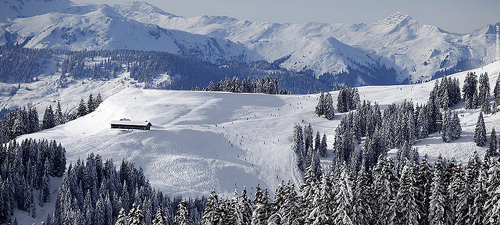 Two hours from Salzburg airport, the SkiWelt skiing area is one of Austria's largest linked ski areas. Ski Welt offers eight villages in the area, with the lively Söll, and more traditional Hopfgarten probably best known to British tourists.
Stats for the SkiWelt are impressive: 91 lifts connect 121 slopes, 4 snow parks, and 30km of cross country skiing. There's a small number of challenging black runs for expert skiers, but Ski Welt is more a paradise for beginners and intermediates. Söll is the place to find nursery slopes and excellent ski schools, while Hopfgarten has some of the best runs in Ski Welt.
Visiting SkiWelt
Ski Welt runs events throughout the season, including super ski weeks, which offer discounts on accommodation, equipment hire, and lift passes. There are also ladies days, and the popular 'Jump and Freeze'. This is an event that attracts thousands, who love to watch people jump on snowboards into 20,000 litres of ice cold water.
Comfortable hotels, guesthouses, and restaurants are located at varying distances to the ski lifts, but there are good bus links for those that are further away. The Ski Welt season runs from December to April, and even when the snow starts to thin out in spring, there are plenty of snow making facilities.
All in all there is everything you need for a great ski holiday, so what are you waiting for ? This season try any one of the fantastic resorts in this ski region.
Resort Name
Low Altitude
High Altitude
Vertical Drop
Longest Run
Beginner
Easy
Intermediate
Advanced/Expert
Skiing
Boarding
Après
Families
Overall
Brixen im Thale
800 m
1830 m
1030 m
6.0 km
0
18
2
0
Salzburg

(1h 21m)

Innsbruck

(0h 55m)

Munich

(1h 39m)

Ellmau
820 m
1550 m
730 m
6.0 km
0
10
9
1
Salzburg

(0h 55m)

Klagenfurt

(1h 44m)

Ljubljana

(2h 21m)

Going
800 m
1267 m
467 m
6.0 km
0
10
9
1
Salzburg

(1h 9m)

Innsbruck

(0h 57m)

Munich

(1h 34m)

Hopfgarten
622 m
1829 m
1207 m
7.0 km
0
14
15
1
Innsbruck

(0h 54m)

Salzburg

(1h 24m)

Munich

(1h 37m)

Itter
700 m
1830 m
1130 m
7.0 km
323
265
30
Innsbruck

(0h 45m)

Salzburg

(1h 15m)

Munich

(1h 29m)

Kelchsau
820 m
1660 m
840 m
3.0 km
0
6
5
1
Innsbruck

(0h 58m)

Salzburg

(1h 28m)

Munich

(1h 42m)

Kirchberg in Tirol
837 m
2000 m
1163 m
0.0
0
5
7
2
Salzburg

(1h 17m)

Innsbruck

(0h 59m)

Munich

(1h 43m)

Scheffau
781 m
1673 m
892 m
4.0 km
0
14
15
1
Salzburg

(1h 14m)

Innsbruck

(0h 50m)

Munich

(1h 27m)

Söll
622 m
1957 m
1335 m
8.0 km
0
6
6
1
Innsbruck

(0h 46m)

Salzburg

(1h 14m)

Munich

(1h 28m)

Westendorf
800 m
1865 m
1065 m
8.0 km
0
10
10
1
Innsbruck

(0h 55m)

Salzburg

(1h 25m)

Munich

(1h 39m)