Ski Les Trois Vallées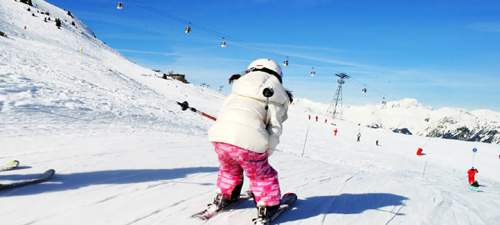 Some have argued that Les 3 Vallées or The Three Valleys ski area and skiing region is one of the finest in the world and it undoubtedly lives up to its reputation. The area is vast, covering some 600km of pistes and 8 resorts.
With 8 resorts and others linking into the Les 3 Vallées ski area, you can ski up on the Val Thorens glaciers down to around 600m at Brides Les Bains. An amazing ski area that's a favourite for many Brits.
Visiting Les 3 Vallées
Within Les 3 Vallées the Meribel/Mottaret area is a great place to start for beginners, with an English speaking ski school and many gentle slopes to practice on. There are other easy slopes close to accommodation in Val Thorens, Courchevel, and Les Menuires. There is a great choice of runs throughout the Three Valleys for intermediate skiers and easy access means it's possible to ski a different area every day.
In the Les Trois Vallées expert skiers are also in for a treat, as there are some steep and challenging black runs here and 155m of cross country skiing. Along with some excellent skiing, visitors will find fun parks across the Three Valleys for snowboarding that will keep boarders of all ability levels entertained.
Nightlife and accommodation varies throughout the villages that make up the Three Valleys area. Courchevel has an air of exclusivity surrounding its hotels and restaurants, Meribel and Van Thorens are known for their lively nightlife, and Brides Les Bains has reasonably priced hotels. Apart from enjoying the apres ski scene, visitors can also take part in interesting activities such as go karting on ice and hang-gliding. Flights from the UK tend to fly into Geneva and onward transfers will take 3 to 4 hours.
The Three Valleys is a world class ski resort that sees many skiers and boarders return time after time; the question is will you be one of them?
Resort Name
Low Altitude
High Altitude
Vertical Drop
Longest Run
Beginner
Easy
Intermediate
Advanced/Expert
Skiing
Boarding
Après
Families
Overall
Brides Les Bains
600 m
3200 m
2600 m
9.0 km
11
33
21
9
Chambery

(1h 34m)

Geneva

(2h 8m)

Grenoble

(2h 20m)

Courchevel 1300 le Praz
1300 m
3200 m
1900 m
5.0 km
19
35
34
8
Chambery

(1h 28m)

Grenoble

(2h 14m)

Sion

(2h 55m)

Courchevel 1550
1300 m
3200 m
1900 m
8.0 km
19
35
34
8
Chambery

(1h 41m)

Grenoble

(2h 27m)

Lyon

(2h 28m)

Courchevel 1650
1300 m
3230 m
1930 m
8.0 km
19
35
34
8
Chambery

(1h 33m)

Grenoble

(2h 19m)

Lyon

(2h 20m)

Courchevel 1850
1300 m
3230 m
1930 m
8.0 km
19
35
34
8
Chambery

(1h 39m)

Grenoble

(2h 25m)

Lyon

(2h 26m)

La Tania
1450 m
3200 m
1750 m
8.0 km
15
31
35
12
Chambery

(1h 27m)

Grenoble

(2h 13m)

Lyon

(2h 14m)

Les Menuires
1800 m
2850 m
1050 m
3.0 km
12
37
24
6
Chambery

(1h 34m)

Turin

(2h 50m)

Geneva

(2h 23m)

Meribel
1100 m
2950 m
1850 m
5.0 km
6
30
25
7
Chambery

(1h 39m)

Grenoble

(2h 24m)

Lyon

(2h 25m)

Mottaret
1450 m
3200 m
1750 m
4.0 km
3
9
12
2
Chambery

(1h 32m)

Grenoble

(2h 18m)

Lyon

(2h 18m)

St Martin de Belleville
1450 m
3200 m
1750 m
3.0 km
12
37
24
6
Chambery

(1h 23m)

Turin

(2h 33m)

Geneva

(2h 10m)

Val Thorens
1800 m
3230 m
1430 m
12.0 km
11
30
31
8
Chambery

(1h 56m)

Geneva

(2h 38m)

Grenoble

(2h 42m)