Ski Kitzbüheler Skizirkus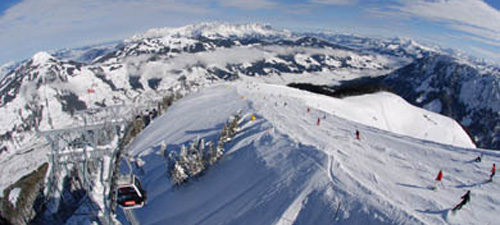 There are two sides of the valley where one can ski in Kitzbuhel, these link to the very large ski area called the Kitzbuheler Alpen ski area and the Westendorf Ski Welt ski region. One of the most demanding ski races of the year takes place at the Hahnenkamm downhill race. Kitzbuhel skiing is generally not too difficult and is just right for intermediate skiers.New lifts in operation which link Kitzbuhel - Westendorf - Brixen allow skiers to cover large distances all in a single day.
The ski resorts
The ski resort located in Kitzbuhel is directly accessible to ski areas which have 30 ski lifts, 70 individual pistes and 157 km of downhill skiing. With 780 snow cannons the natural snow pack is able to be augmented very well and can accommodate up to 76,230 snowboarders or skiers in an hour on the 30 ski lifts available.
Getting to Kitsbuhel
There are three airports within a two hour drive. It is therefore perfectly easy to plan a weekend ski break in this ski area.
Kitzbühel ski adventures
Serious skiers like to visit this area. On the famous Hahnemkamm run, speeds of up to 140 mph have been reached on the 3200m long run. Every season brings tourists and skiers to the area in the numbers of 50,000 and upwards to take in the skiing and special events. There are several other runs in the area for those that are not up to that particularly challenging run.
Neighbouring resorts in the area
With 160 km of lift interlinked runs between the ski resorts of the area, there are more than 60 lifts that operate between the resorts of Aurach, Aschau, Jochberg, Kirchberg, Kitzbühel, and Mittersill and Pass Thurn. There is even a 35 km long route that one can take a ski safari on. On this route you will find animal marked symbols and a specialized tour office provided guide. Also here is perhaps the world's most beautiful gondola which takes travelers up the mountain at an altitude of 400 m above the valley floor. Recently added to the area is the Ki-West gondola which makes for more than 400km of piste to access. Connections are made by bus in some of the locations.
The Kitzbüheler Alpen Ski Pass
This pass allows for skiers and boarders to take in more than 700km of ski trails which are serviced by more than 260 lifts. There are also five ski schools operating in the area including the famous Rote Teufel School or 'Red Devils'.
Aprés Ski entertainment at Kitzbühel
Kitzbühel has a very lively nightlife which it is well known for. There are many restaurants, bars and discotheques to choose from such as the Londoner on Franz Reisch Strasse. A casino offers live music in the lobby after 9pm and is open every day and other activities include the cinema, sled rides, ice skating, bowling and tobogganing.