Ski resorts in British Columbia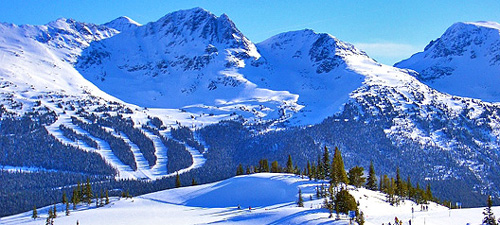 The ski resorts in British Columbia are famous for having reliable powder snow. In fact the resort of Fernie gets such an abundance of snow that it boasts about having no artificial snowmaking facilities.Situated between the Pacific Ocean and the Rockies, British Columbia skiing holidays are part of Canada's most diverse province, an unspoilt wilderness that can be explored from all of the ski resorts in British Columbia.
Away from the slopes, ski holidays in British Columbia offer the chance to try other activities, such as hiking, fishing and snowmobiling. If you are feeling adventurous, heli-skiing is very popular. When you want to wind down, the bars and restaurants are excellent, with everything from family orientated restaurants to sushi bars and nightclubs.
Visiting British Columbia
British Columbia ski resorts have something for everyone. Beginners, including children, have access to excellent ski schools and gentle slopes. Other resorts, like Whistler, are famous for having challenging terrain.
There are ski and snowboard resorts in all six tourism regions. Some British Columbia ski resorts, such as Whistler and Sun Peaks, are well known. But it's also worth checking out some of the smaller resorts, particularly if you want a more laidback holiday. Ski safaris that take in several resorts are also very popular.
The accommodation and service is top quality, whether you choose to stay in a hotel or self-catering apartment. British Columbia is also famous for its backcountry lodges, which range from fairly basic to very luxurious with all mod cons.
Resort Name
Low Altitude
High Altitude
Vertical Drop
Longest Run
Easy
Intermediate
Advanced
Expert/Extreme
Skiing
Boarding
Après
Families
Overall
Big White
1542 m
2319 m
777 m
7.0 km
21
64
26
7
Fernie
1068 m
1925 m
857 m
5.0 km
43
57
35
7
Grouse Mountain
274 m
1250 m
976 m
1.0 km
3
15
6
2
Vancouver

(1h 8m)

Kicking Horse
1190 m
2450 m
1260 m
10.0 km
26
26
58
19
Calgary

(3h 56m)

Kimberley
1230 m
1982 m
752 m
6.0 km
14
28
26
Mount Washington
1110 m
1590 m
480 m
2.0 km
13
23
23
6
Vancouver

(5h 9m)

Panorama
1155 m
2380 m
1225 m
5.0 km
24
66
0
30
Red Mountain
1185 m
2072 m
887 m
7.0 km
14
35
19
20
Revelstoke
782 m
2225 m
1443 m
15.0 km
4
24
26
0
Silver Star
1155 m
1915 m
760 m
8.0 km
17
46
40
12
Sun Peaks
1255 m
2152 m
897 m
8.0 km
12
72
0
40
Whistler Blackcomb
675 m
2284 m
1609 m
11.0 km
30
110
30
30
Vancouver

(2h 19m)
Other Ski Areas in Canada