Ski Amadé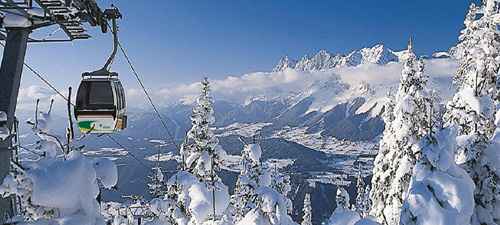 Why not ski Amadé in Austria to get Austrian skiing and snowboarding at its biggest and best. Located close to Salzburg, ski Amadé is in fact named after the cities most famous son, Wolfgang Amadeus Mozart. There are a massive 360 slopes and 270 lifts covering five regions, and over 800 km of skiing.
One holiday wouldn't be enough to experience all this ski area has to offer, but it will certainly give you an amazing ski experience, however much you manage to pack in. The five ski areas/regions within ski Amadé are Salzburger Sportwelt, Schladming-Dachstein, Gastein, Grossarltal and Hochkönig, and they boast hundreds of ski runs between them. They are all linked by ski buses, so you can explore several areas during your trip.
Visiting Ski Amadé
Whichever ski region and ski resort you do decide to visit, you will find a vast choice of runs to suit all levels. There are many nursery runs located next to the lifts, while the lift system itself is state of the art, and will transport you and your party up into the mountains with ease. For the snowboarders among you, there's also the choice of five snow and terrain parks.
Not only is Ski Amadé known for its winter sports, but it's one of the easiest ski areas to reach from the UK too. Cheap flights run from many UK airports to Salzburg, and transfers from there to the ski area, take under an hour. Some of the best skiers and snowboarders in the world have made the Ötztal Valley their home; why don't you follow in their footsteps?
Resort Name
Low Altitude
High Altitude
Vertical Drop
Longest Run
Beginner
Easy
Intermediate
Advanced/Expert
Skiing
Boarding
Après
Families
Overall
Alpendorf
800 m
1956 m
1156 m
5.0 km
0
16
3
0
Salzburg

(0h 45m)

Klagenfurt

(1h 52m)

Ljubljana

(2h 30m)

Bad Gastein
1590 m
2650 m
1060 m
8.0 km
0
9
25
4
Salzburg

(1h 16m)

Klagenfurt

(2h 37m)

Ljubljana

(3h 9m)

Bad Hofgastein
840 m
2650 m
1810 m
8.0 km
0
9
25
4
Salzburg

(1h 15m)

Klagenfurt

(2h 4m)

Ljubljana

(3h 15m)

Flachau
930 m
1990 m
1060 m
6.0 km
0
23
30
2
Salzburg

(0h 44m)

Klagenfurt

(1h 32m)

Ljubljana

(2h 8m)

Maria Alm
802 m
1900 m
1098 m
6.0 km
0
10
16
4
Salzburg

(1h 3m)

Innsbruck

(1h 51m)

Munich

(2h 25m)

Ramsau am Dachstein
1100 m
2700 m
1600 m
7.0 km
0
9
8
0
Salzburg

(1h 3m)

Klagenfurt

(1h 55m)

Ljubljana

(2h 30m)

Schladming
745 m
2015 m
1270 m
7.0 km
0
6
18
1
Salzburg

(1h 0m)

Klagenfurt

(1h 52m)

Ljubljana

(2h 28m)

Sportgastein
1585 m
2686 m
1101 m
3.0 km
0
1
5
2
Salzburg

(1h 27m)

Klagenfurt

(2h 2m)

Ljubljana

(3h 13m)

St Johann im Pongau
690 m
1128 m
438 m
5.0 km
0
3
5
0
Salzburg

(0h 41m)

Klagenfurt

(1h 53m)

Ljubljana

(2h 25m)

Wagrain
850 m
2000 m
1150 m
5.0 km
0
13
14
2
Salzburg

(0h 51m)

Klagenfurt

(1h 57m)

Ljubljana

(2h 32m)