Whistler Blackcomb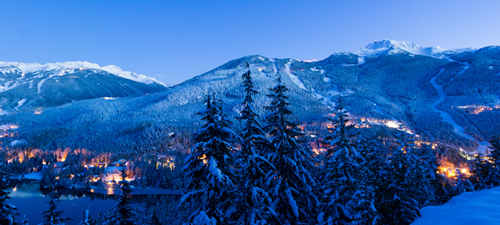 Whistler Blackcomb is the biggest skiing and snowboarding area in North America and the largest vertical descent in Canada! There is terrain for everyone, including awesome off-piste riding. This ski resort was the focus for the 2010 Winter Olympics! Read our guide for all you need to know.

Where
Whistler Blackcomb has been voted the number one ski resort in North America by a number of well known publications and organisations. You can ski Whistler after your short transfer from Vancouver airport - which puts it heads above other resorts that have a 5 hour transfer on arrival. This makes it easily accessible for Europeans and Japanese - who flock here in their thousands each season. The Whistler ski resort is perfect for skiers, boarders and the whole family and offers a long ski season.
resort ESSENTIALS
| | |
| --- | --- |
| RESORT ALTITUDE : | 675 m |
| TOTAL PISTE : | 300 km |
| LONGEST RUN : | 11.0 km |
| SEASON : | November - May |
WE LIKE
North America's biggest, both in area and vertical (1610m/5,280ft). Good choice of accommodation, bars and restaurants. Good ski schools.
Good slopes for most abilities, with an unrivalled combination of high open bowls, woodland trails and open powder fields.
Good snow record - great in fact with over 10m of snow including lots of powder!
WE DON'T LIKE
Proximity to the ocean means a lot of cloudy weather and snow on the mountain can mean rain lower down.
Can get busy on the slopes particularly at weekends with visitors from nearb Vancouver.
Unfortunately it is a bit pricey - especially if the exchange rate is not in your favour. Mountain restaurants are also not brilliant.
SUITABILITY RATINGS 1-5
On the Slopes
Over 8000 acres of mountains make ski holidays in Whistler Blackcomb, memorable, fun, varied and exhausting! In essence you have free reign over 2 mountains - Whistler and Blackcomb - even more so now that the Peak to Peak gondola can switch you between the mountains. There is on average over 10 metres of good quality snowfall every year and with good ski conditions usually from mid November through to May. This world class resort offers slopes for all levels of skiers and snowboarders - so no one will come away unfulfilled - including five terrain parks and a number of half-pipes, jumps and rails elsewhere. You also get summer skiing up on the glacier!
Ski Area
If you ski Whistler Blackcomb you are in the ski area of British Columbia .
Off the Slopes
The cosmopolitan atmosphere of the Whistler ski resort exudes vibrancy and excitement at every turn. The village at the base of either mountain offers great bars, restaurants and night life. For families there are excellent nursery slopes and ski schools too. For non-skiers there's a sports centre, pool. hot tubs and paragliding. There's also a trip to Vancouver only 2 hours away.
Who's It Best For?
The slopes here suit all abilities, it offers an unrivalled mix of open bowls, woodland trails and powder fields.
Skiers and boarders flock here for one main thing, the amazing snow. If you get tired of chasing the snow around Europe, then maybe you should consider the extra travel and come here.
Book Whistler ski holidays now for some great deals on ski packages as well as making sure you get availability. GoSki.co.uk has access to all leading tour operators for skiing and snowboarding holidays in Whistler. Alternatively, you may simply want advice on accommodation, if so check out our accommodation listings and book direct with the owners.
Why Choose Whistler in Canada?
1. Amazing powder, in fact over 10m of snow falls here.
2. Great mix of skiing and boarding with open bowls, woodland trails and powder fields.
3. Good accommodation, bars and restaurants.
4. Great ski schools.
Is Whistler Right For You?
If you are sure that Whistler is right for you then check out the holidays and accommodation we have available.No time to sort your own holidays out? Why not let our Whistler tailormade ski holidays service help you - it costs you nothing and you can let us do all the legwork.
Whistler offers an amazing range of accommodation including 5* luxury hotels to self catered apartments(referred to as condominiums). There are some chalet companies here but the majority of the accommodation is hotels and apartments.
There are four very distinct areas to Whistler;Whistler Village, Upper Village, Village North and Creekside. It's worth looking very closely at what you want from your accommodation to ensure that you end up in the right part of town.
Areas of Whistler
Whistler Village offers a good choice for hotels and is also where lots of the action is with regard to restaurants and bars. The Upper Village is the place to head for the small amount of ski in ski out accommodation that is available here. Villagennorth has some good apartments but there is no access to the chairlifts from here. Creekside is the quietest area but is a 15 minute drive from Whistler Village.
If you are looking for a chalet there are a number of ski chalet companies operating here. They include Oxford Ski Company who have a number of chalets here sleeping between 12 and 18 people. Platinum Whistler also have luxury chalets, two of which can be connected to sleep up to 27 people.
The accommodation in Whistler ranges from luxury hotels to self catered apartments(known as condominiums). There are a number of UK chalet companies here but the majority of the accommodation is hotels and apartments.
There are 4 distinct area to Whistler so it is good to consider what you want first so you end up in the best part of town for your needs. There are 4 very distinct areas-Whistle Village, Upper Village, Village North and Creekside.
Accommodation Areas of Whistler
Whistle Village has some great hotels in it and for those looking for apartment style accommodation it has the famous Westlin resort and Spa, this has twice been named by Conde Nast as the number one resort hotel in North America. They offer great suites with kitchen facilities.
Upper Village is where you will find some of the high end hotels and the only ski in ski out hotels in Whistler are here. Village North is good for apartments but the main downside of being here is that you have no access to the chairlifts, you will have a walk of 5 minutes to get to the main base. And finally, if you want a bit of peace and quiet head for Creekside, about 15 minutes away from Whistler Village.
Accommodation in Whistler is really centred on hotels and apartments, known as condominiums. There are some chalet companies here but this is a great resort if its a hotel you are looking for.
There are 4 distinct areas of Whistler and its important to choose carefully where you want to stay so that you don't end up in the wrong part of town. You can choose from Whistler Village, Upper Village, Village North and finally Creekside.
Hotels in Whistler
Whistler Village is really where it all happens here and you will find a good section of hotels including the famous Westline Resort & Spa. If you want a ski in ski out hotel then head to the Upper Village. Here you will also find some of the high end 5* hotels in Whistler.
If you want a bit more peace and quiet head to Creekside. You are 15 minutes from Whistler Village but there is a shuttle bus and you have a gondola here. Village North is popular with families but you have no chair lift here.
Whistler is to be found on Canadas west coast just 145km north of Vancouver. As such Vancouver is the nearest International airport, only 115 km away. The drive is then about 2 hours 30 minutes by road. Another airport to consider is Seattle which is 340km away, and will take you 4 hours and 30 minutes in transfer time.
Transferring from Vancouver
There is a train you can catch called the Whistler Mountaineer which takes 3 hours from the airport to the resort. It is more expensive than driving but the views are amazing.
There is also a bus you can catch from the airport called the Perimeters Whistler Express which runs a daily scheduled shuttle service. It does offer several drop offs to key hotels along the way. They will offer private charters.
Other buses also operate from Vancouver to Whistler. These include the Snowbus and also Greyhound Canada run buses to Whistler from Pacific Central Station in Vancouver. Failing all of that you could always get a taxi or even a luxury limo and arrive in style!
Compare Whistler Blackcomb ski schools and then book or reserve your ski and snowboard lessons before you arrive in resort! Reserve your spaces in group or private lessons in Whistler Blackcomb so saving yourself a lot of hassles!
Ski Schools in Whistler Blackcomb
Whether you want to have ski lessons or snowboard lessons, most Whistler Blackcomb ski schools offer a wide range of options including half day lessons, private or group lessons. Use GoSki.co.uk to find out more.