Ski resorts in Colorado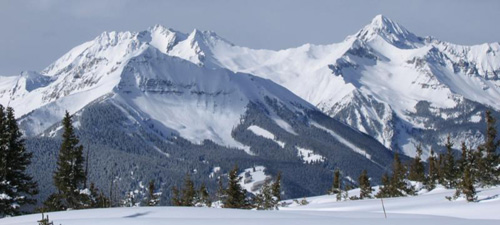 Set amid the Rocky Mountains, ski resorts in Colorado are frequented by skiers and snowboarders from around the world. As the highest-altitude state in the USA the snow is very reliable.By booking your Colorado skiing holiday with us, you will find well maintained pistes with the modern and efficient lift systems you'd expect from an American resort.
The tourist industry and ski resorts in Colorado have been steadily growing, thanks to the state's magnificent landscape and an average of 300 sunny days a year. Ski holidays in Colorado let you explore the mountains, large park areas and numerous lakes and enjoy a variety of outdoor activities. When you want to relax, there are some great health spas at natural mineral springs.
Visiting Colorado
The ski resorts in Colorado are perfect for skiers and snowboarders of all levels. Many of the mountain towns are very lively, with a variety of restaurants and bars. However, some Colorado skiing holidays do offer the chance for a more laidback holiday with excellent off-piste facilities.
Colorado is very proud of its history, so would appeal to anyone wanting to combine skiing with visits to museums, art galleries and other cultural sites.
Colorado has 26 main skiing regions, the most famous being around Aspen, a destination for the rich and famous. Many Colorado ski resorts, such as Winter Park, are also very family-friendly.
Ski accommodation is in hotels, apartments, condos and traditional chalets, which are generally spacious and immaculate. If you are travelling with children, you may want to check out resorts that have accommodation very near the slopes, such as Vail and Winter Park.
Resort Name
Low Altitude
High Altitude
Vertical Drop
Longest Run
Easy
Intermediate
Advanced
Expert/Extreme
Skiing
Boarding
Après
Families
Overall
Aspen
2470 m
3813 m
1343 m
9.0 km
42
132
67
91
Eagle County

(1h 51m)

Denver

(2h 37m)

Beaver Creek
2255 m
3488 m
1233 m
4.0 km
28
64
31
26
Eagle County

(0h 35m)

Denver

(2h 13m)

Breckenridge
2926 m
3963 m
1037 m
6.0 km
22
48
29
56
Eagle County

(1h 20m)

Denver

(3h 9m)

Copper Mountain
2926 m
3769 m
843 m
5.0 km
28
69
12
12
Eagle County

(0h 51m)

Denver

(1h 38m)

Crested Butte
2775 m
3620 m
845 m
10.0 km
25
65
Keystone
2819 m
3782 m
963 m
5.0 km
26
43
66
0
Eagle County

(1h 11m)

Denver

(1h 41m)

Snowmass
2422 m
3813 m
1391 m
9.0 km
5
44
10
28
Eagle County

(1h 1m)

Denver

(3h 20m)

Steamboat
2100 m
3221 m
1121 m
5.0 km
23
69
73
0
Eagle County

(1h 49m)

Denver

(3h 8m)

Telluride
2659 m
4059 m
1400 m
7.0 km
15
37
41
0
Vail
2476 m
3427 m
951 m
6.0 km
35
56
48
54
Eagle County

(0h 37m)

Denver

(1h 57m)

Winter Park
2743 m
3676 m
933 m
8.0 km
36
32
68
7
Denver

(1h 46m)

Eagle County

(2h 9m)
Other Ski Areas in USA