Ski Dolomiti Superski Italy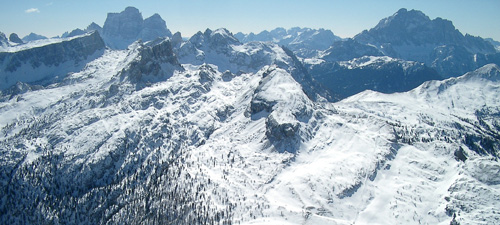 Ski Dolomiti Superski and the biggest problem is how you begin to describe one of the biggest and most impressive ski areas in the world? Somehow the words vast, scenic, good value and excellent skiing don't seem quite enough. But all this and more is exactly what you'll find in the Dolomiti Superski area.
There are around 1200km of pistes when you ski Dolomiti Superski that are covered by one lift pass and although it would take a lot more than one holiday or one season to ski it all, there'll be plenty of choice wherever you decide to stay. There are 45 resorts in this area, though the tour operators quite often focus on the linked resorts in the Sella Ronda.
Visiting Dolomiti Superski
Among the mountain peaks of the Dolomiti Superski and Sella Ronda area is Corvara, whose 56 lifts link to 130km of pistes. The majority of the runs here are gentles blues, though there are smaller numbers of red and black runs and 40km of cross country skiing. Ski 30 minutes away and you'll find the resort of Arabba, which this time has the greater number of red runs. The number of black runs in Sella Ronda resorts range from 8-10%, with new off piste facilities planned for advanced/expert skiers.
Also worth a mention is the Val Gardena valley, comprising the resorts of Selva, St Cristina and Ortisei. This area is one of the most famous in the Dolomiti Superski area, as it regularly hosts world cup downhill races.
This is just a snapshot of what's available in this immense ski area. With efficient lift systems, ski buses, and day trips easily bookable it's easy to explore much of what this area has to offer. In terms of winter sports, this will of course include many ski schools, a large number of freestyle and terrain parks for snowboarders and a range of other winter activities. Après Ski fans will be satisfied with some excellent restaurants, cozy bars and lively nightspots.
Transfers will vary a lot depending on where you stay, but they will typically range from 2 hours 30 minutes to 4 hours, for flights arriving at Brescia airport. The journey may be long, but with such a great ski area awaiting you, can you afford not to take a trip here next time you book a ski holiday?
Resort Name
Low Altitude
High Altitude
Vertical Drop
Longest Run
Beginner
Easy
Intermediate
Advanced/Expert
Skiing
Boarding
Après
Families
Overall
Arabba
1450 m
2950 m
1500 m
16.0 km
19
28
3
Bolzano

(1h 23m)

Treviso

(2h 14m)

Innsbruck

(2h 2m)

Cavalese
1000 m
2600 m
1600 m
5.0 km
1
6
5
2
Bolzano

(0h 50m)

Treviso

(2h 23m)

Verona

(1h 44m)

Cortina d'Ampezzo
1715 m
2939 m
1224 m
9.0 km
0
42
19
8
Bolzano

(2h 1m)

Treviso

(2h 3m)

Venice

(2h 4m)

Corvara
1568 m
2949 m
1381 m
4.0 km
53
28
4
Bolzano

(1h 16m)

Innsbruck

(1h 48m)

Treviso

(2h 26m)

Kronplatz
900 m
2275 m
1375 m
3.0 km
5
18
14
6
Bolzano

(1h 40m)

Innsbruck

(1h 44m)

Treviso

(3h 9m)

Ortisei
1230 m
2200 m
970 m
9.0 km
5
14
15
2
Bolzano

(0h 42m)

Innsbruck

(1h 17m)

Verona

(1h 57m)

Santa Cristina
1236 m
2949 m
1713 m
9.0 km
4
28
23
3
Bolzano

(0h 42m)

Innsbruck

(1h 17m)

Verona

(1h 57m)

Selva Gardena
1570 m
2518 m
948 m
5.0 km
0
32
23
4
Bolzano

(0h 55m)

Innsbruck

(1h 28m)

Treviso

(2h 45m)

Val di Fassa
1200 m
2630 m
1430 m
6.0 km
0
40
68
10
Bolzano

(1h 13m)

Innsbruck

(1h 51m)

Treviso

(2h 22m)

Val di Fiemme
860 m
2600 m
1740 m
6.0 km
4
30
32
18
Bolzano

(1h 7m)

Treviso

(2h 3m)

Venice

(2h 29m)

Val Gardena
1240 m
2450 m
1210 m
9.0 km
5
32
67
11
Bolzano

(0h 56m)

Innsbruck

(1h 29m)

Treviso

(2h 45m)