Ski Aosta Valley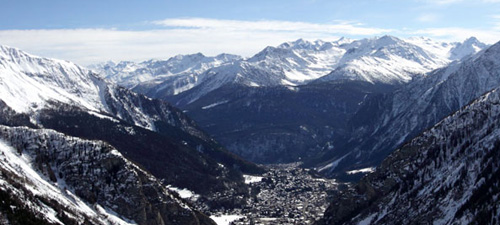 Why pay much more to ski at the most popular and more expensive resorts when you can cross the border over to the Italian Aosta Valley ski area? This charming area is very different from your average ski resort area. With distinct Italian flare, it offers the best quality not only in terms of skiing, but for exploring the region and its rich history. The slopes tend to be quieter but also boast some of the most amazing scenery. In the valley there are at least 30 different ski centres to choose from. The Aosta valley is one that has a rich cultural history and resorts that truly have a unique character of their own. These resorts offer traditional regional cuisine to make your trip even more special.
World Class Resorts
Some of the world class resorts of the area include Courmayeur, Cervinia, La Thuile, Monterosa, and Pila, as well as several smaller sized centres that provide a more intimate village environment and relaxing atmosphere. You have your choice between the larger world class ski centres, or the smaller villages, all are within close proximity.
Aosta valley, also referred to as the 'Valle d'Aosta', is an autonomous region in Italy that is known to be the smallest. This region encompasses an area that is spread out along the Alps ridge and includes peaks in the range of 4000 m plus. Some of the mountains in the area are the Matterhorn (4478m), Mont Blanc (4810m), Gran Paradiso (4061m), Monte Rosa (4634m), Courmayeur and La Thuile. These mountains include some of the highest peaks in Europe and offer snow records that are superb. There are 70 kms of well-groomed pistes, modernized ski lifts and more than 400 snow cannons for the best snow making and a mix of runs lined with trees along with wide open spaces. Beginner skiers will enjoy the Grimrod bowl, intermediates the Liesse run and the more experienced skiers can challenge the Wall. The gondola offers panoramic views of the areas surrounding peaks. You will definitely fall in love with the beauty of this Italian ski area.
Staying in and Touring Around the Aosta Valley
The locals are friendly and you will enjoy a complete and ultimate fun and relaxed ski experience, accessing great slopes that are less busy, exceptional food, amazing scenery, and you will be able to do it all for less expense. There are several restaurants, bars and cafes to choose from. Aside from finding great slopes in the area, you will also find the hot springs, fortified castles, the open-air museum, medieval monuments and historic spas interesting. You'll even be able to see Roman ruins if you choose to take the time to wander through the area cultural features by day or by night.
This is a region where both French and Italian are spoken because it is officially a bilingual area. There are two major airports for easy access: Geneva and Turin which are with a couple hours drive to the alpine resort areas. If you are driving from the UK, it takes 10 hours leaving from Calais.
Resort Name
Low Altitude
High Altitude
Vertical Drop
Longest Run
Beginner
Easy
Intermediate
Advanced/Expert
Skiing
Boarding
Après
Families
Overall
Breuil Cervinia
1849 m
3899 m
2050 m
8.0 km
17
31
7
Turin

(1h 33m)

Sion

(2h 26m)

Milan Malpensa

(2h 7m)

Courmayeur
1099 m
2624 m
1525 m
6.0 km
12
15
4
Sion

(1h 58m)

Turin

(1h 38m)

Geneva

(2h 3m)

La Thuile
1465 m
2641 m
1176 m
11.0 km
0
27
40
13
Sion

(1h 54m)

Geneva

(1h 53m)

Chambery

(2h 19m)

Pila
1765 m
2709 m
944 m
5.0 km
0
5
28
4
Sion

(1h 55m)

Turin

(1h 33m)

Geneva

(2h 3m)