Ski Montafon Austria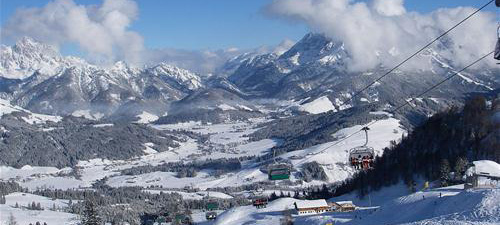 Why not ski Montafon this winter? An area on the Swiss border, the Montafon ski area has been kept something of a secret from British skiers, though it's closer to the UK than many other ski areas. It's approximately 2 hours from Zurich Airport and slightly longer from Innsbruck Airport by coach transfer.
Visiting Montafon
Ski Montafon for 222km of skiing, including resorts in the Silvretta Mountain Range. There are 60 cableways and lifts, and there's also a public transport network. Ski Passes work like discount cards, giving reduced rates for skiers on all these services.
The ski season runs from December to April if you ski Montafon, so you've plenty of time to carve your way through the high altitude snow. Gargellen is one of the highest ski resorts in the Montafon valley, and has around 36km of downhill pistes. The resort is slightly off the main valley area, and doesn't have a great deal of nightlife, but there are events and parties advertised by some bars throughout the season.
Other resorts in this area include Galtur, a small and traditional alpine village, with uncrowded ski runs, one of which runs into Switzerland. Labelled as family friendly, it has a number of nursery slopes, and wide red runs, along with snowboarding and ice skating facilities, and links to nearby Ischgl. Ischgl is one of the liveliest areas in the Silvretta valley, best suited to intermediate skiers, who will appreciate an upbeat nightlife.
Montafon will offer a different pace of life and different piste levels, depending on where you stay, but all in all it's the place to be, if you're looking for a good value ski holiday in Austria.
Resort Name
Low Altitude
High Altitude
Vertical Drop
Longest Run
Beginner
Easy
Intermediate
Advanced/Expert
Skiing
Boarding
Après
Families
Overall
Gargellen
1420 m
2130 m
710 m
0.0
7
5
2
Friedrichshafen

(1h 24m)

Innsbruck

(1h 49m)

Zurich

(2h 9m)

Schruns
700 m
2300 m
1600 m
0.0
0
11
5
1
Friedrichshafen

(1h 7m)

Innsbruck

(1h 32m)

Zurich

(1h 52m)

Silbertal
900 m
1500 m
600 m
2.0 km
0
1
2
0
Friedrichshafen

(1h 31m)

Innsbruck

(1h 56m)

Zurich

(2h 17m)

St Gallenkirch
900 m
2370 m
1470 m
14.0 km
14
11
5
Friedrichshafen

(1h 12m)

Innsbruck

(1h 37m)

Zurich

(1h 57m)

Vandans
680 m
2103 m
1423 m
0.0
4
5
1
Friedrichshafen

(1h 14m)

Innsbruck

(1h 39m)

Zurich

(1h 59m)