Ski Jungfrau Switzerland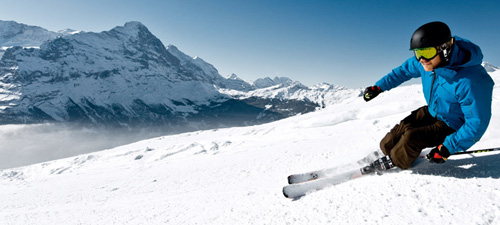 Travel to the Swiss Alps, Ski Jungfrau and you are nestled below the Eiger and Jungfrau mountains. Jungfrau comprises the four villages of Bernese Oberland, Wengen, Mürren, and Grindelwald, with a ski area divided into 4 parts, accessed via one lift pass.
These four parts make up 213 km of skiing for all ability levels in the Ski Jungfrau skiing area. Grindelwald is surrounded by the 'First' ski area good for beginners and intermediates, and a great snowboard park, with one of the largest half pipes in Switzerland. From here skiers can also access the pistes linking Kleine Scheidegg and Männlichen, which include the challenging Lauberhorn race run, The Black Rock, and a run simply known as 'Oh God' for the expert skier.
Visiting Jungfrau
Männlichen also has a variety of easier wide runs for beginners, while Kleine Scheidegg has a choice of long runs, some of which go directly into the surrounding villages. Mürren & Schilthorn are also known for their choice of runs, including a long 11km one between the two areas. Schilthorn also has a claim to fame, as its famous revolving restaurant at Piz Gloria was used in the James Bond film 'On Her Majesty's Secret Service'.
Alongside the skiing, mountain restaurants are heavily promoted in this area, and with their mix of traditional Swiss charm and spectacular views, it's easy to see why.If eating and skiing aren't enough for you, then there are plenty of other activities on offer in Jungfrau. Grindelwald is home to the longest toboggan run in Europe, and also has an ice rink, shoe shoeing, and events such as a Snow Sculpture festival to tempt you throughout the season. There are a variety of rustic bars, other facilities, and events to explore throughout the rest of the area.
In terms of transfers, the area is reachable in approximately 1 hour from Berne airport, or 3 hours from Zurich airport. Visitors staying in one of the traffic free resorts in Jungfrau will take the last part of their journeys by rail. There's plenty to see and do here, so there really is no excuse not to visit next time you plan a winter ski holiday
Resort Name
Low Altitude
High Altitude
Vertical Drop
Longest Run
Beginner
Easy
Intermediate
Advanced/Expert
Skiing
Boarding
Après
Families
Overall
Grindelwald
1034 m
2486 m
1452 m
13.0 km
16
24
15
Bern

(1h 3m)

Zurich

(2h 12m)

Basel

(1h 57m)

Interlaken
567 m
2972 m
2405 m
12.0 km
33
55
22
Bern

(0h 42m)

Zurich

(1h 39m)

Basel

(1h 37m)

Mürren
1650 m
2971 m
1321 m
12.0 km
10
11
6
Bern

(0h 43m)

Zurich

(1h 38m)

Basel

(1h 53m)

Wengen
1274 m
2320 m
1046 m
9.0 km
8
17
7
Bern

(0h 41m)

Zurich

(1h 36m)

Basel

(1h 50m)