Ski Alpes Maritimes France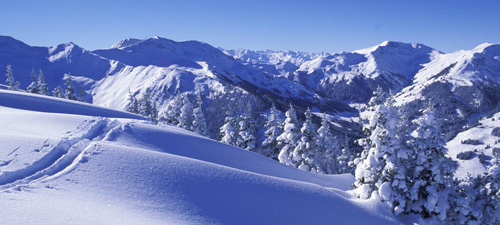 The Alpes Maritime ski area is often seen as an unlikely choice for good ski resorts, due to its close proximity to the Cote D'Azur. The high altitudes of some mountain peaks in the southern alps however and good weather conditions, can see the ski season here lasting until April.
The large resorts of Isola 2000, Auron, and Valberg/Beuil, form the main part of the Alpes Maritime region and there are other smaller villages which are easily accessible. This ensures some great slopes for all abilities - including experts.
Visiting Alpes Maritime
Isola 2000 has 120km of slopes, divided up into 4 black runs for experts, 11 red and 21 blue for intermediates, and 7 green for absolute beginners. Up on a plateau, the snow park has something for all levels of snowboarder, with obstacles, half pipes, and an area just for beginners. Ski and Snowboard clubs train their members to represent Isola 2000 and France in ski competitions and local events are held throughout the season.
Auron is a small village at the entrance to Mercantour National Park, which offers four skiing zones. Green runs are limited here, but there are a good number of black, red, and blue runs over the 135km of slopes. Valberg has a slightly smaller ski area, but it caters well for intermediate skiers, with 22 runs, and the number of blue and gentle green slopes just into double figures. Both areas have snowboarding facilities for different ability levels and small cross country ski areas.
The slopes in this region are snow assured from December until late March, so there's plenty of time to visit and enjoy winter sports and traditional alpine accommodation.
There are several options when travelling from the UK. Take a Eurostar train to Paris and then a high speed train to the region, or travel by plane. Flights arrive at Nice or Marseille from most UK airports, with transfers to the ski resorts taking around 90 minutes.
France is one of the most popular ski destinations for visitors from the UK, so why don't you check out our ski resort reviews now.
Resort Name
Low Altitude
High Altitude
Vertical Drop
Longest Run
Beginner
Easy
Intermediate
Advanced/Expert
Skiing
Boarding
Après
Families
Overall
Auron
1160 m
2450 m
1290 m
5.0 km
2
15
17
8
Nice

(1h 35m)

Turin

(3h 11m)

Grenoble

(4h 25m)

Isola 2000
1810 m
2610 m
800 m
5.0 km
7
21
9
4
Nice

(1h 37m)

Turin

(2h 27m)

Grenoble

(4h 35m)

Montgenèvre
1850 m
2700 m
850 m
5.0 km
10
19
35
12
Turin

(1h 22m)

Chambery

(2h 4m)

Grenoble

(2h 30m)

Saint Lary Soulan
1700 m
2500 m
800 m
4.0 km
7
25
14
9