Obergurgl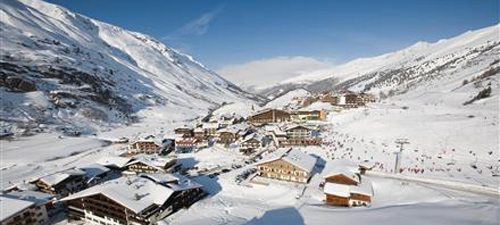 Head to Obergurgl for altitude snow and one of the traditional Austrian ski resorts nestled amidst high mountains in the Tirol. With skiing and snowboarding in Austria right to your door - what more could you ask for? Read on to find out more.
Where?
A classic Austrian Alpine village located in the west of Austria in the province of Tirol. It offers great snow in this high altitude location - in fact it's Austria's highest village. The surrounding mountains look wonderful in winter, and with links to sister ski resort Hochgurgl, you'll find some beautiful skiing and snowboarding - they combine to offer 110km of piste. Obergurgl and Hochgurgl can be reached best via either Innsbruck or Salzburg airports.
resort ESSENTIALS
| | |
| --- | --- |
| RESORT ALTITUDE : | 1930 m |
| TOTAL PISTE : | 110 km |
| LONGEST RUN : | 8.0 km |
| SEASON : | November - May |
WE LIKE
One of the Alps most reliable resorts for snow, ensures it has a long ski season from November to the end of April.
Excellent area for beginners and intermediates. Good resort for families, good hotels and ski school. Stunning scenery.
Quiet resort, few queues and with traffic now banned in the village at night this adds to the calm atmosphere.
WE DON'T LIKE
Limited area of slopes with few tough steep pistes to satify the experts among you.
Apres ski is quiet here and there are few off-slope leisure amenities, except in the hotels.
Most of the restuarants are also situated in the hotels.
SUITABILITY RATINGS 1-5
On the Slopes
Ski Obergurgl for convenience, with lifts starting directly from the villages and several runs finishing back there. Beginners will find the nursery slopes of Mahdstuhl are a great place to learn, while most of the resort will please intermediates, with plenty of wide, friendly blue and red runs, especially the cruising runs at Festkogl. Experts should head off-piste, or sample some of the steeper, mogul-filled runs. Good skiers will really relish the excellent off-piste, although there is also some good terrain that's marked piste too. Boarders will enjoy the collection of jumps on the Festkogel area. An eight person gondola connects the resorts of Obergurgl and Hochgurgl and provides the chance to take in the breathtaking scenery.
Ski Area
If you ski Obergurgl and Hochgurgl you are also in the ski region of Ötztal arena.
Off the Slopes
A traditional Austrian village ski resort, Obergurgl ensures there's plenty of good accommodation on offer, and convenience too - there are slopes running straight down to the resorts, and cross country trails and toboggan tracks running right to the village. The choice of restaurants and cafés is good and varied, local favourites including Wiesenthal, Romantika, and the Belmonte. For après-ski you have a number of options - try the Krump'n Stadl, Josl Keller, or the Nederhütte. When you're not skiing, there's ice skating and curling available.
Who's it Best For?
Excellent for beginners and intermediates. Especially popular with families.
Obergurgl is Austrias highest resort at 1930m so snow is virtually assured from November to May. The link through to Hochgurgl also opens up additional runs so the skiing here is good in what is a very pretty village. Families also love it here and the ski schools are good. If its lively apres ski you are after give this one a miss and head into nearby Solden instead.
Check out the package deals we can offer from leading UK tour operators. If you are an independent traveller and you are looking for a hotel room or an apartment only then check out our accommodation search and book direct with the owners.
Why Choose Obergurgl in Austria?
1. Good snow record due to high altitude.
2. Great for beginners and intermediates.
3. Good resort for families, good hotels and ski school.
4. Quiet, pretty, traditional resort, for those who want to get away from rowdy apres ski!
Is it Right For You?
If Obergurgl is right for you then check out the holidays we have available and get a great deal. If it's accommodation only that you are looking for check out the hotels we also have available.
Chalets really do come in all shapes and sizes, from large catered luxury chalets to smaller more basic one bedroom affairs. As such the prices can also vary as can the location from slopeside to centre of town. For many chalets are the epitome of a ski holiday.
In Obergurgl, as beautiful as it is, there are few chalet options to choose from. Most of the accommodation here is hotel based maybe due to the family market that comes here. In fact, at the time of writing, we could only find one catered chalet in the resort- Chalet Christophorus provided by Ski Total.
Accommodation in Obergurgl
Both Obergurgl and Hochgurgl are small compact villages which offer great ski in ski out accommodation. These are quiet resorts where cars are banned at night and the apres ski is a very subdued, calm affair!
If you are struggling to find a chalet we would recommend you check out some of the great hotels instead. These include the 4* Hotel Alpenland, great for those travelling with children as it is close to the ski school meeting point. There is one 5* hotel, the Top Hotel in Hochgurgl.
If cost is an issue check out the inexpensive B&B's in town. The tourist office has about 30 on offer which wont break the bank. Some are as cheap as 35 Euros a night.
Apartments can be a great choice on a ski holiday. They are often cheaper than hotels or chalets and yet many of the newer apartment developments offer facilities that may surprise you including swimming pools, saunas and spas. Many also offer ski in ski out convenience.
In Obergurgl the majority of the accommodation is hotel based which possibly reflects the popularity of the resort with families. There are some chalets but they are few and far between. If you are really keen to find an apartment here then check out the numerous B&B's and pensions.
Do also check out the hotels available as some of the 3* and 4* hotels offer good value for money. The Hotel Alpenland is a good example,a 4* hotel but room costs are just 60 Euros per person per night so not a price that will break the bank.
Are Apartments Really Such a Good Idea?
Some skiers and boarders are put off apartments due to the image they have of the ugly apartment blocks built in some of the purpose built French resorts. Newer apartment blocks are architecturally designed, offer great value for money and would rival many a hotel in the shared facilities they offer.
If you want to go on a hotel based ski hotel then Obergurgl will be a dream resort for you. This is really the home of the half board hotel. This may be due to the popularity of the resort with families. You will find some chalets here but this is really a resort of hotels and B&B's.
Both Obergurgl and Hochgurgl are small, compact resorts. They are reasonably quiet and cars are banned at night. So you needn't have any worries about night noise here, if you are looking for a rowdier night scene head to nearby Solden.
What Hotels are Available in Obergurgl?
For families a good family hotel is the Hotel Alpenland, its 4* but costs are good at 60 Euros per person per night. It's very close to the meeting point for ski school, so great if you have children. If you do want a more lively hotel then check out the Hotel Josl which has a popular bar.
For foodies check out the Hotel Jenewein which has a good restaurant. If it's 5* you want you only have one choice, the Top Hotel which is in Hochgurgl. If cost is really an option check out one of the many B&B's and pensions in the resort. You wont need to spend a fortune here and yet you will find good slopeside accommodation.
Obergurgl, due to its high altitude, isn't necessarily the easiest resort to get to! The nearest airport is Innsbruck which does now receive some budget airlines. Other airports to consider are Salzburg and Munich, but the transfer from these airports is quite lengthy.
Transferring from Innsbruck
The quickest way to get to Obergurgl is by taxi or private transfer. This journey will take about 1 hour 15 minutes. If you are travelling in a group of 8 then hire a private minibus as the costs will be quite reasonable. If you are not in a group that size then opt for what is called a 'shared transfer' where essentially you share with strangers travelling to the same resort.
You could hire a car from Innsbruck but we would caution you against this. The road to Obergurgl is a hazardous mountain road, so only attempt this if you are an experienced driver. The snow conditions can be dangerous.. You could also drive the whole way from Calais, the time would be about 11 hours.
Train is also an option but travel times here are quite lengthy. You could get a train from London to Innsbruck, via Paris and Munich. This would take about 13 hours and then on top of this you would need to take a 2 hour bus journey into Obergurgl. So the train is possible if you have the time and energy!
Compare Obergurgl ski schools and then book or reserve your ski and snowboard lessons before you arrive in resort! Reserve your spaces in group or private lessons in Obergurgl so saving yourself a lot of hassles!
Ski Schools in Obergurgl
Whether you want to have ski lessons or snowboard lessons, most Obergurgl ski schools offer a wide range of options including half day lessons, private or group lessons. Use GoSki.co.uk to find out more.