Chamonix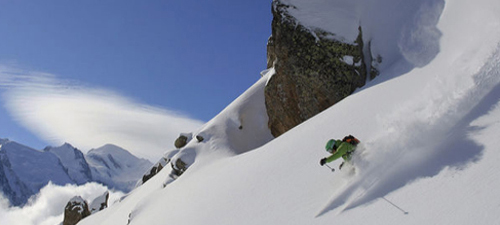 If you've not been before, then ski in Chamonix this year to access some world famous slopes beneath Mont Blanc. Thanks to our comprehensive resort guide, whether you are a family, a first-timer or in need of your annual off piste fix, you can see the skiing and snowboarding on offer in this superb ski resort. France has much to offer the skier and boarder and this is one of the very best ski resorts in the world.
Where?
To access this ski resort, Geneva airport is the most convenient gateway for sheer number of flights and ease. Chamonix ski resort is on the French side of Mont Blanc, which is Europe's highest peak. This resort has awesome scenery, a beautiful town, and some of the toughest skiing and snowboarding to be found anywhere in Europe or beyond. At just over an hour from Geneva Cointrin airport by car or airport transfer, accessibility is another winning factor in skiers and boarders coming back year after year.
Bear in mind, that if you want to access all four key slope areas, you may want to hire a car rather than rely on the ski buses. In addition beware of school holiday times as this can cause the slopes to become crowded especially towards Argentiere.
resort ESSENTIALS
| | |
| --- | --- |
| RESORT ALTITUDE : | 1035 m |
| TOTAL PISTE : | 108 km |
| LONGEST RUN : | 24.0 km |
| SEASON : | November - May |
WE LIKE
A lot of very tough terrain, especially off-piste, excellent for expert skiers and boarders
Stunning views of peaks and glaciers, only a short transfer from Geneva
Town steeped in Alpine traditions - good après-ski and nightlife. Lots for non skiers to do.
WE DON'T LIKE
Several separate mountains: mixed ability groups are likely to have to split up, and the bus service gets mixed reviews.
Bad weather can shut the best runs - once you've already driven to the car park!
Crowds on and off the piste and lots of road traffic in the centre of Chamonix
SUITABILITY RATINGS 1-5
On the Slopes
If you are a good skier or boarder, then you will definitely enjoy your ski holiday here. With a bias towards advanced and expert skiers in most areas of the ski region, you have access to the Glacier, 2km ski runs and of course use the cable car 'Aiguille du Midi' to access the "Vallée Blanche", the most famous (and crowded) off-piste run in the world.
Chamonix is heaven for experts with lots of steep terrain and deep snow. The ungroomed black pistes of Point de Vue and Pylones are long and exhilarating. Intermediates who like a challenge and going off piste will also find lots to keep you smiling at the end of each day.
If you are looking for miles of cruisy intermediate pistes then Chamonix may not the ideal ski resort for you. Beware also the classifications, many of the blue runs here would be reds elsewhere. Beginners can struggle a bit here - it is not an ideal place to learn to ski (go to Le Tour or Argentiere about 6km away that are still included in your ski pass). You can head to Balme ski area for more gentle runs. In short, this is a place to go if you want to push your limits, and experience some of the best skiing and boarding around.
Ski Area
If you ski Chamonix you are in the ski region of Chamonix Valley which covers a number of ski resorts.
Off the Slopes
The old town centre of the Chamonix ski resort is attractive with cobbled streets and numerous squares. Good shopping includes lots of 'outdoor' and 'ski' shops and of course fashion. You also get loads of good restaurants and cafés to enjoy post skiing and before you hit the bars.
Chamonix is lucky in that also has plenty of other activities, making this a good resort if you won't want to ski. This includes mountaineering, ice climbing and cross country skiing, plus indoor and outdoor ice rinks. Away from the colder sports you also have a bowling alley, a great swimming pool (although remember your swimming trunks as no shorts allowed here!) and a casino. We would also recommend going on the Aiguille du midi cable car for sheer awesome scenery!
Chamonix offers world class slopes and great après-ski. Snow sure as you head up the mountains, you can also ski here all year round thanks to Mont Blanc and it's Glacier. Ski holidays in Chamonix are therefore a must for all skiers and boarders at some point.
Whatever your budget may be, look for Chamonix ski holidays online to get the best deals and we always suggest you book early to get the best availability. Whether you want to find a chalet or apartment, or choose the convenience of a half board hotel there's plenty of options.
Why Choose Chamonix?
Superb slopes for intermediates and advanced skiers and boarders


Lots of things to do off the slopes


Short transfer time from Geneva Airport


4 separate ski areas in and around Chamonix


Right for You?
If you have read enough to know you want to come here this winter then check out our ski holidays in Chamonix using the search or results below. If you are still not sure, or you keep putting off the organisation, then let our Chamonix tailormade ski holidays service help you.
For many, chalets are a ski holiday! if that's what you need, then find ski chalets in Chamonix with a little help from our search. Chamonix has so much to offer skiers and boarders, that off the slopes you may need a bit of TLC to help your weary limbs recover, so make sure you choose a chalet with hot tub and sauna!
Ski chalets can come either catered or self-catered and whether you want to share with 20 other guests or have a more private affair, the choice is superb in Chamonix at all levels.
Where Should I Get the Chalet?
Depending on your ability level, your choice of slopes and therefore area of Chamonix may change. As a world class ski resort, Chamonix fortunately has ski chalets right across the resort making finding one a much easier proposition.
If you can afford the centre of Chamonix, a ski chalet here is obviously more attractive as you are closer to any of the ski areas and for an evening out, you can simply walk to the bars and restaurants. If you're a family then maybe Les Houches or Argentiere are a better bet!
FEATURED CHALETS
Unlike some other ski resorts, apartments in Chamonix can be found right around the resort. Ranging from the very basic through to more luxurious penthouse options, a ski apartment is a good alternative that may save you a bit of money.
As Chamonix can end up meaning you need to travel to the slopes that are suitable for your level, do your research for an apartment carefully in order to minimise the hassle of travelling. Also consider if you want to go in to Chamonix of a night for the bars or restaurants.
Are Apartments a Great Option?
Everyone can get hung up on needing to be in a chalet for a great ski holiday. We've found a great many apartments where standards and comfort far exceed most chalets and you can actually be in a more convenient location.
In some cases you can also get catered options, even if that means you need to arrange a chef to visit. In the end it comes down to your budget and what type of holiday you really want.
Fancy having everything organised for you? Hotels in Chamonix can do just that if you choose the right one. From being picked up at the airport and shuttled back to your accommodation, to hotels that are cheap but offer you a good bed for the night and don't mind you coming in at 3am!
As one of the world's leading ski resorts, Chamonix can offer you all levels of accommodation ranging from the popular 5 star Le Hameau Albert 1er to the 3 star Park Suisse Hotel with it's amazing views of the mountains. There are also a lot of budget options allowing you to enjoy the slopes and simply get your head down ready for the following day!
What Hotels are Available in Chamonix?
Everything from bed-only through to full board hotels with spas. The choice of hotels in Chamonix is superb and caters for just about everyone. The most popular choice is 'half board', meaning your hearty breakfast and evening meal are sorted, but during the day you are free to roam the slopes.
You can search for hotels using GoSki.co.uk and the beauty is you'll get confirmation within minutes knowing your ski holiday is sorted. This winter, why not come to the heart of the Chamonix Valley and ski some of the world's most famous slopes.
Once you've landed at the airport, you'll be needing airport transfers to Chamonix resort or you will need to pick up your hire car. Either way this is something to organise before you land in Geneva (or possibly Chambéry or Turin) in order to get the best deals and availability. Airport transfer to Chamonix from Geneva is just over the hour on a good day.
Airport Transfers from Geneva
With the transfer time just over the hour and the road system good right from Geneva airport, a lot of people to choose a shared or group transfer. Prices range from as low as £30 one way making this far cheaper than hiring a car. Why not compare a few of the transfer companies in order to find one that has plenty of buses running throughout the day just in case your flight is delayed.
As well as shared transfers, you could with a small group of 4 opt for a private transfer for slightly more. The advantage being you don't need to worry about missing the bus if the plane is delayed.
Hire a Car
With children or if you know you will be travelling to the resort areas outside Chamonix itself most days, then hiring a car may be the sensible choice. Prices can be as low as £140 for the week, but you will need to get in there quick. Remember also to get winter tyres (standard from the Swiss side of Geneva airport).
FEATURED SKI TRANSFERS
For Chamonix ski schools, use GoSki.co.uk to find all the best places for your ski lessons and snowboard lessons this winter. The ski school listings below are able to offer a range of choices, so check for private, group, beginner or advanced lessons.
Chamonix ski schools
Do you want to improve your ski and snowboard technique this winter? Chamonix ski schools have professional ski instructors that can help with your parallel turns, jumping, boarding or just overall confidence. So book with a Chamonix ski school beofre you arrive and get ready for a great ski hopliday this winter!