Ski Ötztal Arena, Austria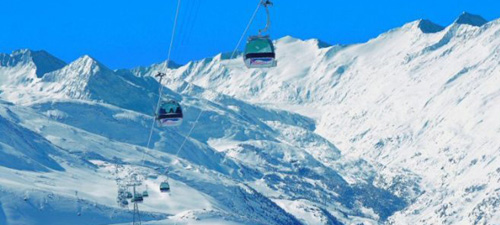 The Ötztal Arena skiing area is a famous winter sports region located South West of Innsbruck. Sölden, a world cup venue, is the most famous area in the region. The town has guaranteed snow throughout the winter, and summer skiing on the Tiefenbach and Rettenbach glaciers too. Skiing here will suit all levels, with easier slopes running directly into Sölden, and a network of 32 lifts transporting skiers to the harder slopes/terrain.
Visiting Ötztal
Within the Ötztal Arena, Sölden offers the largest choice of hotels, ski schools, and après ski activities although it's not the only village in the Ötztal Arena. The region also includes the villages of Vent, Obergurgl, Oetz, and Hochzeiger. Most offer cross country trails and snowboarding areas, some like Vent also have a toboggan track. Oetz and Vent have a small amount of runs to suit all abilities, with a bigger selection of pistes found in Obergurgl, where there's also challenging off-piste runs.
The ski season starts at the end of November, running through to April, though in some areas, skiing is possible until early May. Most villages have their own ski passes, so there may be limits on what you can access with one pass.
Nightlife in the Ötztal Valley is traditional and entertaining, cuisine is varied, and there are many wellness facilities and winter sports on offer. Easy transfers are available from Innsbruck airport, some 71 km away, and Munich airport is also fairly close by.
All this and more could be yours, if you choose this skiing area this season.
Resort Name
Low Altitude
High Altitude
Vertical Drop
Longest Run
Beginner
Easy
Intermediate
Advanced/Expert
Skiing
Boarding
Après
Families
Overall
Obergurgl
1800 m
3082 m
1282 m
8.0 km
12
15
5
Innsbruck

(1h 14m)

Bolzano

(1h 35m)

Friedrichshafen

(2h 44m)

Solden
1350 m
3250 m
1900 m
13.0 km
0
17
18
8
Innsbruck

(1h 6m)

Bolzano

(1h 49m)

Friedrichshafen

(2h 36m)

Solden Glacier
1377 m
3249 m
1872 m
0.0
5
6
3
Innsbruck

(1h 4m)

Bolzano

(2h 29m)

Friedrichshafen

(2h 34m)