Courmayeur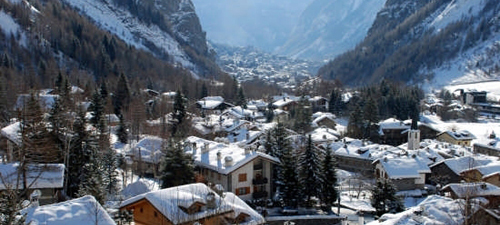 On the Italian side of Mont Blanc you will find the amazing resort of Courmayeur. A fantastic resort for intermediates and experts for skiing and snowboarding. Read our resort review and find out why Brits come back year after year to enjoy the atmosphere and aprés ski in this famous ski resort.
Where?
If you ski Courmayeur you're set in the famous Aosta Valley. With a charming atmosphere, this ancient village is surrounded by fifteen 4,000-metre peaks, including Mont Blanc, Europe's highest mountain. There are over 100km of runs to enjoy, including a fabulous 20-kilometre run that allows you to ski across to Chamonix on the French side of the border. Access is easy from Geneva, Turin or Milan.
resort ESSENTIALS
| | |
| --- | --- |
| RESORT ALTITUDE : | 1224 m |
| TOTAL PISTE : | 39 km |
| LONGEST RUN : | 6.0 km |
| SEASON : | December - April |
WE LIKE
Charming old village, with car-free centre and stylish shops and bars. Dramatic scenery in which to ski in as it nestles on the southeastern slope of the Mont Blanc massif.
Intermediates are most spoilt here. Day trips to nearby Chamonix are also an option for different skiing and boarding at all levels.
Heli-skiing excursions available around the Aosta Valley offering some of the most extensive off piste skiing in Europe.
WE DON'T LIKE
Best for intermediates and experts, there is a lack of nursery slopes and easy runs for beginners to progress to
Few really tough pistes for skiers or boarders but great off piste. You cant ski back down to the resort and have to rely on a cable car or bus.
Slopes can be very crowded on Sundays if the weather is good. Only 90 minutes from Geneva and Turin so it gets very busy at weekends.
SUITABILITY RATINGS 1-5
On the Slopes
Intermediates will love to ski Courmayeur - almost 48% of the runs are graded intermediate. You may also like the famous World Cup downhill and the International run, six kilometres long and with a drop of 1,000 metres! If that's not long enough for you, try the 20-kilometre descent to Chamonix, where you'll find another 76 km waiting to be skied - something for everyone. Snow is almost assured every season too.
Ski Area
If you ski Courmayeur you are also in the ski region of Aosta Valley .
Off the Slopes
With its pedestrianised centre and ancient cobbled streets, the village of Courmayeur has a unique Italian Alpine charm. There are over 6,000 beds in accommodation ranging from fine quality hotels through to chalets. Although the après-ski isn't the world's most vibrant, there's around 60 bars and restaurants and two nightclubs to keep you busy after hours - enough for most! There is also a great range of other activities to choose from, including two cinemas, swimming, ice-skating, bowling, paragliding and hiking.
Who's it Best For?
Intermediates will love it here. But if you are an expert remember that Chamonix is nearby, an experts heaven, and very easy to get to.
Sitting on the Italian side of Mont Blanc, Courmayeur offers up incredible dramatic scenery. It's also a good looking Italian town with good skiing for intermediates. Its main downfall is that the piste skiing is a little limited. That said, a great place to stay in the Aosta Valley.
Courmayeur ski holidays offer great value and there are good package deals available from leading tour operators including Crystal Ski, Thomas Cook or Neilson. Or if you are an independent traveller then check out the accommodation we have where you book direct with the owners.
Why Choose Courmayeur in Italy?
1. Beautiful old village to ski and stay in.
2. Great for intermediates.
3. Close to Chamonix so day trips are very easy for experts.
4. Great place to stay to access skiing in the Aosta valley.
Is It Right For You?
If you are sure that Courmayeur is right for you then check out the holidays we have available. If however you have little time to organise your ski holiday and need some help why not contact our Courmayeur tailormade service .
Chalets can come catered or non catered and can suit all budgets from those luxury offerings situated slopeside to those smaller chalets that are more basic. For many skiers and boarders chalets are the real thing on a ski holiday as they represent all that a winter holiday is about.
If you are looking for a chalet in Courmayeur bear in mind that much of the accommodation here is focused on hotels. There are chalets and apartments but the greatest choice is based on hotels. On a positive note the hotels are happy to accept weekend bookings, so great for short stays.
Chalets in Courmayeur
If you opt for the hotel option then do make sure you are near to the cable car as if not you may have quite a walk each morning. For chalets do check out Au Coeur des Neiges which is a complex of 6 chalets located near to the cable car.
It is also worth looking at accommodation in the hamlet of Entreves and the smaller villages of Dolonne and Pre Saint Didier where you will also pay less. Check out the accommodation offered by Momentum Ski who have good accommodation to suit families.
Apartments have grown in popularity over the years. For many they are a great option as they are often cheaper than the traditional ski chalet or hotel and many of the newer apartment complexes have facilities that include swimming pools, wellness centres and even spas.
In Courmayeur the accommodation is dominated by hotels. You will find chalets and apartments here but the majority of what is on offer is centred around hotels. When booking your accommodation do check how far you are away from the cable car as if not you could be in for a long walk in the morning.
Are Apartments Really Such a Good idea?
Close to the cable car in Courmayeur is Hotel Maison St Jean which has studio apartments that are great for families. Au Coeur des Neiges is an apartment complex that is also really good value. For families check out Momentum Ski which has good accommodation for families.
So do check out apartments as they can work out very cost effective. They often have great facilities and also are very useful if you are travelling with other families or in a large group. Apartments will often give you more independence and space than one large chalet would.
Hotels can be a great idea on a ski holiday. Many are still family run, offer exceptional service and some will even come and get you from the airport. For families, family suites can work out great value and some hotels will also offer babysitting services and childrens entertainment.
Courmayeur is dominated by hotels, so you will have a good choice here alongside chalets and apartments.The one thing to bear in mind is to try and stay near to the cable car, as if not you will have a long walk every morning. There also isn't a real luxury hotel here.
What Type of Hotels are Available in Courmayeur?
A lot of hotels here are based in the centre and many also offer weekend deals so short stays are a good option. If you want a bit of comfort check out the Grand Hotel Royal and Golf. This hotel has a good outdoor heated pool. If you are on a tighter budget then look at the Hotel Edelweiss.
Families should look at the accommodation provided by Momentum Ski. In addition there is the 3* Hotel-Bouton d'Or which is popular with British families. To save more money, if you have your own transport do check out the villages of Dolonne, Entreves and Pre-Saint-Didier.
The nearest airports to Courmayeur are Geneva and Turin, both have a transfer time of about one and a half hours. Another airport to consider is Milan but the transfer time for this airport is slightly longer, at two and a half hours.
Travelling to Courmayeur by road
Courmayeur lays next to the Strada Statale N 26 close to the Autostrada A5 between the Mont Blanc tunnel and Aosta, so it is very easy to get to by road. Hiring a car and driving it yourself is very straightforward and the added advantages of having a car is that you can then access other resorts and easily get to nearby Chamonix.
A major problem about driving however is that these resorts in the area are very popular. The Mont Blanc tunnel can get very busy, so do allow good time for your journey if you are travelling in peak season. If driving from Calais the journey will take about 9 hours.
Transferring by rail or bus
If you are flying into Geneva or Turin it is possible to use a bus or train but you will need to make changes and so the transfer time is longer than if you hire a car or use a private minibus. You could take a train from the UK, this will take about 13 hours, you will end up at Pre Saint Didier station about 6km away from Courmayeur resort.
Compare Courmayeur ski schools and then book or reserve your ski and snowboard lessons before you arrive in resort! Reserve your spaces in group or private lessons in Courmayeur so saving yourself a lot of hassles!
Ski Schools in Courmayeur
Whether you want to have ski lessons or snowboard lessons, most Courmayeur ski schools offer a wide range of options including half day lessons, private or group lessons. Use GoSki.co.uk to find out more.