Söll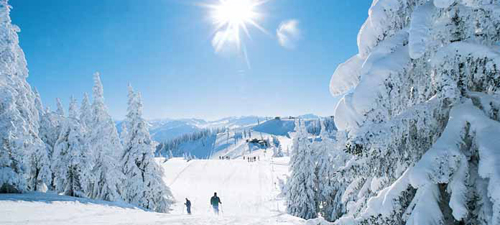 Try Söll in Austria for a traditional Tyrolean village deep in the heart of Austria's Kitzbühel Alps in the SkiWelt ski region. Austria offers great skiing and snowboarding and this resort is about an hours transfer from Innsbruck or Salzburg. Read our resort guide for all you need to know.
Where?
Ski Söll and you're located at the foot of the Höhe Salve mountain right in the middle of the SkiWelt ski area. This resort is dominated by the amazing Wilder Kaiser mountain range which offers some great pistes. There's over 250km of piste thanks to the Ski Welt circuit and you can also access the massive 'Kitzbüheler Alpen' pass for nearly 700km of runs! Access to the resort is easy from a number of airports including Innsbruck, Salzburg or Munich all in around 90 minutes - meaning ski weekends are definitely on!
resort ESSENTIALS
| | |
| --- | --- |
| RESORT ALTITUDE : | 703 m |
| TOTAL PISTE : | 30 km |
| LONGEST RUN : | 8.0 km |
| SEASON : | December - March |
WE LIKE
Local slopes are the highest in the SkiWelt and north-facing, so they keep their snow relatively well. Runs suit intermediates better.
Access to the SkiWelt, Austrias largest linked ski and snowboard area. This opens up an amazing 279kms of ski area.
Pretty and traditional Tyrolean village with lively après-ski. Good budget accommodation available.
WE DON'T LIKE
Low altitude can mean poor snow - especially down in the resort.
Ski area is 1 km away from the village, ski bus does exist but can get very crowded.
Close to home there's not much challenging marked piste and no terrain park.
SUITABILITY RATINGS 1-5
On the Slopes
As you'd expect, ski Söll and your ski holidays offer something for every level of skier - if you don't find what you want locally, you can head into the neighbouring resorts of the 'Kitzbüheler Alpen'. For beginners the gentle nursery slopes are based on the edge of the village. You also have the gondola that takes you up the Höhe Salve for some more gentle slopes and wide blues. Intermediates probably have the most pistes - and there's an excellent choice of blues and reds.

For experts there's not only some great marked pistes, but also the back of the Höhe Salve has some excellent runs and equally impressive off-piste if you dare! Boarders are very welcome in Söll although there is no terrain park. Freeriders can head to the Höhe Salve for pistes and off piste and the Westendorf terrain park is the place for freestylers.
Ski Area
If you ski Söll you are also in the ski region of SkiWelt.
Off the Slopes
A pretty traditional Tyrolean village, Söll has a pedestrianised centre which is packed with restaurants, bars and clubs to offer a vibrant, varied nightlife. Restaurants cater for international tastes and also those who want to sample local fare - good choices are Café Dorfstub'n, Al Dente, Venezia and Postwirt, while popular nightspots include Dorfstub'n, the Moonlight Bar and Whisky Mühle. There are plenty of other activities to keep you busy including a sports centre with indoor and outdoor pools, and ice skating on Lake Moorsee.
Who's it Best For?
Intermediates will love it here. It's also good for large mixed groups as there is good access to the SkiWelt, Austrias largest linked ski and snowboard area.
Söll is a great resort particularly for intermediates but its positioning allows you to access Austrias largest interconnected ski area. Essentially from here to can work your way round 7 resorts near Kitzbuhel, so you certainly wont get bored.
If you are looking for a package deal to Söll we can help you arrange that via some of the U.K.'s leading ski tour companies. Alternatively you may just be looking for an apartment or chalet. That's fine too as we can connect you to chalet companies and also private chalet owners. So whatever type of holiday you are looking for we can show you all the different options.
Why Choose Söll in Austria?
1. Slopes are the highest in the SkiWelt and north facing so the snow is generally good.
2. The SkiWelt allows you to access 279km of ski area.
2. Pretty, traditional ski village to stay in.
4. Accommodation is generally cheaper here than elsewhere in the area.
Is Söll Right For You?
If you are sure that Söll is the right resort for your next ski holiday check out the holidays available and see what great deals you can get booking online.
Ski chalets can be an amazing way to experience your ski holiday and many resorts in Austria offer the type of chocolate box ski chalet that we dream of. Whether you are looking for an intimate one bedroom chalet with ski in ski out positioning or you want a large chalet right in the centre of the resort we can help.
Söll is a large village with everything centred around an onion domed church. It has had something of a' lads drinking' resort image which hasn't always attracted families to the resort although they are trying to change that by offering lots of ski deals to families with young children.
Where to Look For a Chalet in Söll
One of the downsides of staying in Söll is that most of the accommodation is spread out quite a way from the centre of the village. There is a local ski bus you can catch or you will need to be prepared to walk 15 minutes to get to the slopes which may not be your idea of fun if you have young children!
You may also want to watch out if you have young children as the centre of Söll is renowned for very lively apres ski so if you can get accommodation nearer the slopes it may work out a little noisy. Söll has a reputation for offering cheaper accommodation than elsewhere in the area so you could also get a real bargain here.
Apartments can work out a great idea for a ski holiday. They are often cheaper than a chalet and many of the newer developments offer facilities that would rival many a hotel including swimming pools, saunas and spas.
Accommodation in Söll is cheaper than elsewhere in the region so you will get a good bargain here. Do watch apartments in the centre of Söll though as it can get a little lively here. There are also a number of aparthotels as well including the Aparthotel Bergland which is situated conveniently across the road from the ski lifts.
Are Apartments Really Such a Good Idea?
Well they can work out cheaper and as we have said now offer really good facilities. Many skiers can get a bit sniffy about apartments because for years they have had an image of the concrete monstrosities from the 1960's purpose built ski resort. But don't discount them because they offer such good value.
They can also be a great idea for families travelling together and also large groups. If you book in the same block you will get to be together but also have more space and independence than you may get in a traditional chalet.
Hotels can offer great value on a ski holiday. Some will come and collect you from the airport and many are still family run offering exceptional service. Family rooms can also be great value for families with young children and some hotels will also offer babysitting services.
Söll offers good accommodation including chalets, apartments and hotels. It is cheaper to stay here than elsewhere in the region so you will get good value for money. Do watch the apres ski though. It can get quite noisy and lively after dark
What Hotels are Available in Söll
There are a mixture of hotels here including some good 4* hotels and more basic 2*. The key thing to bear in mind is that in Söll much of the accommodation is a little removed from the slopes and the centre of the resort which can mean you have to bus in each morning or have a good 15 minute walk, so do check location very carefully.
4* hotels include the Hotel Postwirt which has the advantage of being in the village centre. Another is the Hotel Alpenschlossl with a great indoor pool. 3*'s to check out include Hotel Gansleit and Aparthotel Bergland.
The nearest airport to Söll is Innsbruck which is 80km away from the resort. Other airports to consider include Munich, 110km away and Salzburg 120km away. Driving from Innsbruck will take you about 50 minutes.Airlines using Innsbruck include British Airways, EasyJet and Lufthansa. It is possible to drive from Calais but will take you about 10 hours dependent on driving conditions.
Taking the Train
It is possible to take the train. The nearest station is St Johann which is just 25km away from Söll . From London you could take the Eurostar from London to Paris, overnight train from Paris to Munich, train from Munich to St Johann and finally a taxi from the station. So it is possible if you don't mind all the changes.
Transferring from Innsbruck Airport
Innsbruck is by far the most convenient airport. You could hire a private minibus from the airport, most are 8 seater cars. If you are not travelling in a party of 8 then opt for a shared transfer where you will be put with other people travelling to the same resort as you.
Alternatively you could just get a taxi from the airport but be sure to agree the price before you leave the airport. A private 8 seater minibus will cost approximately 290 Euros for a return trip, a smaller car will cost approximately 226 Euros return. With all such bookings do book online before you leave home as you will make significant online savings.
Compare Söll ski schools and then book or reserve your ski and snowboard lessons before you arrive in resort! Reserve your spaces in group or private lessons in Söll so saving yourself a lot of hassles!
Ski Schools in Söll
Whether you want to have ski lessons or snowboard lessons, most Söll ski schools offer a wide range of options including half day lessons, private or group lessons. Use GoSki.co.uk to find out more.
Nearby Resorts
»

Scheffau (4km)
»

Hopfgarten (10km)
»

Going (11km)
»

Westendorf (14km)
»

Kelchsau (17km)
»

Brixen im Thale (17km)
»

St Johann in Tirol (20km)
»

Oberau (21km)
»

Niederau (24km)
»

Auffach (24km)
»

Kirchberg in Tirol (25km)
»

Kitzbuhel (26km)

Nearby Airports
»

Innsbruck (0h 46m)
»

Salzburg (1h 14m)
»

Munich (1h 28m)
»

Bolzano (1h 59m)
»

Friedrichshafen (2h 58m)