Ski Valais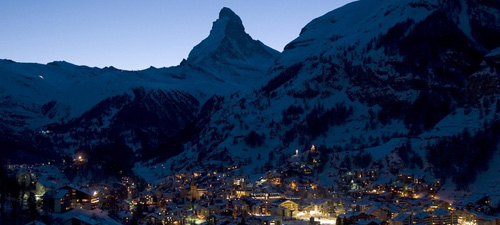 The Swiss Valais region is one of the worlds leading ski regions. Situated in the west of the country it has some of the world's best known resorts including Verbier and Zermatt. This is also a ski region with glacier skiing so can offer skiing 365 days of the year! Valais ski resorts also have a reputation for top quality big lift served verticals.
This region is home to more than 70 ski resorts. Crans Montana has impressive views of the Matterhorn and Mont Blanc and provides a variety of slopes for all levels. Saas Fee is also worth a visit, with skiing at 3600m you are assured great snow and boarders are well catered for. Verbier offers 93 lifts to access 412km of runs, amazing skiing and as for Zermatt, not only is the skiing great, but there is also heli skiing and the Gravity Park.
Visiting Valais
Several famous cross border ski areas have their Swiss side in Valais resorts. The 'ski paradise' connecting Italys Aosta valley to the country is at Zermatt and the 4 valleys is also here. Travelling to the Valais is also relatively easy with the airports of Geneva, Zurich, Basle and Bern being the closest.
For many of the resorts transfer times are slightly longer than you may find elsewhere. Sass Fee for example requires you to get the train from Geneva airport which takes a couple of hours. But as the scenery is so beautiful it is well worth it. For stunning mountain scenery,guaranteed snow and glacier skiing this ski area is well worth a visit.
Resort Name
Low Altitude
High Altitude
Vertical Drop
Longest Run
Beginner
Easy
Intermediate
Advanced/Expert
Skiing
Boarding
Après
Families
Overall
Champéry
1040 m
3200 m
2160 m
7.0 km
32
31
5
Sion

(0h 50m)

Geneva

(1h 25m)

Bern

(1h 35m)

Crans-Montana
1500 m
3000 m
1500 m
12.0 km
20
28
2
Sion

(0h 21m)

Geneva

(1h 41m)

Bern

(1h 52m)

Grimentz
1600 m
2874 m
1274 m
5.0 km
5
11
5
La Tzoumaz
1500 m
2350 m
850 m
10.0 km
21
31
5
Sion

(0h 51m)

Geneva

(2h 1m)

Bern

(2h 12m)

Les Crosets
1660 m
2277 m
617 m
7.0 km
7
5
2
Geneva

(1h 24m)

Lyon

(1h 37m)

Bern

(2h 38m)

Leukerbad
1410 m
2850 m
1440 m
11.0 km
2
8
7
Sion

(0h 40m)

Milan Malpensa

(2h 55m)

Geneva

(2h 0m)

Morgins
1000 m
2470 m
1470 m
6.0 km
14
11
0
Sion

(0h 53m)

Geneva

(1h 21m)

Bern

(1h 31m)

Nendaz
1400 m
3300 m
1900 m
15.0 km
15
18
2
Sion

(0h 20m)

Geneva

(1h 45m)

Bern

(1h 56m)

Saas Fee
1800 m
3600 m
1800 m
8.0 km
13
14
5
Sion

(1h 10m)

Milan Malpensa

(2h 49m)

Geneva

(2h 34m)

Verbier
1500 m
3023 m
1523 m
10.0 km
16
11
10
Sion

(0h 51m)

Geneva

(1h 49m)

Bern

(2h 0m)

Veysonnaz
1400 m
2450 m
1050 m
6.0 km
2
8
Sion

(0h 20m)

Geneva

(1h 44m)

Bern

(1h 54m)

Zermatt
1620 m
3899 m
2279 m
17.0 km
19
33
15
Sion

(1h 10m)

Milan Malpensa

(2h 47m)

Geneva

(2h 34m)