Mayrhofen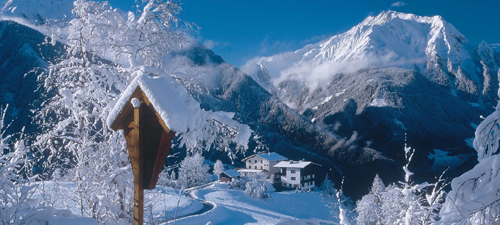 Why not ski Mayrhofen this winter? One of Austria's most famous resorts, there's good slopes for all abilities and some great off-piste also. Enjoy a traditional Tyrolean village in the Zillertal this winter whether skiing or boarding. Find out more by reading our resort review.
Where?
Why not come to the Mayrhofen ski resort to be in one of Austria's top resorts, one of the best teaching destinations and be in the beautiful Ziller Valley. Linked with Rastkogel, Finkenberg and Hintertux resorts, Mayrhofen is part of the Zillertal 3000 ski area. To get to Mayrhofen is relatively painless from Innsbruck as it's just an hour, or you can fly into Salzburg or Munich and face a much longer transfer.
resort ESSENTIALS
| | |
| --- | --- |
| RESORT ALTITUDE : | 630 m |
| TOTAL PISTE : | 142 km |
| LONGEST RUN : | 6.0 km |
| SEASON : | December - April |
WE LIKE
Cheap package deals are available here making it far cheaper than going to France. And you have all the resorts of the Zillertal nearby.
Snow more reliable than usual in the Tirol, plus the snow guarantee of the Hintertux glacier nearby.
Ski area includes Penken, Rastkogel, Eggalm & Ahorn. Good for beginners in particular and the off piste skiing is excellent.
WE DON'T LIKE
Often long queues for the gondola to Penken. Many hotels are also sited at the opposite end of town from the lifts.
Slopes can be crowded - especially lower down the mountain.
No runs back to the village from Penken, the main area of slopes - there is a red from Ahorn though.
SUITABILITY RATINGS 1-5
On the Slopes
Choose to ski in Mayrhofen and you will get access to two mountains: the Penken-Horberg, linked to the Rastkogel-Eggalm; and the smaller Ahorn mountain. Beginners will enjoy the Ahorn, which has plenty of gentle blue runs, or the Penken nursery slopes. Intermediates will find the long runs on Rastkogel and Eggalm to their tastes, while experts can attempt the Harakiri. The Harakiri is Austrias steepest slope adventure, at 38 degrees (78%), the steepest in Austria or some of the more difficult red's like Red 7 at the back of the Horberg.

If you're a boarder or freestyler, head straight for the revamped Penken Park with rails, jumps and a half-pipe to keep you busy. If you are not into jumps or you want to warm up, then the Penken offers some wide and open cruising terrain to get you started. If you like off-piste, then there's plenty of it. Finally, you always have the massive Zillertal Superski ski area to enjoy - with almost 500km of pistes - no one can do that in a week!
Ski Area
If you ski Mayrhofen you are also in the ski region of Zillertal.
Off the Slopes
It's not just the skiing and boarding that's great - when you're done for the day, you can choose from 74 restaurants and 18 cafes spread across this ski resort, serving a wide range of food, everything from traditional Tyrolean food to popular international dishes. The après-ski scene is lively, vibrant and world-renowned with 14 bars, 3 discos and even a casino to keep you busy until the wee small hours. There are also a range of ski and snowboard festivals here like Snowbombing - which says it all! You will have a great holiday here!
Who's it Best For?
Great for beginners and intermediates. If you love off piste you will also love it here.
For Mayrhofen ski holidays that include both cheap ski packages and luxury trips, let GoSki.co.uk give you access to leading tour operators. Skiing and snowboarding holidays in Mayrhofen offer excellent pistes and some great après-ski so pay one operator to do it all.
So whether you are looking for a cheap ski package or you are an independent traveller and you simply want to find a chalet or hotel room we can help. See all the accommodation we have, compare prices and facilities and book direct with the owner.
Why Choose Mayrhofen in Austria?
1. Cheap package deals are very popular here so you will pay less than say going to some French resorts.
2. Good access to other resorts in the Zillertal area.
3. Good for beginners.
4. Great off piste available.
Is Mayrhofen Right For You?
Look for deals on ski holidays in Mayrhofen with GoSki.co.uk and some of the leading ski operators in the UK. Just some of the brand names we have deals with include Crystal Ski, Thomas Cook, Thomson Ski and Neilson. Mayrhofen ski holidays come at all levels from £299 per person upwards.

No time to sort your own holidays out? Why not let our Mayrhofen tailormade ski holidays service help you.
Chalets can be booked direct from owners or from a number of good chalet operators. They can also come either catered or uncatered, ski in ski out or in the centre of the resort. Whatever your perfect chalet we can help you find it.
Accommodation here is very varied, you will find a good choice of apartments, chalets and luxury hotels. There are also a good number of beds here so it shouldn't be too hard to find what you are looking for. If you are looking for a chalet you will find that most chalets here are self catering.
Where Should I Stay in Mayrhofen?
If you are on a really tight budget then do check out some of the villages near Mayrhofen. You will be able to get the ski bus into Mayrhofen which does stop running at 5pm but then there is always the Zillertalbahn which offers an hourly train until 10pm at night.
If you want to stay in Mayrhofen then try to be near the Penken gondola as this will save you having to catch buses or walk long distances.If you are a beginner and want to be near nursery slopes then stay near the Ahorn cable car.
Apartments can be a great idea for a ski holiday. Sometimes slightly cheaper than a chalet they offer great value for money. Many of the newer developments, by the likes of MGM, are also a million miles away from the ugly concrete buildings from the 1960's that have blighted so many purpose built French ski resorts.
There is a lot of accommodation on offer in Mayrhofen from small studio apartments to luxury hotels so you should have no problem finding what you are looking for. Surprisingly the only real gap is in catering chalets which are few and far between.
The best place to stay in Mayrhofen is near the Penken gondola as this is really the key lift. If you don't you could find yourself catching buses or having to do a lot of walking. If you want to stay near the nursery slopes then try and look for accommodation near the Ahorn cable car.
Are Apartments a Good Idea?
As we have said they are sometimes cheaper,offer great facilities and the newer complexes blend in beautifully with their surroundings. In Mayrhofen if you want to find a quiet spot check out Alpenresort Thanner which has some good self catering apartments. Similarly Landhaus Gasser has some nice apartments and is situated away from the noisy apres ski.
Want to book the perfect Mayrhofen hotel for your winter holiday this year? With GoSki.co.uk you can get ready for the slopes by comparing ski hotels in Mayrhofen online right now. Whether you are looking at a budget ski holiday or luxury, you can book online and get confirmation within minutes from owners or from our partners, hotels.com. With Mayrhofen hotels, you'll be nestled in the heart of the Zillertal ski area with a range of skiing hotels from locally-owned to larger companies.
Accommodation in Mayrhofen is very varied with everything from budget studio apartments to luxury hotels. The only thing in short supply seems to be catered chalets. There are also a large number of beds so you should find what you are looking for.
What Hotels are Available in Mayrhofen?
When you are looking for accommodation in Mayrhofen try to be near the Penken gondola as this lift is key. If you are not you will have to take buses or do a lot of walking. Two 4* hotels are Hotel Strass and Sporthotel Strass which fit the bill here. The main downside of these two hotels is that you are in the hear of Mayrhofens noisy nightlife.
For the nursery slopes stay near the Ahorn cable car. You will find that a lot of hotels in Mayrhofen are a bit of a distance from the Penken lift. You may therefore want to consider getting a locker at the ski station, that way the buses become a little less arduous!
Getting to Mayrhofen is relatively simple. The nearest airport is Innsbruck which is only 76km away. The transfer will take about one hour. Innsbruck is now served by EasyJet so has become more popular due to the cheaper flights from the UK.
The Zillertalbahn highway gets you quickly to mayrhofen so the journey is really easy. If Innsbruck is not an option then the next nearest airports include Salzburg and Munich, both these airports will involve a 2 hour transfer.
Airport Transfers
The best option if you don't need a car in resort is to hire a private minibus, most will seat up to 8 people. If you are not travelling in a party of 8 then opt for the 'shared service' deal where you will be put with other people travelling to the same resort as you. Do pre book these transfers though as you will get online discounts.
If you do opt to drive to Innsbruck, then from Calais the journey is about 11 hours. From Innsbruck the drive is about 1 hour. As we have said the roads leading to the resort are relatively easy, however do beware in resort parking is not brilliant in Mayrhofen so do check that you have car parking at your accommodation.
It is possible to take the train from Innsbruck to Mayrhofen. This will involve an hour and a halfs journey and you will need to change at Jenbach.
Compare Mayrhofen ski schools and then book or reserve your ski and snowboard lessons before you arrive in resort! Reserve your spaces in group or private lessons in Mayrhofen so saving yourself a lot of hassles!
Ski Schools in Mayrhofen
Whether you want to have ski lessons or snowboard lessons, most Mayrhofen ski schools offer a wide range of options including half day lessons, private or group lessons. Use GoSki.co.uk to find out more.