Arlberg Ski Circus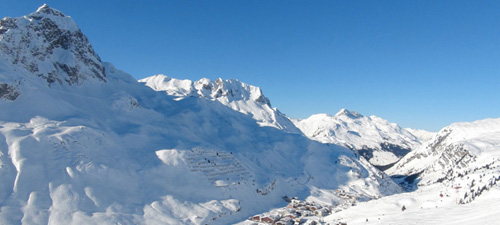 Winter sports lovers flock to Austria each year. There are several Austrian ski resorts in the area that make up the Arlberg ski circus area. The lift pass for Arlberg will allow you to snowboard or ski in any of the resorts of Lech, St Christoph, St. Anton and Zürs and Stuben. Here you will find a total of 248 pistes to choose from. Snowboarding and skiing is assured throughout the season as the pistes are above the elevation of 2500m and the snow base is excellent.
Arriving into the Arlberg Ski Circus
With a total of five different airports to arrive into, it is fully possible to make an adventure ski weekend or short ski or snowboarding break. You will find the driving time from St. Gallen-Altenrhein Airport is only a one hour drive away if the road conditions are good. Therefore, you can fly in and be on the slopes very quickly!
What to expect for Skiing or Snowboarding in Arlberg
Arlberg is perfect for all levels of skiers. With two snow and terrain parks, it is also highly rated by snowboarders. There's lots of variety from the terrain, plus with a good percentage of slopes being intermediates, there's enough to keep most people more than happy!
Seeing and Being Seen
The rich and famous love to come to visit Arlberg, and specifically they come to the village of Lech to ski and of course, to be seen. Plan on spending a fair amount of cash if you do want to come here and vacation with the famous, stay in luxurious five star hotels, have dinner at the high end restaurants and take in the active night life in the area. Although, if you do happen to be on a budget, you can always use the more affordable restaurants and hotels.
Levels of Skiing at Lech
Mostly intermediate skiing is available at Lech. The runs are carefully kept and can extend as long as 3 miles over a vertical drop of 3,000 feet. For skiers that are arriving from America, Zurich, Switzerland, is the airport to fly into that is the closest to Lech.
Zürs is located just next door to Lech and is an even quieter and more upscale resort. Being situated at a height of 5,600 feet, it does indeed get a lot of snow. Other areas to choose from are Stuben and At. Anton, which offers approximately 85 lifts and can be accessed with a single ski pass.
St. Anton is the largest of the group and is known as the place where the most serious skiers go. However, this is also the place for the serious ski parties as well! Oberlech is another group of hotels that is located beside the ski hills and is up above the village. An underground tunnel connects the hotels.
Resort Name
Low Altitude
High Altitude
Vertical Drop
Longest Run
Beginner
Easy
Intermediate
Advanced/Expert
Skiing
Boarding
Après
Families
Overall
Lech
1450 m
2450 m
1000 m
5.0 km
39
36
6
Innsbruck

(1h 14m)

Friedrichshafen

(1h 26m)

Zurich

(2h 6m)

St Anton
1304 m
2811 m
1507 m
10.0 km
39
36
6
Innsbruck

(0h 57m)

Friedrichshafen

(1h 33m)

Zurich

(2h 21m)

St Christoph
1800 m
2811 m
1011 m
10.0 km
0
21
34
5
Innsbruck

(1h 4m)

Friedrichshafen

(1h 21m)

Zurich

(2h 0m)

Stuben
1407 m
2529 m
1122 m
8.0 km
0
6
3
0
Vienna

(1h 21m)

Klagenfurt

(2h 13m)

Zagreb

(3h 44m)

Zürs
1720 m
2450 m
730 m
5.0 km
0
25
19
6
Innsbruck

(1h 10m)

Friedrichshafen

(1h 21m)

Zurich

(2h 2m)