Schladming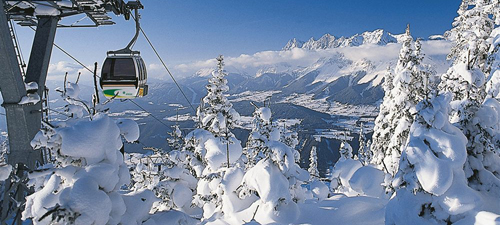 If you choose to ski Schladming/Planai in Austria, you'll have 30km close to home and the huge Ski Amadé area with over 860km linked pistes. This is one of the 'undiscovered' ski resorts, a traditional Austrian Alpine village from a medieval era. Read our guide to find out more.
Where?
Located south of Salzburg, ski Schladming for it's 170kms of piste and access to the massive Ski Amadé region - 25 resorts in five different ski regions. The beautiful medieval town dates back to 1322, and can be reached easily from either Salzburg or Munich - there are connections by bus or taxi from the airport to Salzburg train station.
resort ESSENTIALS
| | |
| --- | --- |
| RESORT ALTITUDE : | 745 m |
| TOTAL PISTE : | 30 km |
| LONGEST RUN : | 7.0 km |
| SEASON : | December - March |
WE LIKE
Ski pass will enable you to ski the Gasteinertal. Extensive intermediate slopes.
Short transfer from Salzburg airport, only 1 hours drive away.
Good choice of mountain restaurants. Very boarder friendly ski resort.
WE DON'T LIKE
The mainly north-facing runs can be cold in early season.
Austrians love this resort so it can get very crowded during their school holidays.
Experts have a more limited choice here, best bet is to head to the Dachstein glacier 20 minutes away.
SUITABILITY RATINGS 1-5
On the Slopes
Ski Schladming and get well groomed and manicured slopes that are mostly for beginners and lower intermediates. The lift system has modern chair lifts and has been designed well. Beginners can find slopes to occupy them in Schladming ski resort as the Planai nursery areas are extremely good with some gentle blues. The lower slopes of Rohrmoos are also good for beginners. Intermediates are also well looked after with some cruisy pistes and long runs such as the 5km FIS run and the 8km Hochwurzen valley run.

Close to home there's two world-class downhill runs of 5kms each. The Planai boasts a couple of very bumpy black runs and the Hauser Kaibling hosts rounds of the World Cup Women's Downhill. So you see there's something for everyone. There are four lift-connected mountains (the 4-Hills Ski Area) with summits of between 1850m and 2015m, and with the Dachstein glacier at 2700m there's usually good coverage. Snowboarders will find three half-pipes and plenty of wide-open pistes as well as the superb Hochwurzen playground and the Burton Super Park on the Dachstein glacier .
Ski Area
If you ski Schladming you are also in the ski region of Ski Amadé.
Off the Slopes
There are various options for accommodation, with over 3,500 beds in this ski resort, all nestled around a traditional town centre. The slopes are convenient, within a five-minute walk of the town centre, and when you're done for the day you'll find good restaurants, shopping, and nightlife. Other activities available include a natural ice rink for skating and curling, moonlight toboggan runs, ice-climbing, paragliding and snowshoeing. If you want to relax, you'll find a swimming pool and solarium.
Who's it Best For?
This resort is especially good for beginners and intermediates. The short transfer from Salzburg will also make it popular with families.
This really is a very charming ski resort, with its small pedestrianised centre and access to the wider Ski Amade ski area. Add to the mix the short transfer from Salzburg airport and this resort becomes even more appealing. Its only real downside is that there isn't much apres ski to speak of, but for some this could be a bonus.
If you are looking for a ski package then check out the holidays we can offer from leading ski tour companies. If however you are happier to go it alone and want to book your own hotel room or find a chalet check out the accommodation we have on offer and book direct with the owners.
Why Choose Schladming in Austria?
1. Great for beginners and intermediates.
2. You can ski the Gasteinertal and the huge Ski Amade ski area.
3. Short transfer from Salzburg Airport.
4. Good for snowboarders with the super Burton Park.
Not Sure if It's For You?
If you are sure that Schladming sounds right for you then check out the holidays we can offer. If it's just accommodation or flights you are interested in we can also help. Simply use our holiday search facility and find a great deal online.
Ski chalets really do come in all shapes and sizes with catered chalets that are luxurious, sleeping up to 20 people to those more basic uncatered chalets for two. In addition chalets can be ski in ski out or some resorts also have chalethotels which are well worth looking at.
Schladming offers a good range of accommodation including hotels, apartments and guesthouses. When looking for accommodation here do also check out the surrounding villages of Pichl, Rohrmoos, Ramsau and Haus where accommodation will work out cheaper than staying in Schladming itself.
Where Should I Look for Ski Chalet?
In Schladming you will find a range of chalets for most budgets. As we have said if budget is an issue then check out the surrounding villages as it will work out cheaper. It can sometimes be difficult despite the short transfer time to get weekend bookings so do bear this in mind.
In addition to the chalets on offer there are also a good range of 3* and 4* hotels as well as guesthouses and apartments. So do consider the full range before you book.
Apartments have become more popular in ski resorts now, they are often slightly cheaper than chalets but many of the newer apartments offer great facilities that would rival many hotels.
Schladming offers a good range of accommodation from good quality hotels, self catering apartments and chalets. All budgets are catered for but if you are on a really tight budget then do check out the surrounding villages of Pichl, Rohrmoos, Ramsau and Haus where you will get more for your money.
Are Apartments Really Such a Good Idea?
Many of the newer apartments in resorts now boast great facilities including wellness centres, swimming pools, steam rooms and saunas. They can be a lot cheaper than other accommodation and are also a great idea if you are travelling with a larger group or other families.
In Schladming do check out the Apartement-Hotel-Ferienalm about 10 minutes from the centre of the town. A good guesthouse to consider is the Gasthof zum Kaiserweg which is only 5 minutes from the centre.
Hotels are a great choice on a ski holiday. Many are still family owned and offer great service and value for money. In Schladming there is a good choice of accommodation including comfortable and budget hotels, chalets and also self catering apartments.
If you are on a tight budget you may want to consider staying in one of the villages outside Schladming where you will get more for your money. The villages of Haus, Pichl, Rohrmoos and Ramsau are worth looking at and the transport links into the ski area are good.
What Hotels are Available in Schladming?
There are a good number of 4*hotels in Schladming including the Sporthotel Royer, which has a spa, pool and good facilities for children. If it's good food that is important to you check out the Posthotel which has a good restaurant and a bar with live music.
For tighter budgets check out Haus Alexander which is cheaper but still very close to the Planai gondola. Haus Central is also a good hotel to look at, you are a little away from the nightlife but the accommodation is slopeside.
Schladming is relatively easy to get to with four airports close by. Airports include Salzburg, Linz, Graz and Munich. Salzburg is the nearest airport at just 90km away. The transfer from Salzburg is just an hour by road and if you are travelling on by train it will take you just under two hours.
Transferring from Salzburg can either be by hire car or you can always get public transport or hire a private taxi or minibus. The later can work out a good option if you are travelling in a group of 8 where you can share the costs between you.
Hiring a Car
Hiring a car can also be a good option particularly if you opt to stay in one of the surrounding villages to Schladming. It will also allow you to explore further the Ski Amade ski area. From Salzburg you would simply head south on the A10 autobahn.
Taking the Train
If you want to take the train then you can take the Eurostar to Paris and then get to the Gare de l'Est where you would then get the train to Munich. From Munich you would then get the Eurocity to Salzburg then onto Schladming. So possible, but with lots of changes and of course a lot longer than driving!
Compare Schladming ski schools and then book or reserve your ski and snowboard lessons before you arrive in resort! Reserve your spaces in group or private lessons in Schladming so saving yourself a lot of hassles!
Ski Schools in Schladming
Whether you want to have ski lessons or snowboard lessons, most Schladming ski schools offer a wide range of options including half day lessons, private or group lessons. Use GoSki.co.uk to find out more.