Zürs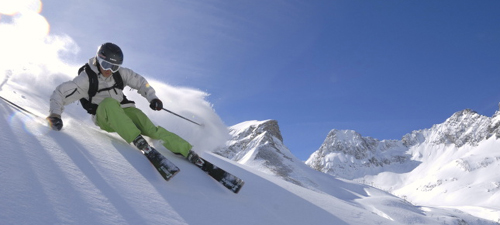 Zürs offers luxury accommodation, exclusivity and some amazing skiing and snowboarding in the Arlberg ski region. There's also superb snow with 10m+ a year. Neighbours include Lech and St Anton - so 5 star hotels and restaurants are easy to find. Read our review for all you need to know.
Where?
If you choose to ski Zürs you'll be based at an altitude of 1720m on the Flexen Pass. This is a classic ski resort that has a long history. Drawing a wealthy crowd interested in good hotels, fine dining and easy cruising on the pistes, this resort is easy to reach from Innsbruck or Zurich. Sharing the pistes with Lech it is included with St Anton in the regional Arlberg Ski Pass which means over 250km of pistes. Access from Innsbruck is quickest at less than 90 minutes.
resort ESSENTIALS
| | |
| --- | --- |
| RESORT ALTITUDE : | 1720 m |
| TOTAL PISTE : | 110 km |
| LONGEST RUN : | 5.0 km |
| SEASON : | December - April |
WE LIKE
Extensive skiing for all abilites close to home - especially intermediates
Superb snow reliability and quality - off piste is superb here with 10m+ snow a year
You can organise heli-skiing to get right in the back country
WE DON'T LIKE
Not the best place for beginners to learn
This is an expensive resort - although it is probably Austria's most exclusive
Surprisingly quiet nightlife - you can find it, but then maybe it's too expensive for most?
SUITABILITY RATINGS 1-5
On the Slopes
Best suited to intermediates, Zürs ski resort offers plenty of long, cruising runs and some gentle nursery slopes next to the village centre. The blues here offer some long and wide well groomed pistes. There is also some excellent terrain for intermediates, both locally and throughout the larger ski area. Local slopes for intermediates include those on the Trittkopf - served by a cable car. You can also find some good intermediate runs on both the Hexenboden and Omeshorn slopes as well as a steep run called the Zürsertäli down the Muggengrat into the resort. This is a great ski-in ski-out location from both blues and reds.

There is also some amazing off-piste skiing and boarding to be found close to the resort. With gullies, bowls and some quite challenging terrain, some of it is best taken with a local guide. From a boarding point of view, as well as the off-piste, the Schlegelkopf is the home of a great terrain park. The area has it's own drag and chair lift with 2 half pipes, jumps and slides. All in all - you cannot possibly be bored with the terrain.
Ski Area
If you ski Zürs you are also in the ski region of Arlberg.
Off the Slopes
Luxury is the key word here - indeed, between Zürs and the neighbouring village of Lech, there are six five-star hotels! In the village you will find the hotels and restaurants set on either side of the little river that formed the valley - you can relax by walking alongside the river and past the wonderful onion-domed church. With over 20 restaurants available, you can choose from traditional intimate inns through to well-known gourmet restaurants. Finally, other winter activities include tobogganing, curling, ice skating and even some indoor golf!
Who's it Best For?
The skiing is good here for all levels but best for intermediates. Also good for those who like off piste. But remember this is not a great resort for those on a tight budget.
Zürs offers good skiing for all levels of skier and boarder. It also has a great snowfall record. The biggest downside of this resort is that it is costly and also its only access road, the Flexenpass, can also frequently get closed cutting the resort off.
If you are looking for a luxury hotel in Zürs or a chalet or you would rather try and get a cheap package deal here we can help. Our listings of accommodation allow you to compare different types of accommodation and then book direct with the owner.
Why Choose Zürs in Austria
1. Good skiing here for all abilities, particularly intermediates.
2. Great snow record, 10m+.
3. Great for off piste.
4. If you want luxury and pampering you are looking in the right resort.
Is Zürs Right for You?
If you are sure that Zürs is right for you check out the great holiday deals and accommodation we can find for you.
Zürs is all about catering to the rich and famous so accommodation here is all about luxury hotels. In fact Zürs is not really a town or a village in the way we would understand, it is rather a collection of luxury hotels. You will find some chalets here but there are no catered chalets to really speak of.
Luxury Accommodation Choices
You also wont find apartments here as you do in other resorts. So if you had a good healthy budget for your chalet then do check out the luxury hotels. The five star hotel Thurnhers Alpenhof is a member of the 'Leading Hotels of the World' Group so for 700 Euros a night or 1500 Euros a night for a room and spa you will get a pretty amazing experience.
Other Accommodation Choices
If your budget wont stretch to this then there are other choices but again they are very hotel focussed. There aren't great choices here for families but do check out the 3* Enzian Hotel or the 4* Valluga Alpenhotel which does offer family suites.
On a positive note all accommodation in Zürs is ski in and ski out. If you are looking for an apartment instead of a chalet you wont find traditional apartment complexes but rather apartments that are part of what they call 'luxury residences'. So a great resort to visit, but you will need a very healthy budget to stay here.
Apartments can be a great idea for a ski holiday. Many of the newer apartment blocks that are being built in ski resorts include great facilities that would rival many hotels including wellness centres, swimming pools, spas and saunas.
In addition apartments can often work out a cheaper alternative to a chalet, can come catered and also be ski in ski out. So do check apartments out as, whilst they may be a cheaper alternative to other ski accommodation, you don't necessarily have to compromise on quality.
Apartment Options in Zürs
Unfortunately you may be disappointed if you are looking for either a chalet or an apartment in Zürs. You will find some apartments but you need to look carefully in what they call 'luxury residences'. You certainly wont find budget style studio apartments here.
Zürs is essentially not really a town or a village in the true sense of the word.It is rather an amazing collection of luxury hotels with great ski in ski out positioning. So if you wanted a reasonably priced apartment you will need to check out the 3* and 4* hotels here. But it still wont be cheap!
If you want to stay in a luxury resort with a great choice of hotels then you have come to the right place.Zürs isn't a village or town in the true sense of the word, it's rather a collection of great hotels in the snow! All are ski in ski out but all are somewhat expensive.
This really is the resort of the rich and famous so its a tough one for families and you certainly wont find cheap hotels here. Neither will you get catered chalets or studio apartments, the key words are luxury and cost so do bear that in mind.
What Hotels are Available in Zürs?
If you have a huge budget and want unadulterated luxury then check out the 5* Hotel Thurnhers Alpenhof, a member of the leading Hotels of the World Group. You may have to pay 700 Euros a night for a room but boy what a room! For 1500 Euros a night you could also have your own spa!
There are cheaper hotels but we aren't talking bargain basement. The 3* Enzian hotel is well worth a look at and there are family suites offered at the Valluga Alpenhotel. In summary, great luxury hotels here but all come at a price.
You can get to Zürs from 5 main airports including Friedrichshafen, Innsbruck, Salzburg, Munich and Zurich. Innsbruck is the closest with a transfer time of about 2 hours. It is quite easy to get a bus or train from Innsbruck and as some budget airlines now use Innsbruck you may also get cheaper flights.
Transferring from Zurich
On paper Zurich looks much further away but transport links are good. Ski buses run every weekend direct to Zürs. Friedrichshafen airport also has a bus company called Loacker Tours which run a weekend shuttle service to the Arlberg charging only 30 Euros for a one way journey.
Taking the Train
If you have a bit more time then it is entirely possible to take the train. You can travel by various trains from London to St Anton, which is about half an hour away from Zürs by bus.
You could also consider driving The journey from Calais will take about 9 hours. This journey will involve taking the motorway through Strasbourg, then you would drive to Zürs via Zurich. The roads can get a bit tricky in heavy snow though.
Compare Zürs ski schools and then book or reserve your ski and snowboard lessons before you arrive in resort! Reserve your spaces in group or private lessons in Zürs so saving yourself a lot of hassles!
Ski Schools in Zürs
Whether you want to have ski lessons or snowboard lessons, most Zürs ski schools offer a wide range of options including half day lessons, private or group lessons. Use GoSki.co.uk to find out more.