Les Menuires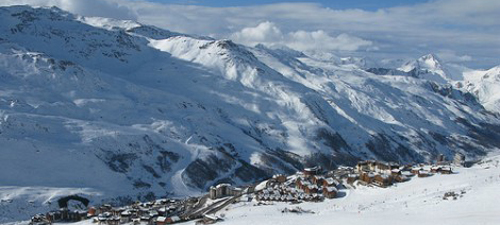 If you ski Les Menuires, you have access to the superb Trois Vallées region - without the high cost often associated with resorts like Meribel or Courchevel. This is an Olympic resort with some great pistes. Read our resort review for all you need to know before you book.
Where?
Budget-conscious people will ski Les Menuires as you don't pay the prices of your close by neighbours - but you can still share the pistes if you choose to. This sunny purpose-built resort is located in heart of the Belleville Valley, and is part of the part of the extensive 3 Vallées ski area. Access is good with local airports including Chambéry, Lyon and Geneva being as close as 90 minutes. You can also drive here fairly easily.
resort ESSENTIALS
| | |
| --- | --- |
| RESORT ALTITUDE : | 1800 m |
| TOTAL PISTE : | 160 km |
| LONGEST RUN : | 3.0 km |
| SEASON : | December - April |
WE LIKE
Good value for money, much cheaper than other resorts in the Three Valleys. Good skiing and snowboarding on offer at all levels.
Lots of slope-side accommodation for ski-in ski-out.
A lot of the best pistes in the Three Valleys are close to Les Menuires.
WE DON'T LIKE
Boring, dreary apartment blocks. Not the most attractive ski resort. Also no trees in the village adds to the rather dull appearance.
Nightlife isnt that exciting.
Some lower slopes get crowded at weekends and busy periods of the day. High season it also gets very busy here.
SUITABILITY RATINGS 1-5
On the Slopes
Ski Les Menuires and you get some excellent skiing and snowboarding pistes at all levels close to home - let alone the greater ski area. Recognised for its uncrowded, sunny slopes access to slopes of the Three Valleys is a pull for thousands each year. One of the best areas is La Masse, with some superb advanced runs and some of the best views in the Alps.

There are 24 runs for intermediates and a further 6 for advanced or expert skiers. Beginners are spoilt with a 'beginners village' near the Preyerand area where ESF and other ski schools have great facilities and pistes on which to teach you. Finally, off piste and experts have quite a lot of terrain to pick from in Le Pointe de la Masse - the north facing slopes that offer some challenging on and off piste.
Ski Area
If you ski Les Menuires you are also in the ski region of Les Trois Vallees.
Off the Slopes
Accommodation is varied in Les Menuires, with a great range of hotels, apartments, chalets and tourist residences to choose from in this purpose built resort. There are also two shopping areas with over 100 shops. Food choices range form traditional Savoyard dishes, usually packed with potato and cheese, through to standard international fare. Why not try a local favourite such fondue, raclette or tartiflette? If you are prepared to go further afield you'll find a great atmosphere in the village of St-Martin-de-Belleville, or nearby Val Thorens.
Who's It Best For?
Les Menuires has slopes for all levels of skier and boarder. Short transfer times make it great for families or those who want to take a shorter break. It's also cheaper than other resorts nearby!
Linked with the resort of Saint Martin de Belleville, Les Menuires offers a really varied range of skiing and boarding. For mixed groups this is a good choice of resort. We can offer you good value package holidays here with many leading UK tour operators. So see what is available, compare deals and book easily online.
Alternatively, if you are an independent traveller and you want to book a chalet or apartment yourself then why not look through our listings. You can then compare accommodation and prices and book direct with either the owner or the chalet company.
Why Choose Les Menuires in France?
Good skiing and snowboarding for all levels.
Cheaper than other resorts nearby.
Ski in ski out accommodation on offer.
Good choice for families, has the accreditation 'Family Plus' resort.
Is it Right For You?
If you are sure that Les Menuires is the right resort for you then check out the great deals we can offer though our ski partners. If however you still need some help why not let our Les Menuires tailormade ski holidays service help you.
Chalets epitomise a ski holiday for many. We all have the chocolate box image in our heads and in many resorts these are freely available. The beauty of chalets is that they offer so much variety. Some are catered, others uncatered and many sleep huge numbers whilst others are more intimate, one bedroom affairs.
In Les Menuires you may be disappointed if you are looking for the chocolate box chalet. One of the downsides of this resort is that we wouldnt call it the prettiest. Whilst it is now working hard on its image and more investment is coming in to help with the makeover, it has been described as a multi storey car park. In other words it is still full of the old style apartment concrete blocks from the 1960's.
So Where Can You Find Chalets in Les Menuires?
Les Menuires is predominantly apartment territory but things are slowly changing. Do check out the satellite village of Reberty Les Menuires. British tour operators are establishing chalets here, like Chalet Genevieve run by the Family Ski Company which come complete with a creche.
Also, do look at the MGM Les Clarines apartments, these are chalet style buildings which, as you would expect from MGM, have a swimming pool and spa. So things are slowly changing in Les Menuires. The message here though is that if you are struggling to find a great looking chalet do look at some of the newer apartments.
Apartments often work out a bit cheaper than chalets and many now offer superb facilities that match anything a hotel can offer like swimming pools, saunas and spas. Apartments can also come catered and offer ski in ski out convenience so don't discount them. They can offer a great deal more than you think.
In Les Menuires there are a lot of apartments! It's relatively easy if you want budget options as there are so many of them, this is not known as a luxury resort. For example, check out Residence Pierre & Vacances Aconit, a slopeside range of apartments in the Bruyeres area. It offers ski in ski out and is priced mid range. For real no frills also check out residence Maeva les Valmonts,ski in ski out again but in the Balcons de Bruyeres area. The only real down side is that you are a long way from the centre of Les Menuires but a great choice if you dont have much money and you want to ski the Three Valleys.
Comfortable Apartments in Les Menuires
More old style apartment blocks are being refurbished so you will now find smarter apartments on offer. MGM are doing a lot of work here, so check out the MGM Les Clarines self catering apartments which have a swimming pool and spa. For a bit more money check out P&V Premium Les Alpages de Reberty, the apartments here come with swimming pool, sauna and turkish baths.
Les Menuires still has some way to go to address its image as a fairly ugly concrete resort. But it is changing and whilst you wont find real luxury apartments here, as you would in say a Val D'Isere, you certainly may be surprised at the quality of some of the accommodation. And it's still a lot cheaper than neighbouring resorts.
Hotels can be a great option on a ski holiday. Many have great central locations, offer ski in ski out convenience and some will even come and collect you from the airport. In addition they can be great value and for families some offer creches and babysitting services.
Les Menuires is a very apartment based resort but there are a number of hotels to choose from. Les Menuires is a purpose built resort which has had its critics. It isn't the prettiest resort you will ever stay in but times are changing and investment is coming in.
What Hotels Can You Find In Les Menuires?
Hotel Kaya is the resorts first 4* hotel. It is situated on the edge of the slopes and just a stones throw from the centre of the resort. All bedrooms have balconies that look out across the slopes. It also has a good restaurant, swimming pool and spa.
For those on a lower budget there's the Hotel le Menuire which has larger rooms for families and also Hotel l'Ours Blanc. For large families check out Chalet 2000 which has double, triple and quadruple rooms. It may also be good to check out some of the apartments in Les Menuires, many of which we would rate more highly than some of the hotels in terms of location and facilities.
Geneva is the closest airport to Les Menuires and is about 2 hours away. Lyon is the next closest followed by Chambery and Grenoble which are about 2 1/2 hours away. The biggest issue in getting to Les Menuires isn't the distance, it's the sheer popularity of this ski area. On changeover days you can expect very conjested roads, so do be warned!
Getting from Geneva to Les Menuires
You can pre book a private minibus, most seat up to 8 people and can work out a very cost effective option. Prices are approximately 300 Euros. If you are not travelling in a group of 8 then do investigate a shared transfer option where you share the minibus with people you don't know.
Alternatively you can catch a bus. The only catch here is that you sometimes have to change at Moutiers so check the timetable carefully. As the roads can become very conjested it can be a good idea to consider the train to Les Menuires which at peak seasons could be a really good option.
Getting the Train to Les Menuires
You can catch the Eurostar from London to Paris and then pick up the SNCF to Moutiers which is 20km away from the resort. The journey from Paris to Moutiers takes about 3 1/2 hours. You can then take a taxi from Moutiers to les Menuires which will cost about 70 Euros.
If you want to find les Menuires ski schools to book your ski or snowboard lessons for your holiday, then GoSki.co.uk may be able to help. Whether you are looking to book private, group, beginner or advanced ski or snowboard lessons, reserve your places now!
Les Menuires ski schools
With a lot of competition, finding the right les Menuires ski school can be difficult. With GoSki.co.uk we provide links to their websites so you can look at who you want to trust to improve your ski and snowboard technique. We also have some reviews from member's that could help. So boost your confidence as well as learn some new tricks this winter!
Nearby Resorts
»

St Martin de Belleville (11km)
»

Val Thorens (13km)
»

La Tania (26km)
»

Meribel (28km)
»

Courchevel 1300 le Praz (33km)
»

Courchevel 1650 (36km)
»

Courchevel 1850 (38km)
»

Courchevel 1550 (40km)
»

Valmorel (41km)
»

Brides Les Bains (45km)