Ski Resorts near Turin Airport
Based in the Piedmont region of North West Italy, Turin airport is near loads of great ski resorts, if you know where to look! Within 3 hours transfer by road, you have a number of French and Italian resorts as well some close Swiss resorts, like Crans Montana and Verbier. What's more, you have an amazing City in Turin that you can enjoy if you fancy adding a day or two to your ski holiday.
Resorts by Distance
Filter resorts to find your ideal time for travel and/or country of preference. Clear all Filters
There are no matching resorts for your selection.
What's Great About Turin?
As Italy's 4th largest City, Turin is based at the confluence of the Po and Dora rivers which some believe represent the male and female powers of the sun! Turin has an amazing history and of course the world-famous Turin Shroud at the Cathedral. With superb accommodation options all close to the centre why not add a couple of days to your skiing holiday to enjoy the magnificence and of course take in some Italian food and coffee!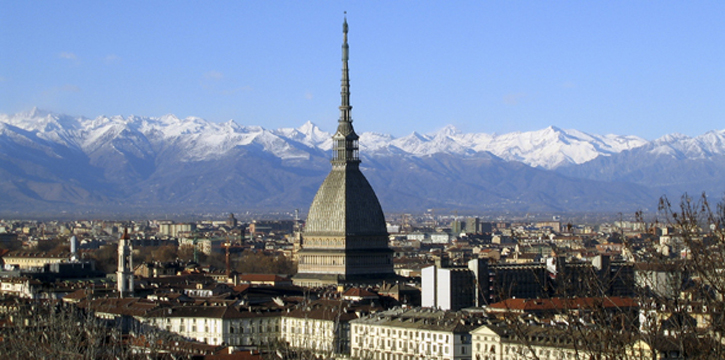 What Does Turin Offer Visitors?
Of course, your first thought is towards the Alps - we understand that. But seeing as you've already flown all the way to Italy, why not see how easy it is to make a short city break. Turin offers you superb 'squares' lined with some of the most amazing architecture, colonnaded walkways (all 18km of them) linking parts of the city, museums, art galleries and of course world-class cafés.
Did you also know that the Museo Egizio has one of the best displays and collections of Egyptian artefacts anywhere in the world. Did you also know that in 1899 Fiat (the car manfacturer) was born in Turin! Now we've got some facts in, let's whet your appetite for a stay here.
There's an 18th Centurty castle, the cobblestone streets, Baroque buildings and of course some Roman ruins. But the old stands next to the new with contemproary art, new bars and cafés and hundreds of Italian restaurants offering superb pasta, wines, chocolate and coffee. What's not to like here?
How Easy is it to Access the Alps?
Many skiers and boarders will probably overlook Turin airport as an entry point for nearby ski resorts despite it being perfect for the Southern Alps as well as the Dolomites to the North East. Although there's only Valle di Susa within the hour, you do have the resorts of Montgenèvre, Sestrière and even Courmayeur within 2 hours. This means you can ski the Via Lattea (Milky Way) during the week and enjoy the Italian hospitality.
Flights
With direct flights your only real option is to jump on British Airways. There is another low cost airline, but we've never found them that cheap on this route and certainly not good enough to mention! Flight time is around 2 hours from Heathrow and you won't have to pay for your skis either!
There's also a number of other airlines that fly here with a short stop you will be here within 4 hours and will probably not have to worry about paying for your skis and boards either! Check out Lufthansa, Air France, KLM via Amsterdam and Alitalia. Flight times for a 2 leg flight come in from between 4 and 6 hours.
Roads - Transfers
Once you've landed at Turin, transfers to the Piedmont mountains and ski resorts is relatively easy by road. Whether you choose to hire a car or catch the Cavourese Bus service that links to the resorts of Sauze D'Oulx, Bardonecchia, Cesana, Sestriere and Pragelato, you'll find there's a dual routeway linking the ring road and motorway network.
Useful Links
Cavourese Bus Service - www.cavourese.it
Turin Airport Information - www.aeroportoditorino.it