La Tania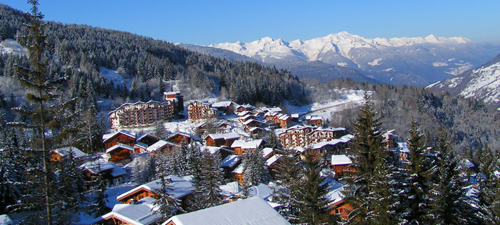 If you ski La Tania, you're in the famous Les Trois Vallèes ski region. Skiing and snowboarding in France in this region is awesome, and this ski resort has convenient access to both Méribel and Courchevel and is good for families. Read our review to find out more.
Where?
Ski La Tania if you want to be perfectly situated to access the massive slopes of the Trois Vallées. Built as an accommodation base for the 1992 Albertville Olympics, it has direct access to both Meribel and Courchevel by road and ski lift! Access to the resort is fairly straight-forward with the closest airports being Chambéry, Lyon or Geneva at between 2 and 3 hours transfer time.
resort ESSENTIALS
| | |
| --- | --- |
| RESORT ALTITUDE : | 1400 m |
| TOTAL PISTE : | 150 km |
| LONGEST RUN : | 8.0 km |
| SEASON : | December - April |
WE LIKE
For a purpose-built resort, it's intimate, friendly and cheaper than other bigger local resorts like Courcheval. Easy access to the Trois Vallees.
Long, rolling, intermediate runs through woods back to the village. Large number of ski schools, a great resort to learn to ski in.
Beginner and Intermediate runs close to village, also great for ski-in ski-out after long day in the ski area. As such this is a great resort for families.
WE DON'T LIKE
Early or late skiing here is hit and miss due to the low altitude.
The main nursery slope is part of the blue run to the village, and gets a lot of through-traffic.
Some accommodation is a long walk from the centre and the main lifts. Nightlife is also limiting.
SUITABILITY RATINGS 1-5
On the Slopes
Ski La Tania and as you have read, you're in the heart of the awesome Trois Vallees ski area. Ski holidays in La Tania benefit from possibly the world's greatest skiing and snowboarding area. That means there is something for everyone, and no chance of getting bored! Near the village there are nursery slopes for beginners and some great tree-lined runs that even advanced skiers will like.

Boarders will find the area around the resort a great place to learn, while more accomplished snowboarders will enjoy the vast range of piste and off-piste challenges. Black runs include steep, mogul covered Jockeys or Jean Blanc and you also have the, usually empty, off piste beneath Le Signal.
Ski Area
If you Ski La Tania you are also in the ski region of Les Trois Vallees.
Off the Slopes
The ski resort of La Tania has a real village atmosphere (despite it being purpose built), with a wide range of accommodation - everything from apartments, to hotels and luxury chalets. There are several restaurants in the village offering reasonably priced food - alternatively try the Telemark and Montana hotels, or La Farcon for something more special. Away from the slopes there is plenty to keep you busy including ice hockey, skating, snowshoeing, bowling, climbing and karting. There's also heli-skiing that will fly you just over the border to Italy. If you time your holiday right, you might get to see Ski Jumping at Le Praz too.
Who's it Best For?
La Tania is great for families as many of the beginner and intermediate runs are close to the village. A lot of the accommodation is also ski in ski out. Its also a lot cheaper than other big resorts nearby like Courcheval. So overall, families will love it here.
Book La Tania ski holidays for less thanks to GoSki.co.uk. With access to all leading operators, whatever type of accommodation you want in this pretty resort, you can compare chalets, hotels or apartments online in order to book at the best prices.
La Tania is great for families so whether you are looking for a family suite in a hotel or a cheap package deal check out all the holiday options we have available. You can search for the best deals and then compare so that you get just what you are looking for.
Why Choose La Tania in France?
1. Great access to the Trois Vallees ski area, the worlds largest ski area with 600km of piste.
2. Cheaper than other resorts in the same ski area.
3. Good number of ski schools, a good resort for beginners to learn in.
4. Great resort for families, short transfer time, ski in ski out accommodation and beginner runs back into resort.
Is La Tania Right for You?
If you are sure that La Tania is right for you then check out the holidays we have available, compare prices and features and book one online today. If however you are still undecided then let our La Tania tailormade ski holidays service help you.

.

Chalets for many are the epitome of a good ski holiday. They often come with great facilities, full catering and there is nothing better than coming back to a chalet with a wood burning stove at the end of a hard day on the slopes. La Tania offers good value for money when it come to accommodation, particularly when you compare it with the likes of Courcheval and Meribel, so you will get good value for money here.
Set in the heart of a pine forest La Tania is an attractive resort . It also has other big advantages in that if offers good ski in ski out accommodation and it is a compact resort, you are never that far away from where you need to be. It's also an excellent base for the other resorts of the 3 Vallees, you only need to take the la Tania telecabine out of the village then a chair lift and you can choose between Meribel and Courcheval !
Where Should I Look For a Ski Chalet in La Tania?
Chalets in La Tania are in the main the real chocolate box type. You wont really go far wrong if you check out what is available in the pine tress above the village, where you will benefit from great views and also ski in ski out convenience. If you are travelling with children check out the chalets that are only 200m from the piste and ski school meeting points. Don't worry too much about the noise if you opt for the centre of the resort. La Tania has pubs and clubs but its apres ski is rather conservative.
For those on a tight budget check out apart hotels or more basic chalets which you can find here. The beauty of La Tania is that you can still get ski in ski out on a budget here which in resorts like Courcheval down the road you would pay a premium for. Many still describe La Tania as a hidden gem and they could be right
Many skiers and boarders can still be a bit sniffy about apartments as for many they still have memories of the awful 1960's apartment blocks that still dominate some ski resorts. But now many apartment blocks are wood clad affairs and are beautifully designed with facilities that would match any good hotel.
In La Tania there is a good choice of luxury apartments which are catered, with superb views and good ski in ski out convenience. For those on a budget you can get studio style apartments which wont break the bank.
How do Apartments Stack Up Against Chalets?
Apartments often work out cheaper than chalets but if you want a little luxury that is possible to. Apartments can come catered and many have swimming pools and spa facilities so they are more like mini hotels. Many now are also not that high rise but blend in better with the surroundings. For those traveling in large groups or with other families apartments can be a great option as they allow you to be together but with more independence and space.
In La Tania you will find a good choice of apartments and priced a lot cheaper than in neighbouring Coucheval or Meribel. So check out the apartments we have on offer, compare prices and facilities and then book direct with the owner.
With La Tania hotels you get to stay in a beautiful village in the Trois Vallées for your winter holiday. With GoSki.co.uk, we make it simple for you to get organised with our search for ski hotels in La Tania. Whether you're looking for budget, mid range or luxury hotels, you can book online. Compare your La Tania hotel to others and once decided you'll be in the heart of the famous Three Valleys with a range of skiing and snowboarding activities on your doorstep.
Hotels can be a great choice for a ski holiday. Family suites can work out very cost effective for a family and some hotels will also offer babysitting services. For many it's the convenience that hotels offer that is so good with all food provided and other facilities can include fitness centres and saunas, swimming pools and spas.
What Hotels are Available in La Tania?
La Tania is mostly a ski resort that is focused on chalets and apartments so you don't have a huge choice of hotels. For more choice you may want to consider staying in nearby Meribel or Courcheval but you will pay more in these resorts. As for La Tania there are no 5* hotels here but there are a number of good mid range hotels to consider.
Hotel Le Montana is right in the centre of La Tania and is now run by Alpine Elements so all staff on site are English. The hotel has 71 rooms and is situated only 50-100m from the main ski lift. Hotel Telemark has only 12 rooms and sits just above the village. This hotel is set up more like a chalet hotel so well worth considering.
There are four major airports all within easy reach of La Tania so you should have a good number of airlines and flights to choose from. Geneva is about 2 hours away, Chambery 1 1/2 hours away and Lyon and Grenoble are both about 2 1/4 hours away.
British Airways fly to Geneva from most major airports in the UK and EasyJet have flights to Geneva, Grenoble and Lyon. Flybe fly into Chambery as do Jet2. Flights into Chambery can look very cheap but do take into account this airport can close when the weather is bad.
Transfers to La Tania
There are a number of private minibus companies that will take you to La Tania from most of the airports we have already listed. Most minibuses will carry up to 8 people and you will save money by booking before you leave home. Approximate costs are £70 return from Geneva and £75 from Grenoble.
It is possible to drive to La Tania should you wish to hire your own car but remember the resort itself is pedestrianised. The motorway is within 12 miles of the resort but when looking at costs do take motorway tolls into account.
Another transfer to consider is the train. La Tania is served by Moutiers train station just half an hour from La Tania by road. It will cost you about £25 return to get from the train station to La Tania.
FEATURED SKI TRANSFERS
Want to improve? La Tania ski schools provide professional ski instructors to help you get more from your week. Whether it's skiing or snowboarding, private, group, beginner or advanced lessons, don't leave anything to chance by booking now.
La Tania ski schools
This ski holiday, improve your ski and snowboard technique by booking ski and snowboard lessons from any one of a number of La Tania ski schools that we feature. A La Tania ski school offers ski lessons and snowboard lessons with fully qualified and insured instructors, meaning you don't need to worry abouT who's teaching you on the slopes.
Nearby Resorts
»

Courchevel 1300 le Praz (10km)
»

Courchevel 1650 (13km)
»

Meribel (14km)
»

Courchevel 1850 (14km)
»

Courchevel 1550 (17km)
»

St Martin de Belleville (21km)
»

Brides Les Bains (22km)
»

Les Menuires (26km)
»

La Plagne (31km)
»

Mottaret (32km)
»

Valmorel (34km)
»

Val Thorens (38km)