Alpe d'Huez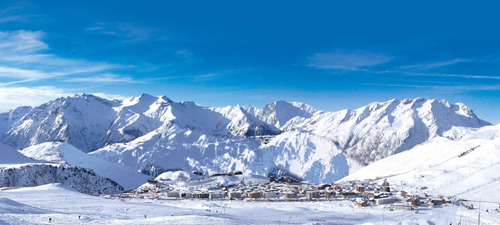 Read our resort guide to find out more about the high altitude skiing and snowboarding that is Alpe d'Huez in France. Extensive slopes for all abilities including the world's longest single run at 16km! Make your winter holiday memorable in the French Alps this winter, check out what Alpe d'Huez has to offer.
Where?
If you ski Alpe d'Huez you'll be sitting above the beautiful Oisans Valley in France and you really will find something for all the family. Easily reached from either Grenoble or Lyon, Alpe d'Huez ski resort lies at 1860 metres, and with slopes as high as 3330 metres, and links to nearby resorts Auris-en-Oisans, Oz-en-Oisans, and Vaujany, you are almost guaranteed snow here. Transfer times are between 1.5 hours from Chambéry and 2.5 hours from Lyon.
resort ESSENTIALS
| | |
| --- | --- |
| RESORT ALTITUDE : | 1860 m |
| TOTAL PISTE : | 249 km |
| LONGEST RUN : | 16.0 km |
| SEASON : | December - April |
WE LIKE
Extensive, high, sunny slopes, split interestingly into various sectors
Vast, gentle, sunny nursery slopes that are perfect for beginners and families - with some good progression slopes as you gain confidence.
Livelier than most purpose-built resorts - plus very few queues for lifts due to the expansive pistes.
WE DON'T LIKE
In late season the many south-facing runs can be icy early and slushy later
Some main intermediate runs get badly overcrowded in high season - so avoid French / Italian holiday time!
Many of the tough runs are very high, and inaccessible in bad weather. Town itself is sprawling so accomodation and restaurants can be very far apart.
SUITABILITY RATINGS 1-5
On the Slopes
Ski holidays in Alpe d'Huez are suitable for skiers and boarders of all types. Ski Alpe d'Huez and you'll enjoy skiing and snowboarding at high altitude whether you are beginners or advanced - including moguls and off piste. You also have the Sarenne run, the world's longest at an unbroken 16 km.

Off-piste runs can be found starting at the 3330m Pic Blanc, and include the Grand Sablat, the Combe du Loup and the challenging Couloir de Fare. Beginners and intermediate skiers will enjoy the runs directly above the resort, which are well served by gondolas at either end.
Ski Area
If you ski Alpe d'Huez you are also in the ski region of Les Grandes Rousses.
Off the Slopes
You'll find a great selection of lunch spots on the slopes, while dinner options include the popular and traditional Au P'tit Creux, fine dining at Les Caves, or Lily Muldoon's Irish restaurant. Popular après-ski venues include The Underground and Le Sporting. With purpose built accommodation and ski to door convenience, this is an easy resort to enjoy. Families in particular will love it here with children's ski schools offering lessons, fun and games, plus a number of crèches for the non-skiing little ones.
Who's it Best For?
We think Alpe d'Huez is best for families and beginners. That isn't to say there aren't runs for more advanced skiers but the best tough runs are high which means they can become inaccessible in bad weather.
If you are looking to ski or snowboard in France this winter, Alpe d'Huez in Les Grandes Rousses ski area is a great choice. Transfer times here are good and over the years this resort has proved very popular with British families.
Whether you are looking for a ski holiday that is hotel, chalet or apartment based we can show you what is on offer. We work with leading tour operators to get you great deals and something that is absolutely right for you whether you are looking for a hotel right on the slopes or maybe somewhere quieter out of town.
Why Choose Alpe d'Huez in France?
1. Great for beginners, with wide sunny nursery slopes.
2. High altitude, some slopes at 3330m, so good snow.
3. Great choice for families, with short transfer times, good ski schools and ski in ski out accommodation available.
4. You get to have a go at the worlds longest single run!
Is it Right for You?
If you are still unsure or need to talk in more detail about your holiday then check out our Alpe d'Huez tailormade ski holidays service that can help you. This is free of charge with no obligation to book!
Chalets are a great choice for a ski holiday. They give you that great homely feeling and for many they personify what it really means to go on a mountain holiday.
Chalets do come in all shapes and sizes and in Alpe d'Huez they offer a great choice from 2* rather basic chalets to luxurious 5* chalets complete with your own private chef. So whatever your budget or group size, check out what we can offer you in this great French resort.
Where in Alpe d'Huez?
Alpe d'Huez is a rather sprawling resort so do bear this in mind when looking for a chalet. If you want something quiet and peaceful you may want to look at the area Les Bergess which sits to the east of the resort. It is a little more remote but you can access some great skiing. If you stay in the centre of Alpe d'Huez, do beware it is lively, you will certainly hear the 30 bars and 4 nightclubs!
Chalets aren't the only option for accommodation on a ski holiday. Many skiers and boarders are now staying in apartments which in some cases can easily match the luxury of a chalet. Some apartments are also called aparthotels as they are a mix of apartment and hotel, complete with communal bars and restaurants.
Alpe d'Huez offers a great selection of apartments both in the centre of town and slightly away from the centre of the resort. The Bergers area of Alpe d'Huez has a good number of apartments which are situated only minutes from the lifts, ski school meeting points and bars and restaurants. But do beware, in Alpe d'Huez the centre of town does get very lively at night!
What are the Benefits of an Apartment?
Apartments can sometimes work out cheaper than a chalet, particularly if you are holidaying as a couple or going solo. Many are also in the centre of a resort and are therefore incredibly convenient. They can also offer incredible luxury, some come complete with chefs and swimming pools!
Groups of families or simply large groups may want to consider an apartment as they are a great way to be together but they also offer a degree of privacy that you may lack in a chalet. For example two families holidaying together could book apartments in the same block so they are near to each other but not living in each others pockets.
Hotels can be a great choice for your ski holiday if you really want to be looked after from breakfast through to evening meal. They can also be a great choice for families if you can get large family rooms, as many also offer great family amenities from swimming pools, to childrens entertainment and even baby sitting services.
This winter, book Alpe d'Huez hotels online with GoSki.co.uk to get the best deals and maximum availability. From 3 days to a weeks break, ski hotels in Alpe d'Huez are available at all levels from budget to luxury. As well as being able to compare and browse loads of hotels, when you're ready to book, you can do so online and get confirmation within minutes.
What Hotels are Available in Alpe d'Huez?
Alpe d'Huez has more hotels than usual for a French resort so you do have good choice. The majority are 3* and some are still family run offering excellent levels of personal service. Many are slopeside so you can ski in and ski out without having to pay for a luxury chalet.
For families the Pic Blanc hotel is worth looking at. Its large bedrooms, which can sleep up to 4, are great for adults with children and they offer a good sized swimming pool, a great option when the little ones are off the slopes!
Transferring from the airport to your ski resort can be stressful. You've just landed with all your ski equipment and the last thing you need is hassle in the final part of your journey. Organising your ski transfers to and from the airport before you leave home is essential. It will reduce the stress and you can make cost savings.
Most transfers involve either private taxis, public transport or private car hire. It is worth shopping around to see what deals you can get. Private car hire can be useful if you have children and need to stop on the way to your resort but if you don't need a car during your ski holiday it can then be a waste.
Getting to Alpe d'Huez
Grenoble and Chambery are by far the nearest airports. Both are about 1 hour 10 minutes away so transferring here is relatively simple. Grenoble is by far the best choice but do remember there is no railway connection at this airport for Alpe d'Huez so unless you want to make lots of changes on public transport you may be better to look at a private taxi.
A taxi from Chambery will cost each person about 80 Euros one way. Lyon and Geneva are also worth considering but the transfer is longer, at about 2-3 hours and may be longer during the peak season.
If you're searching for Alpe d'Huez ski schools, then GoSki.co.uk has a number of places where you can book your week's ski lessons, or snowboard lessons, before you leave home. With some great deals on private, group, beginner or advanced check out below.
Alpe d'Huez ski schools
This winter, improve your ski and snowboard technique with some professional ski lessons. With a number of Alpe d'Huez ski schools available to you, boost your confidence as well as learn some new tricks. You may also save some cash if you book early.