La Thuile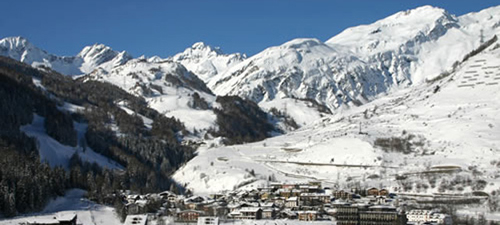 La Thuile is known for its stunning scenery of Mont Blanc (Europe's highest peak) from the Italian side. Along with a nice relaxed Italian winter sport atmosphere, skiing & snowboarding here is excellent. Read our resort guide for all you need to know.
Where?
Ski La Thuile and you're located between Mont Blanc and the Mount Rutor Glacier. This ski resort shares the slopes of La Rosiere for a total of 150kms of piste for skiing and snowboarding. The scenery is spectacular, with views of the Matterhorn, Monte Rosa and Mont Blanc, and the atmosphere relaxed. Transport is via Turin Airport or Geneva.
resort ESSENTIALS
| | |
| --- | --- |
| RESORT ALTITUDE : | 1441 m |
| TOTAL PISTE : | 150 km |
| LONGEST RUN : | 11.0 km |
| SEASON : | December - May |
WE LIKE
Fair-sized area linked to La Rosiere in France, part of Espace San Bernardo. Access to amazing heli-skiing.
Free of crowds and queues throughout the season. Known for amazing mountain restaurants.
Snow is reliable on north and east facing slopes. Good snow making facilities.
WE DON'T LIKE
Some of the architecture is unattractive, particulary the new buildings away from the old town.
High winds frequently close lift links with La Rosiere. Can also be a dark resort with fewer sun hours due to the shadow of the mountain.
Not the place for the most lively après-ski.
SUITABILITY RATINGS 1-5
On the Slopes
There is something here for everyone. With 80 slopes and 150 kms of runs, you'll be spoiled for choice. Because La Thuile is relatively unknown outside of Italy, you'll find it delightfully uncrowded. With 27 beginner/easy intermediate runs this is a good place to learn, and there's also plenty of options for intermediates. In addition to 13 expert runs, there are also some fantastic off-piste challenges, and heli-skiing is available for the adventurous.
Ski Area
If you ski La Thuile you are also in the ski region of Aosta Valley .
Off the Slopes
Don't let the size of the ski resort fool you - there are some great places to eat, ranging from cheap pizza and pasta through to full on 3-course meals. Try La Lune, Lo Creton and La Grotta for pasta and pizzas, La Fordze for something more upmarket. Lively après-ski choices include La Bricole pub or the Cage pub. This is also a good resort for families - there's a cinema, swimming pool, fitness centre, table tennis and cross-country skiing.
Who's it Best For?
Good for all levels but as it is a relatively uncrowded resort its a really good place to learn.
La Thuile does have something to keep all levels of skier and boarder happy. It is possible to ski on both sides of the Franco Italian border and the mountain restaurants are great, serving food that has both a French and Italian influence!
If you are looking for a ski package deal here we can offer you a number of options from leading UK holiday specialists. If however you are looking for a hotel room or chalet then also check out our accommodation listings and book direct with the owners.
Why Choose La Thuile in Italy?
1. Free from the usual crowds, so quiet pistes, a great place to learn.
2. Amazing mountain restaurants.
3. Reliable snow.
4. Good skiing for all levels, access to Espace San Bernardo ski area.
Is It Right for You?
If La Thuile touches all your buttons then check out the holidays we have and get a great deal online. Or look at the accommodation on offer and book direct with the owners.
Ski chalets are for many the epitome of a ski holiday. They come as catered or uncatered and can either sleep large numbers are be smaller more basic affairs. Accommodation in ski resorts in normally focussed on chalets, hotels and apartments.
In La Thuile there is quite a good mix of accommodation. The only thing that is really missing is catered chalets which aren't really part of the Italian scene,so you may be disappointed if this is what you are looking for. If it is a catered chalet you want then you may do better to look at La Rosiere which is just over the border.
Where Should I Look For a Ski Chalet?
Some of the nicest chalets can be found in the old mining villages that were here before la Thuile became a ski resort. In the resort itself there are some nice chalet style hotels including places like Chalet Alpina only 200m from the lift.
In addition to the chalets do look at the hotels as there is a lot on offer here at good prices.Hotel Dora is a good 4* hotel which has good Turkish baths and is in the centre of the resort. If you have young children do check out the Planibel which has really good leisure facilities for children.
Ski apartments have become more popular in ski resorts in recent years. They are often cheaper than many hotels and chalets and yet some modern purpose built apartments often have facilities not offered by hotels, including swimming pools and wellness centres.
In La Thuile there is a good mix of accommodation including hotels, apartments and chalets. The only thing really missing is the catered chalet market, which has never really taken off in Italy. If you are looking for a catered chalet then look over the border in La Rosiere.
In addition to the apartments on offer do check out a lot of the half board hotels which offer really good value for money. The Planibel is great if you have children as it has good leisure facilities and the Chalet Alpina has 16 rooms at a good price and very close to the lifts.
Are Apartments Really Such a Good Idea?
We think they are well worth looking at. Often well priced, they can come catered and many are situated slope side. In addition they can be a great option if you are travelling with another family or in a large ski party.
Hotels remain very popular with skiers and boarders. No traipsing round to find a restaurant at night, good deals on family suites for those travelling with children and, with many hotels still in family hands, exceptional levels of service on offer.
There is a good choice of accommodation on offer in La Thuile with chalets, apartments and hotels. The only real gap is catered chalets which have never really taken off here. If this is what you are looking for you would do better to head over the border and check out La Rosiere.
What Type of Hotels are Available Here?
If you are travelling with children and you want to be near the lifts then do check out Planibel, but be warned, it wont suit all tastes. It's a 500 bed hotel but comes complete with swimming pool, disco, restaurants and shops. It's great on convenience but some will find it soulless.
For accommodation that is a little older and maybe more stylish do look at Chalet Eden and Maison de Neige which is a small 12 room hotel situated slope side. In town you will also find 2* B&B's and very reasonably priced hotels.
The two closest airports to La Thuile are Geneva and Turin with a transfer time of about one and three quarter hours. You could also fly into Milan, the journey may be longer at two and a half hours but the flights may be better for you. These transfer times make ski weekends very realistic.
Driving to La Thuile
La Thuile is very accessible by road as it is only a few kilometres from the Mont Blanc Tunnel. As such hiring a car can be a good option particularly as it will allow you to access other resorts like Chamonix which is so close.
You could also consider hiring a private minibus. These are normally for 8 people travelling together and on average will cost you about 250 Euros return. If you are not in a party of 8 then opt for the shared service option where you effectively travel to the resort with people you don't know who are also going there.
If you want to drive all the way, from Calais it will take about 9 hours. One thing to bear in mind if driving is that the Mont Blanc Tunnel can get very busy during peak holidays times so do bear this in mind when planning your journey.
Compare La Thuile ski schools and then book or reserve your ski and snowboard lessons before you arrive in resort! Reserve your spaces in group or private lessons in La Thuile so saving yourself a lot of hassles!
Ski Schools in La Thuile
Whether you want to have ski lessons or snowboard lessons, most La Thuile ski schools offer a wide range of options including half day lessons, private or group lessons. Use GoSki.co.uk to find out more.