Le Grand Bornand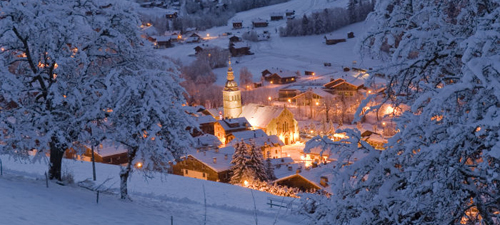 Le Grand Bornand offers you a traditional French Alpine experience in Haute-Savoie in the heart of the Massif des Aravis ski region. With over 40 pistes, it's perfect for families and intermediates so read our review.
Where?
If you ski Le Grand Bornand you'll start by finding out that it's one of the most convenient ski resorts around - just 50km from Geneva and 60km from Chambéry. It's perfect for a full holiday or just a weekend break. There are 44 pistes covering an area of around 90kms, though beginners and intermediates will find most to occupy them. You can also ski at La Clusaz, only 6km away.
resort ESSENTIALS
| | |
| --- | --- |
| RESORT ALTITUDE : | 950 m |
| TOTAL PISTE : | 90 km |
| LONGEST RUN : | 4.0 km |
| SEASON : | December - April |
WE LIKE
Access - under 65km from either Geneva or Chambery means ski weekends are very possible here.
Excellent for families and beginners - a great place to learn or build confidence.
Rustic charm and a traditional mountain village. Good choice of accommodation to suit all.
WE DON'T LIKE
Experts are a little limited here - but La Clusaz is only 6km away. Low altitude means that good snow is not assured.
Not much nightlife or buzzing après-ski here - but that's good for families.
Surprisingly there's no ski-in ski-out - which is a shame.
SUITABILITY RATINGS 1-5
On the slopes
Le Grand Bornand is loved most by beginners and intermediates, thanks to the 30 lifts serving over 40 pistes. Of these runs more than 50% are green and blue which means beginners and intermediates are well looked after here. In fact it's great for families thanks to the facilities and good ski instructors on hand.

As an advanced or expert skier or boarder you have not been forgotten - 3 pistes are graded difficult. You may need to go off piste for more interest and remember your lift pass also gives you access to neighbouring La Clusaz, a 6km drive away, which opens up a much wider range of possibilities.
Ski area
If you Ski Le Grand Bornand you are also in the ski region of Les Aravis.
Off the slopes
An ancient farming village, the Le Grand Bornand ski resort has managed to retain its rustic charm - you can visit the weekly farmers' market where you'll find locally produced cheese for sale. Accommodation is wonderful, with over 500 traditional chalets with their distinctive wooden exteriors and balconies. There are plenty of good restaurants, 35 bars, and two nightclubs, so you'll have plenty to do in the evening. In addition the village boasts a gymnasium, an ice-skating rink, cinema, a library, and a museum.
Why not book le Grand Bornand ski holidays through GoSKi.co.uk to get some great offers and deals. Whether you want to go luxury or budget, we have access to leading tour operators as well as smaller independent ski businesses. Go on book online now.
Ski holidays in Le Grand Bornand
With hundreds of great holiday deals out there, if you want to find Le Grand Bornand ski holidays then we may be able to help. Either check out our ski tour operators or check a few of the deals below to get started.

if you've got no time to sort your own holidays out, or just don;t know where to get started, let our Le Grand Bornand tailormade ski holidays service help you.
Search online for Le Grand-Bornand ski chalets whether you are looking for self catered or catered. Ranging from small 4 or 6 person ski chalets to 30+ giants, you can find some great deals online for ski chalets in Le Grand-Bornand via GoSki.co.uk. So why not browse our listings below and book yourself a great winter holiday now.
If you're wanting to find Le Grand-Bornand apartments for a ski and snowboard holiday this winter, then why not let GoSki.co.uk help. Compare aparthotels in Le Grand-Bornand as well as a wide range of apartments in Le Grand-Bornand from basic through to luxury. Check out location and facilities and when you are happy, book online to get the best deals.
Le Grand-Bornand Apartments
Search for le Grand Bornand hotels and get your winter holiday booked online. GoSki.co.uk makes it simple for you to find accommodation and ski hotels in Le Grand Bornand are just one of th eoptions. Whatever your needs, from budget to mid range or luxury, you can compare any le Grand Bornand hotel to another using our listings below. Once decided you'll be all set for a great skiing and snowboarding holiday in the Alps.
Finding airport transfers to Le Grand-Bornand is fairly easy! But finding good value ones can be a lot more tricky. Whether private hire or group ski transfer by bus, either way you want to ensure you can book your seat at the bnest price.
Airport Transfers to Le Grand-Bornand
To book Le Grand-Bornand airport transfers online, simply compare a few of the options for taxis, small minibuses or large coaches (where available) and then book youir ski transfer early. Check your ski chalet doesn't offer this service - it may be a lot cheaper and more convenient.
Want to find a le Grand Bornand ski school that offers what you need for your forthcoming ski or snowboard holiday? With GoSki.co.uk, sort out your week's ski or snowboard lessons before you leave home and get great deals on private or group ski lessons.
Le Grand Bornand ski schools
You can improve your ski and snowboard technique by booking through a le Grand Bornand ski school before you leave home. With professional ski and snowboard instructors offering beginner and advanced ski or snowboard lessons, you can learn some new tricks or improve your technique this winter!