Pila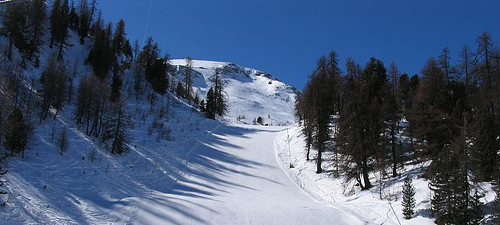 Read our resort guide to Pila in Italy and find out all about the skiing and snowboarding on offer here. With slopes that have views over Alpine giants such as Mont Blanc and the Matterhorn the setting is truly amazing. In the Aosta Valley ski region, this resort is great for intermediate skiers and families.
Where?
When you ski Pila, you get great skiing and snowboarding with stunning views of the Alps. A modern resort attached to a small Alpine town, it's accessible from either Milan or Turin Airport with ease. From the slopes you can look out over Mont Blanc, to the Matterhorn and Monte Rosa.
resort ESSENTIALS
| | |
| --- | --- |
| RESORT ALTITUDE : | 1765 m |
| TOTAL PISTE : | 70 km |
| LONGEST RUN : | 5.0 km |
| SEASON : | December - April |
WE LIKE
Great for intermediates and beginners. Accommodation is cheap.
Its high and north facing so when it does get the snow it holds it really well.
New terrain park and plenty of off piste for boarders.
WE DON'T LIKE
Sometimes suffers from lack of big snowfall in the peak season.
Not the prettiest purpose built village. You may do better to base yourself in the attractive city of Aosta.
Not the livliest après-ski. It can be very quiet here mid week. Popular with school children.
SUITABILITY RATINGS 1-5
On the Slopes
When you ski Pila you have over 70km of slopes to explore. With 12 modern lifts capable of moving up to 19,000 skiers per hour, the highest lift going all the way up to 2,752m to ensure some great snow on and off-piste. Intermediates are best served, with an incredible 76 per cent of the runs, while beginners can enjoy 13 per cent of the slopes, and experts 11 per cent. The longest run in the area covers six kilometres.
Ski Area
If you ski Pila you are also in the ski region of Aosta Valley.
Off the Slopes
Accommodation in Pila is mostly ski-in/ski-out, with the nearby city of Aosta providing an even greater variety of accommodation. Turning to après-ski, there's a small selection of restaurants and bars, for more choices and a livelier après-ski scene, most people head to Aosta - it's only 20 minutes away. Other activities available include a sports centre, an ice rink and a swimming pool, or for the more adventurous, why not try hang-gliding?
Who's It Best For?
This resort is great for beginners and intermediates, the off piste is also great.
Pila may be a small resort but its pistes are good and it's very cheap! This is a great resort for a really cheap 3 day ski break. In addition, it's only really used by locals and school parties, so its not crowded. When the snows good, its really rather good here!
If you are looking for a cheap ski package this could be a great resort. Check out the holiday deals available with leading tour operators. Or you may be an independent traveller and want to find a hotel room or chalet. Either way we can help point you in the right direction.
Why Choose Pila in Italy?
1. Good for beginners and intermediates.
2. Cheap accommodation.
3. High, north facing slopes hold the snow very well.
4. Good for boarders with good terrain park and off piste.
Is It Right For You?
If you think that Pila is worth a try then check out the holidays we have available. Or alternatively check out the accommodation and flights here and book a great deal online.
Ski chalets are for many the very epitome of what a ski holiday is all about. They can come catered or uncatered and can be situated slopeside or in the middle of town. When looking at chalets in Italy it is important to note that catered chalets are not as popular here as in France.
Pila itself is a purpose built resort and as such there are good connections between most of the accommodation and the slopes. The accommodation includes hotels, some chalets, chalet hotels and apartments.
Where to Look For Accommodation
Pila has two main centres. The first is close to the Aosta Gondola and the second, Pila 2000 is set at an altitude of 2000m. Pila 2000 tends to be dominated by hotels and apartments. most of the accommodation is close to the slopes but there is also a good ski bus that will get you around.
You can also consider staying in the Roman town of Aosta where you will have more accommodation to choose from. It is fairly easy to get from Aosta into Pila, courtesy of a high speed gondola.
Ski apartments have become very popular over the years. The apartments themselves are often cheaper than chalets and hotels and yet many of the newer apartments offer amazing facilities including swimming pools and wellness centres.
Pila is a purpose built resort so much of the accommodation has been well planned and is situated close to the slopes. The accommodation is mostly hotels and apartments although there are some chalets. Catered chalets are not as popular in Italy as they are in France.
Pila has two main centres, the first is close to the Aosta gondola, the second is at an altitude of 2000m. The later is where you are more likely to find large hotel and apartment complexes. Prices here are very good.
Are Apartments Really Such a Good Idea?
Well they can work out very good value for money. In addition they can be a great choice when you are travelling with other families or in a large group. The extra independence and space that different apartments will give you may mean you are all still talking at the end of the holiday.
Pila is a good value ski resort. Here accommodation tends to be dominated by hotels-2* and 3* and also good value apartments. There are some chalets and chalet hotels here but you may be disappointed if you are looking for a luxury catered ski chalet. For more choice you may want to consider staying in nearby Aosta which is connected to a high by a high speed gondola.
Pila has two main centres, the first is close to the Aosta gondola and the second is higher at 2000m. It is here, Pila 2000, that you will find large hotel and apartment complexes.
What Type of Hotels Will You Find Here?
For a cheap but well positioned hotel check out Lion Noir Hotel which also has a pool. If you are looking for a spa then check out La Chance. the later also has food facilities for children.
For a good 3* hotels head to Aosta to Hotel Europe. You will need to walk 10 minutes to the cable car but you are in the centre of the action if you are looking for more nightlife than in Pila. You wont find 5* luxury here in Pila but you will find comfortable hotels that wont charge you the earth.
Finding airport transfers to Pila is fairly easy! But finding good value ones can be a lot more tricky. Whether private hire or group ski transfer by bus, either way you want to ensure you can book your seat at the bnest price.
Airport Transfers to Pila
To book Pila airport transfers online, simply compare a few of the options for taxis, small minibuses or large coaches (where available) and then book youir ski transfer early. Check your ski chalet doesn't offer this service - it may be a lot cheaper and more convenient.
Compare Pila ski schools and then book or reserve your ski and snowboard lessons before you arrive in resort! Reserve your spaces in group or private lessons in Pila so saving yourself a lot of hassles!
Ski Schools in Pila
Whether you want to have ski lessons or snowboard lessons, most Pila ski schools offer a wide range of options including half day lessons, private or group lessons. Use GoSki.co.uk to find out more.