Samoëns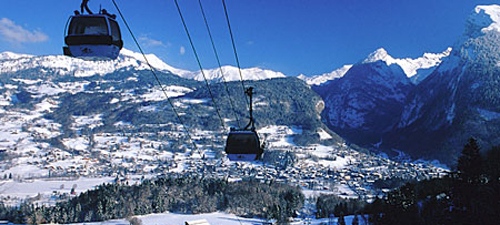 Read our resort guide to Samoëns for a charming Alpine village set in the French Alps. Your ski holiday comes with great pistes for all abilities with access to the large Grand Massif ski area. It is intermediates and families that will get the most from this historic village resort.
Where?
To be an hour from Geneva, ski Samoëns for complete convenience and of course ski weekends. Although the resort itself is based at a lowly 720m, the Red Devil gondola will speed you up to the main ski area, where you'll find choices to attract all grades of skier. Links to neighbouring resorts like Morillon in the Grand Massif mean you can enjoy 265kms of skiing spread across 134 pistes.
resort ESSENTIALS
| | |
| --- | --- |
| RESORT ALTITUDE : | 1600 m |
| TOTAL PISTE : | 125 km |
| LONGEST RUN : | 14.0 km |
| SEASON : | December - April |
WE LIKE
Lovely historic medieval village, surrounded by stunning scenery.
Part of the Grand Massif ,one of the largest ski areas in France.
Good for families, only 45 minutes from Geneva and good intermediate pistes.
WE DON'T LIKE
Weekends can be busy and the peak holiday period does clog up the pistes in places. You also can't ski back at the end of the day but have to get a cable car back to the resort.
Ski lifts can get busy - especially if you're going over towards Flaine for the greens.
The town centre gets very busy with traffic.
SUITABILITY RATINGS 1-5
On the Slopes
Ski Samoëns and your ski holiday offers a fantastic range of skiing and snowboarding with links to neighbouring resorts you then have over 265kms of runs from 134 pistes, with good lift coverage to move you around quickly. Boarders will find an excellent snow park and some great wooded terrain.

For particular recommendations, then it's the 14km blue 'Cascades run' that descends down into the resort of Sixt Fer à Cheval. If you're an expert skier or boarder, then head for the Combe de Gers area where you will find some great off-piste right across the higher points of the ski area.
Ski Area
If you ski Samoëns you are also in the ski region of Grand Massif .
Off the Slopes
A traditional Savoyard market town, Samoëns offers the chance to try traditional local cuisine at some of the resort's numerous bars and restaurants - of course if you prefer a more international menu, you'll also be well catered for. Although it's not one of the livelier resorts, you'll still find plenty of bars and a nightclub if you like to stay out late. Other activities include a cinema, snowshoe walks, archery, dog-sledding, paragliding, ice-skating, ski touring, ice-climbing and parapenting.
Who's it Best For?
Samoëns is best for families and intermediate skiers. For larger mixed groups you will need to get out and about within the Grand Massif ski area.
This winter, Samoëns ski holidays offer some superb skiing and boarding in le Grand Massif ski area. With GoSki.co.uk track down the holiday deals that range from luxury chalets through to apartments or hotels and book online in minutes. So whether you are looking for a cheap package deal or you are an independent traveller and want to find accommodation we can help you.
Samoëns is truly a unique ski resort. It has magnificent buildings and is surrounded by stunning mountain ranges. It also 'feels' different when you are there as it is still a working town aside from the skiing.If you are tired of purpose built resorts then Samoëns could be for you.
Why Choose Samoëns in France?
1. Great for beginners and intermediates.
2. Very family friendly resort, short transfer and good choice of slopes.
3. Beautiful centre and stunning scenery.
4. Part of the Grand Massif ski area, lots of scope here.
Is Samoëns Right for You?
If you have made your mind up and want to book a ski holiday to Samoëns then check out the deals we have with leading ski companies today. If however you are still undecided or have further queries and questions let our Samoëns tailormade ski holidays service help you.
Chalets are for many the epitome of a ski holiday. But they do come in all shapes and sizes from catered to uncatered, ski in ski out, to those in the centre of a town. Many can sleep 20 whilst others are small intimate affairs. Prices can vary hugely from total luxury 5* to more basic chalets.
Samoëns is an interesting resort as you cannot ski to it but have to get to it by cableway.That said you have a good choice of chalets here in often stunning surroundings.There are good offerings here of catered and uncatered offered by both UK chalet companies and independent owners.
Where Should I Look for A Chalet in Samoëns?
If you want to stay in the centre of Samoens then you have a great choice. There are a number of large chalets situated 400m from the centre and less than a mile from the Grand Massif Express high capacity gondola and 300m from the free shuttle bus stop that takes you into the resort.
There are a number of chalets situated at Les Fermes de Samoëns a peaceful part of the village 800m from the centre. For real peace and quiet check out the beautiful Vallons area, 2.4km from the centre of the village. Many old farmhouses have been converted into luxury chalets so you have a great choice here.
When many skiers and boarders think of apartments they recall the concrete monstrosities of the 1960's purpose built French resorts. But apartments in Samoëns couldn't be further away from this image. First of all Samoëns is an old medieval town full of stunning buildings set in amazing scenery. Any apartments here are stylish, beautiful affairs which would give many hotels a run for their money.
Apartments can be a great option on a ski holiday. They often work out cheaper than a chalet and have great hotel facilities like swimming pools, spas and saunas. In Samoëns, in Fermes de Samoëns, you will find a low rise development of apartments which includes a pool and sauna. This development is conveniently situated between the old town centre and the lifts.
Another development to check is Residence La Reine des Pres. All the apartments here are built in stone and wood and they also have a swimming pool and fitness centre.
Are Apartments a Good idea?
We think you should definitely consider an apartment alongside a chalet. You will find in Samoëns that they match the beauty of a chalet, may work out cheaper and offer great facilities that some chalets simply don't have. Well worth a look we think!
Hotels can be a great choice for a ski holiday. Many provide great ski in ski out convenience and offer good facilities for skiers including swimming pools, spas and saunas. For families they often provide childrens entertainment and even babysitting services. Large family suites can also offer good value for money.
Book your Samoëns hotel online through GoSki.co.uk and get some great discounts on the usual prices. When you look at le Grand Massif, the skiing and boarding is excellent, so choose from the ski hotels in Samoëns available below to get organised. Whether you are looking for budget, mid range or luxury, you can book through the GoSki.co.uk partners to get a great price.
What Hotels are Available in Samoëns?
There are a number of hotels in Samoëns to choose from. In the old village set in a large park is the Logi Hotel Gai Soleil. Here you will find comfortable accommodation and good sized family rooms. There is also a swimming pool, hot tub, sauna and hammam. A similar 3* star hotel is the Hotel Neige et Roc a family run hotel on the edge of the village with a good reputation for its food.
The Edelweiss Hotel is a comfortable 2* which sits on a mountain side with amazing views over the Grand massif region. This is just 1.5m from the slopes, so a great location. Another good hotel for its views is the La Boule de Neige which sits at the foot of the slopes of the Giffre valley. It to offers great views of the Grand Massif and the surrounding valley.
Samoëns is very easy to get to as it is just over one hours drive from Geneva. There are a good choice of airlines into Geneva which include easyJet, flybe and British Airways. Alternative airports are Chambery and Lyon but the transfer time from these two airports is nearer 2 hours.
Getting to Samoëns from Geneva
There are a number of different options here. You could simply get the bus, the SAT service is about 68 Euros per person return and there is also the altibus service which makes 4 departures daily. If you don't need a car in the resort and you are on a budget this could be a good option.
You could also hire a private minibus or taxi. Costs here do vary but the approximate price is 38 Euros per adult. You could of course hire a car yourself. In Geneva we always advise that you hire from the Swiss side. The drive is relatively easy. Follow the A40 motorway to France, exit at junction 18 for Cluses and you are almost there. The drive should only take about 1 hour.
If you want to take the train the nearest train station to Samoëns is Cluses railway station, about 17km from Samoëns. There are regular high speed trains from Geneva to Cluses. From Cluses you can take a bus which costs about 16 Euros return or a taxi would cost about 50 Euros. You can also get the TGV from Annecy to Cluses.
Discover the Samoëns ski schools available to you for your ski holiday. From beginners ski lessons through to intermediate or advanced snowboard lessons, GoSki.co.uk lists a number of providers of group or private lessons that you can reserve online now.
Samoëns ski schools
This winter, reserve your ski or snowboard lessons before you even leave the UK. If you want to improve your ski and snowboard technique, finding Samoëns ski schools that fit your requirements will save you time and hassle when you arrive in the resort. Why not boost your confidence as well as learn some new tricks on the slopes.
Nearby Resorts
»

Morillon (4km)
»

Les Carroz (23km)
»

Les Gets (23km)
»

Morzine (30km)
»

St Jean d'Aulps (32km)
»

Flaine (36km)
»

Avoriaz (37km)
»

Le Grand-Bornand (48km)
»

St Gervais (48km)
»

Megève (49km)