Flaine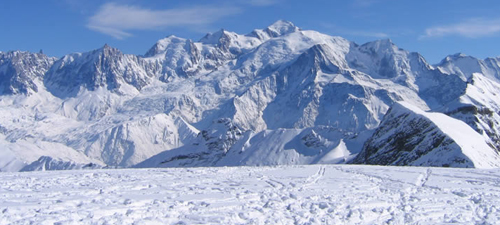 Flaine is a great ski resort for families. It caters for all abilities and the Grand Massif is a beautiful alpine setting near Mont Blanc - certainly one to consider. Read our review for all you need to know.
Where?
People choose to ski Flaine for the skiing and snowboarding and the convenience. Especially families. There's lots of terrain to choose from in the Grand Massif, with your lift pass enabling you to ski or board the other resorts of Les Carroz, Morillon and Samoëns. Access is relatively easy with Geneva and Chambéry within 2 hours - making it great for younger families especially.
resort ESSENTIALS
| | |
| --- | --- |
| RESORT ALTITUDE : | 1600 m |
| TOTAL PISTE : | 140 km |
| LONGEST RUN : | 14.0 km |
| SEASON : | December - April |
WE LIKE
Big, varied area, with plenty of terrain to suit everyone. Good for off piste. It is only one hours drive from Geneva airport.
Excellent snow record thanks to north facing slopes and proximity to Mont Blanc.The best snow record in the world for a non glacial resort.
Coming here you can ski the 4 other resorts in the Grand Massif ski area. It is also a lot cheaper than other resorts in France.
WE DON'T LIKE
Lots of slow old chair-lifts. The Red Devil lift that connects Forum with Foret is a good example.
Austere modern buildings with little or no traditional feel, not the most attractive ski resort you will ever visit.
Nightlife not a highlight - but this is known for being a family resort!
SUITABILITY RATINGS 1-5
On the Slopes
Winter holidays in Flaine offer something for everyone. Beginners will enjoy some lovely nursery terrain in the vast snowy bowl in which the resort lies, while intermediates will find a host of long cruising runs, many leading back to the resort. Advanced skiers find this is a great place to go off-piste - something the Grand Massif is great for - a local guide will show you the best spots. For boarders there are nursery slopes for beginners and three snowparks, including the popular JAM Park at Aujon.
Ski Area
If you Ski Flaine you are also in the ski region of Grand Massif .
Off the Slopes
Flaine is a purpose built ski resort, so it is possible to ski to and from much of the accommodation. Food is good, with lunch options including several mountain restaurants in the bowl, and a further eight or nine places to eat in town. Après-ski often starts at the Totem bar at the foot of the slopes - the terrace is great for catching the last of the day's rays - before moving onto the White Grouse pub and Le Cîmes.
Who's it Best For?
Flaine is great for families due to the short transfer time from Geneva and the good nursery and intermediate terrain. It's also a lot cheaper than other French ski resorts. Flaine is also great if you want to ski or board off piste.
Book your Flaine ski holidays online and take advantage of some cheap ski package deals from leading ski operators. GoSki.co.uk can help you by giving you access to leading brands and skiing and snowboarding holidays in Flaine are excellent for all the family.
If you are an independent traveller then check out our great range of chalets and apartments where you can compare and then book direct with the owner. In addition we can also help you select a hotel. So whether you are looking for a cheap package deal or are looking for a bit of luxury we can help.
Why Choose Flaine in France?
Part of the Grand Massif ski area, lots of terrain to choose from.
Great snow record due to proximity to Mont Blanc.
Short transfer to Geneva, great for ski weekends and short breaks.
Good for off piste.
Not Sure if Its For You?
If you are sure you want to book a holiday in Flaine then check out the holidays we have available and see what is right for you. If however you have further questions or need to look further then why not let our Flaine tailor made ski holidays service help you.
Chalets can be a great choice for a ski holiday. We all have in mind the ideal of the chocolate box chalet where we can ski in and ski out. Chalets can work out a great choice for families and for large mixed groups. Chalets can sleep 20 + people or they can be 1 bedroom chalets. They can come catered complete with chef or uncatered.
In Flaine you may be disappointed if you are looking for the traditional very pretty chalet as this resort tends to favour apartments and large hotel complexes.If it is the chocolate box ideal that you seek check out other resorts in the Grand Massif including Les Carroz, Morillon and Samoens.
Where Should I Look For a Chalet in Flaine?
A good place to start is the Hameau de Flaine at 1800m which overlooks the resort. Here you will find a development of Scandinavian looking chalets. The downside is you will need to take a shuttle bus to the lifts but, if its pretty you are looking for, that may be a small price to pay.
A new development is now being worked on called Flaine Montsoleil which should give skiers more chalet choice. So check out Hameau de Flaine or alternatively why not check out one of the newer apartment blocks which now offer more stylish accommodation.
Apartments can be a great choice, they often work out a little cheaper than chalets and many now come with amazing amenities that would match any hotel. Unfortunately, many of the old 1960's apartment blocks do put skiers and boarders off, but the newer style apartments are well worth checking out.
Flaine still unfortunately has some of the concrete monstrosities of old. But some have been redeveloped including the Pierre & Vacances Residence Flaine la Foret which is situated in Flaine Foret and is an apartment complex complete with its own supermarket.
Newer apartments are also being built here including Residences les Terasses de Veret next to the pistes and the Grand Vans ski lift. They come with a heated swimming pool. MGM are also building here and the residence le Centaure in Flaine Forum also has an indoor heated swimming pool and is ski in ski out. There are also some good studio apartments at Hameau de Flaine where you will find good quality ski chalets.
Are Apartments a Good Option?
Flaine is a good example of where apartments from way back were built with no regards to the overall look of the resort and the environment. But that shouldn't put you off apartments. Many newer apartments rival any chalet in comfort and luxury and with spas, swimming pools and fitness rooms many offer better facilities than hotels.
Apartments can be a good idea for families travelling together and for large mixed groups. They can also work out better value for money than a chalet so don't disregard them!
Why not book a Flaine Hotel online with GoSki.co.uk ready for your winter break. Ski hotels in Flaine are available at all levels, and you can book online and get confirmation within minutes from owners or from our partners, hotels.com. Regardless of the type of hotel you go for, you'll be nestled in the heart of the Grand Massif ski area with a range of skiing hotels from locally-owned to larger companies.
Hotels can be a great choice for a ski holiday. Many will come and pick you up from the airport so removing all the hassle of transfers and with half board you have no worries about your evening meal. For families, family suites can work out a very cost effective option and some hotels also offer baby sitting services.
What Hotels are Available in Flaine?
There are few genuine hotels in Flaine however, it really is the true apartment resort. Most of the big tour operators dominate the market here.Some of the better offerings include the Le Totum run by Crystal and the Club Hotel MMV le Flaine which has good location on the edge of the slopes.For a really great location check out Chambre d'Hote les Cascades which is situated right in the middle of the Azurite piste.
One hotel with a good reputation for good food is the Hotel-Club Mer Montagne Vacances-le Flaine, its rooms are a good size too. The Hotel-Club L'Aujon has also recently been updated and is getting good reviews.
Flaine is just one hour from Geneva airport, hence its popularity with families. It's also great for ski weekends and other short breaks. Geneva is a great option as so many airlines fly into it including British Airways, EasyJet. Jet2.com and flybe.
If Geneva is not an option for you then check out Grenoble and Lyon which are both about a 2 1/2 hours transfer. Chambery is only 1 1/2 hours away but can be an unreliable airport for closures.
Hiring a Car To Flaine
If you are hiring a car make sure you hire it from the Swiss side as opposed to the French side as this will allow you to drive on the Swiss motorways making your journey much quicker. If you live in the South of England then you might want to consider driving all the way as Flaine is in the Northern Alps. This journey from Calais is about 89 hours, not a possibility for a short break but could be good for a longer ski holiday. The train isn't a great option to Flaine as the nearest station is still 30 minutes away at Cluses.
Hiring a Private Minibus
This will probably work out your best option if you don't need a car in the resort. Most minibuses seat 8 people and if you book before you leave home they can work out very cost effective. There are a number of different transfer companies but the average price is about 40 Euros per person return from Geneva Airport. You can of course hire a taxi at the airport but you will pay more for this. If you do then always negotiate the price before you leave.
FEATURED SKI TRANSFERS
Discover Flaine ski schools online through GoSki.co.uk. Whether you're keen to improve your ski technique or learn how to snowboard, book your week's ski lessons or snowboard lessons before you leave home. Get great deals on private, group, beginner or advanced ski lessons, but don't wait to long!
Flaine ski schools
If you want to improve your ski and snowboard technique, then the Flaine ski schools we promote could be just the thing. From ski professionals through to freestyle boarding instructors, there's a range of ski or boarding lessons to suit everyone. So why not boost your confidence as well as learn some new tricks.