Breuil-Cervinia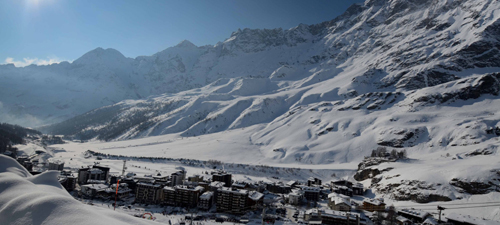 Ski Breuil-Cervinia for a long season of good snow thanks to this high altitude ski resort. With great skiing & snowboarding for all abilities, you also get a lift-link to Zermatt in Switzerland. Read more in our resort guide for all you need to know.
Where?
Ski Breuil-Cervinia to be on the Italian side of Zermatt! With the lift-link between the two resorts you have over 350 km of slopes to choose from. The slopes here are superb for cruising and high-mileage skiing and snowboarding, with lots for beginners to enjoy. Access is via Turin or Geneva airports and then main roads most of the way.
resort ESSENTIALS
| | |
| --- | --- |
| RESORT ALTITUDE : | 2050 m |
| TOTAL PISTE : | 160 km |
| LONGEST RUN : | 8.0 km |
| SEASON : | October - May |
WE LIKE
Chance to ski Zermatt without paying Swiss prices! You can ski here on a tight budget.
High altitude, sunny and a snow-sure resort with summer skiing due to the glacier. Best for intermediates and also beginners.
New hotels are being built which are helping to modernise the look of the resort.
WE DON'T LIKE
Experts and good advanced skiers will get a bit frustrated by the immediate local runs.
Piste and lift closures due to winds and weather are frustrating - due to its position in a high treeless bowl.
If you're not a skier or boarder - limited activities off the slopes. Architecture still very ugly.
SUITABILITY RATINGS 1-5
On the Slopes
Ski Breuil-Cervinia and you'll get fabulous long runs and consistent snow almost guaranteed. The gradient is mostly easy, allowing both beginners and intermediates an enormous choice of runs. Beginners can start on the village nursery slopes, then progress to most areas of the mountain, while confident intermediates should have the run of almost the entire mountain. Advanced skiers will enjoy the long runs, or else can cross the Klein Matterhorn for the more challenging pistes at Zermatt.
Ski Area
If you ski Breuil Cervinia you are also in the ski region of Aosta Valley.
Off the Slopes
Most of the accommodation in the Breuil-Cervinia ski resort is either hotel or apartment based, with no catered chalets. The pedestrianised centre of the resort is lined with bars and restaurants, and also offers lively après ski, including the Garage, which has minibuses to drop you home at the end of the night. There is also a great range of small Italian boutiques in town for those who need a shopping fix. Other activities include parapenting, ice skating, snowshoeing, and a heated outdoor pool.
Who's it Best For?
We think this is great for beginners and intermediates. It's also good if you want to ski Zermatt without having to pay the huge prices!
Choose Breuil-Cervinia ski holidays in Italy and look for cheap ski packages with the help of GoSki.co.uk. With access to all leading operators, skiing and snowboarding holidays in Breuil-Cervinia are excellent for all the family, so book online for the best deals.
Cervinia sits at the head of the Aosta Valley which makes it easy to access from Turin and Milan and is a great base if you want to ski places like Zermatt but don't want to pay the prices there. Its real downside is that there isn't a lot to do here if you are a non skier.
Why Choose Breuil-Cervinia in Italy?
1. Good for those on a tight budget.
2. Good for intermediates and those learning to ski.
3. Sunny and snowsure.
4. Glacier skiing available.
Is It the Right Resort for You?
If you are sure that this is the right resort for you then check out the great holidays that we can offer you. if however you still need some help why not let our Breuil-Cervinia tailormade ski holidays service help you
Chalets really do come in all shapes and sizes and of course budgets. For many they are the real epitome of a ski holiday particularly if they also provide ski in ski out convenience. Alongside chalets you also have hotels and ski apartments to consider and also in many resorts some great B&B's.
Cervinia has done a lot to upgrade its image of late and one thing that has changed is the accommodation. It used to be full of very tired hotels but that has now changed with newer much more plush hotels being developed. That said it isn't really a resort for chalets although you will find some. This is really the resort of the apartment and the hotel.
That's because many skiers and boarders still use Cervinia to ski the Zermatt/Matterhorn area on a budget, therefore expensive catered chalets aren't really popular. So what are the accommodation options open to you?
Accommodation in Cervinia
For those on a tight budget you will find a good choice of apartments and cheap B&B's here. If you have a bit more to spend then check out some good 4* hotels like the Hermitage and the Europa where you can also access a spa and swimming pool.
Apartments have become more popular in recent years probably because they are both slightly cheaper than other types of ski accommodation but also because a lot of the newer apartment buildings offer such great facilities.
Breuil-Cervinia accommodation is dominated by hotels and self catering apartments. So if it's a reasonably priced apartment you are looking for you have come to the right place. In addition you may also want to check out the 2* hotels and B&B's which are good value.
Are Apartments Really Such a Good Idea?
As we have said apartments have changed their image somewhat over the years from the rather soulless concrete ones that blighted many a purpose built French resort. Many of the newer apartment buildings offer shared facilities like swimming pools and wellness centres.
Apartments are also a great idea if you are travelling with other families or in a large group. If you can book apartments in the same building you will get to holiday together but have more space and independence than you may get in one chalet.
Breuil-Cervinia used to have a reputation for rather tired looking hotels. It has suffered somewhat from being a budget option for those who want to ski Zermatt but don't want to pay Zermatt prices. That said things are now changing with the development of better hotels.
What Hotels are Available in Breuil-Cervinia?
The Hermitage is set in a lovely location amidst pine trees, it has a good swimming pool and spa. Next to the Hermitage is the Saint Hubertus Resort which is an aparthotel. The apartments in this building are well worth checking out, the building also has its own spa area.
For ski in ski out convenience check out the Hotel Principe delle Nevi which has a spa and pool. Do beware though you will need to be an intermediate skier or boarder to access it as it sits on a red run.
There are also a number of good 3* hotels to check out, along with more apartments and even B&B's. Money is coming into the resort to upgrade its accommodation so you will still pay less here than in say Zermatt but you can still find some really stylish hotel rooms.
Lying in the heart of the Alps the Aosta Valley is relatively easy to get to. The nearest airport to Cervinia is Turin which is just 120km away. Milan and Geneva are also options, both are under 200km away. Several major airlines service these airports.
Travelling from Turin
There is a public bus service that will take you from the airport to Cervinia.If you are on a budget this is the most cost effective option. There is a local train service that will take you to Chatillon train station. From here you need to get a local bus service to finish the last 27km of the journey.
Alternatively you could hire a car and drive but this isn't that cost effective if you don't need the car in resort. Cervinia does however have good car parking options.Another option is to hire a private minibus which normally take 8 passengers. If you aren't part of a party of 8 then opt for a 'shared service' set up.
You could also take a train. You would start with the Eurostar to Paris, then train to Milan followed by a local train to Chatillon. So its possible but not short, probably around a 12 hour travel time! You could also drive from Calais in around 11 hours.
Compare Breuil Cervinia ski schools and then book or reserve your ski and snowboard lessons before you arrive in resort! Reserve your spaces in group or private lessons in Breuil Cervinia so saving yourself a lot of hassles!
Ski Schools in Breuil Cervinia
Whether you want to have ski lessons or snowboard lessons, most Breuil Cervinia ski schools offer a wide range of options including half day lessons, private or group lessons. Use GoSki.co.uk to find out more.