Aspen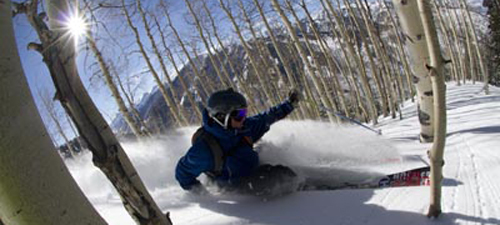 Whilst Aspen is probably the best known ski resort in the USA, read our resort review to discover it in more detail. Offering a historic town with all levels of skiing and snowboarding, you also get the luxury of Aspen airport just a few miles from the slopes to make life really simple.
Where
If you choose to ski in Aspen you will be in the middle of Colorado, in the middle of the USA Rockies. Ski holidays in Aspen are highly accessible either to the local Aspen airport, Eagle county (90 mins) or the largest airport, Denver (3.5 hours). Based at 2400m, Aspen ski resort is a mecca for the rich and famous and also offers some amazing and extensive skiing and snowboarding slopes.
resort ESSENTIALS
| | |
| --- | --- |
| RESORT ALTITUDE : | 2410 m |
| TOTAL PISTE : | 513 km |
| LONGEST RUN : | 9.0 km |
| SEASON : | November - April |
WE LIKE
Notably uncrowded slopes, especially on Highlands and Buttermilk - the expanse and variation makes this a superb first time location.
Amazing resort on mountains other than Aspen (Ajax) for beginners and intermediates but huge variety of slopes for all levels
Great for freestylers, Aspen is home to the X games
WE DON'T LIKE
Slopes split over three separate mountains (four if you count Snowmass, as you should), though there's efficient, free transport
Some accommodation in Aspen town is a bus-ride from the lifts - so not much ski in - ski out
Expensive by US standards - and quite expensive full stop! Also a bit of a hassle coming from the UK - but well worth it!
SUITABILITY RATINGS 1-5
On the Slopes
Ski holidays in Aspen have four mountains of uncluttered pistes available for skiers and boarders as well as two snowparks, moguls, treelined off-piste and cross country trails. The mountains are linked by bus to provide you with 5000+ acres of piste and off-piste pure snow - Snowmass, Aspen Mountain, Aspen Highlands and Buttermilk! Snowmass is the largest of the ski areas. With every level of skier and boarder catered for and great ski schools and private instruction - you will not forget this holiday!
Ski Area
If you ski Aspen you are in the US state of Colorado.
Off the Slopes
Ski Aspen for a lively and sometimes young resort, it's also like a who's who at certain times of the year along with the designer boutiques and art galleries. Après-ski is fantastic with a very wide range of choice to fit all tastes. There's also restaurants everywhere - over 100 at the last count - that cater for every cuisine. As you can tell, it's not really a budget skiing resort as such. As a family ski holiday destination - we couldn't recommend it more. For non-skiers, everything from hot air ballooning, art galleries and the usual snow sports await you.
Who's it Best For?
Huge variety of slopes for all levels of skier and boarder.
If you choose to ski in Aspen you are skiing in one of the best known resorts in the world. It has slopes for all abilities set amidst stunning mountain ranges. There's also a great free bus shuttle between the four ski areas.
If you are looking for a great ski package here then check out the holidays we have available. Or, if it's only accommodation you are looking for check out all your options with our guide.
Why Choose Aspen in USA
1. Great variety of slopes for all levels.
2. Slopes relatively uncrowded.
3. Great for freestylers
4. Beautiful, stunning scenery.
Is it Right for You?
If you are sure that Aspen is right for you check out the holidays and accommodation we have available. If however you have no time to sort your own holidays out why not let our Aspen tailormade ski holidays service help you.
Before you start looking for accommodation in Aspen it is important to decide where you plan to ski here. Whilst there is a shuttle bus that will take you around this can be slow in peak times and therefore a little frustrating.
If you are planning to mostly ski Snowmass then check out the accommodation there, currently there are 6000 beds with more planned. If you want to ski Aspen and other other mountains staying in Aspen will be your best bet.
Where to Look for Chalets
The accommodation on offer here is vast and as you would expect it is of a high quality. There are hotels, apartments, chalets and bed and breakfasts. You will find a range here of both catered and non catered chalets.
If you want nightlife, sophisticated shops and restaurants then opt for a chalet in Aspen. Go for Snowmass if you want something quieter and if you are travelling with children. Snowmass is also where you will find a good selection of ski in and ski out accommodation.
Before choosing your accommodation in Aspen first decide where it is you want to ski. Whilst shuttle buses for example will get you around from Aspen to Snowmass they can get busy in peak holiday times and this can be a little frustrating.
Snowmass itself has 6000 beds and more planned. In both Aspen and Snowmass there is a good choice of chalets, hotels, bed and breakfasts and apartments, or condominiums, as they are called here.
Where to Look for an Apartment
If you want a quiet location and are travelling as a family with children Snowmass may be a better choice. There is also a lot of good ski in ski out accommodation here. Aspen is better for all the other mountains and is a good choice if you want lively nightlife and all the glitzy shops, restaurants and bars.
For a good range of apartments check out Frias apartments as they have something in Aspen to suit all budgets from luxury to budget. Their apartments are also very conveniently located near to the Silver Queen gondola.
Before you select your hotel in Aspen this winter do decide where it is you want to ski. Snowmass and Aspen do have a shuttle bus that goes between the two but you don't really want to spend all you time on it if you can help it.
If you are with children and want a quieter holiday then Snowmass may be the best bet. There are currently 6000 beds there with more planned. This is quieter than Aspen and is good for ski in and ski out. Aspen is the better base if you want good nightlife,shops, restaurants and bars.
What Type of Hotels are Available Here
Aspen offers hotels from 5* luxury to more budget options although it does have a reputation for being expensive.The St Regis Hotel is usually regarded as the top hotel in Aspen. But there are also a number of good 4* hotels including Hotel Jerome and The Sky Hotel.
In Snowmass the Crestwood Hotel is a good ski in ski out option as is the Timberline Hotel. There are also a good choice of apartments in both Snowmass and Aspen which offer great locations and facilities and may work out better value than some of the hotels.
Aspen is best served by two regional airports and one international airport. Aspen-Pitkin County Airport is only 5 km from Aspen and 10km from Snowmass.You can get flights here from San Francisco, Los Angeles, Chicago, Denver and Salt Lake City.
Flying Options
Aspen can however be tricky to fly into due to the sometimes adverse weather conditions but it can be easier to fly here then drive from Denver. Denver is the nearest international airport. it is 322km away which equates to a 4 hour drive. The flight from Denver to Aspen is just under an hour.
The other regional airport is Eagle County Regional Airport , 112km away which is less affected by weather than Aspen. It accepts direct flights from Denver, Atlanta, New York, Los Angeles and Chicago.
Getting from these regional airports into Aspen is relatively easy. There is the Colorado Mountain Express(CME) and CME Premier. Book in advance online for the best prices.
Compare Aspen ski schools and then book or reserve your ski and snowboard lessons before you arrive in resort! Reserve your spaces in group or private lessons in Aspen so saving yourself a lot of hassles!
Ski Schools in Aspen
Whether you want to have ski lessons or snowboard lessons, most Aspen ski schools offer a wide range of options including half day lessons, private or group lessons. Use GoSki.co.uk to find out more.