Vail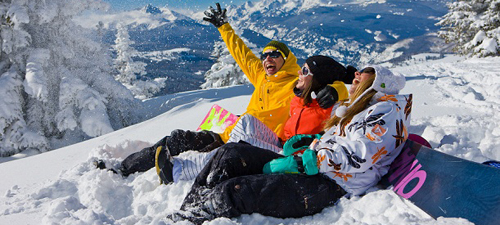 Vail is one of the world's leading ski resorts. Consistently rated the #1 ski resort in North America there's a large ski area, skiing and snowboarding for all levels along with exclusivity, fantastic snow and powder and well-groomed slopes for all the family. Read our guide for all you need to know.
Where?
Ski Vail and you're in one of the world's leading ski resorts in the state of Colorado high up in the Rockies. Just over an hour from Eagle County airport and just over 2.5 hours from Denver brings you to this exclusive ski resort. With an almost Tyrolean building style, the resort is based at 2400m. Set amongst the 'Summit Ticket' resorts, the largest ski area in the US is favoured by rich Europeans who flock here every year.
resort ESSENTIALS
| | |
| --- | --- |
| RESORT ALTITUDE : | 2476 m |
| TOTAL PISTE : | 317 km |
| LONGEST RUN : | 6.0 km |
| SEASON : | November - April |
WE LIKE
The largest ski area in the US, particularly great for intermediates and early advanced skiers. Excellent ski schools here.
The Back Bowls are big areas of treeless terrain - unusual in the US -the powder is amazing.
Fabulous areas of ungroomed, wooded slopes at Blue Sky Basin, fast lifts and very family friendly.
WE DON'T LIKE
Inadequate mountain restaurants for numbers at busy times. This is also becoming an expensive resort.
Highway runs along the edge of town ruining, some say, the mountain view.
Experts may find the steep runs too short
SUITABILITY RATINGS 1-5
On the Slopes
Ski Vail and you get almost 200 trails crossing the mountain and over 300km of piste to explore and play on. Beginners and intermediates are very well catered for close to home. The ski schools also excel with all levels well catered for. Away from the main, wide, pistes, you can find almost limitless powder and pretty safe off-piste conditions for boarders and for skiers. Lifts are very accessible and close to the resort. It's only the seriously hard core expert boarders and skiers who won't find what they want here in terms of technical pistes and slopes - but then that's when the 'Summit ticket' comes into it's own.
Ski Area
If you ski Vail you are in the US State of Colorado.
Off the Slopes
It's all about exclusivity, so it's not the cheapest of ski resorts - but then you sometimes get what you pay for. If you are serious about your boarding and skiing, then you will not be disappointed here. Vail ski resort has extensive off-piste activities for the non-skiers and great bars and restaurants for après-ski once you've done a days skiing. With luxury hotels comes luxury dining so you have a lot of choice for eating out. The off-piste activities include a sports centre, gyms, ice rinks and para-gliding. For family ski breaks, there's excellent facilities including a creche and junior ski schools.
Who's it Best For?
Excellent for intermediates and early advanced skiers and boarders. Also very family friendly.
Vail is a great ski area for intermediates and early advanced skiers. The trails are perfectly groomed and the service is exceptional. Throw in a great ski school and great powder snow and you will understand why Vail is so popular.
If you are looking for a ski holiday here then check out the holiday deals we have available from the UK's leading ski holiday providers. Alternatively if you want to book your own accommodation then read our pages on ski accommodation and book yourself a great hotel room, apartment or chalet.
Why Choose Vail in USA?
1. Great ski area for intermediates in particular.
2. Amazing ski schools here.
3. Good powder snow.
4. Great service, fast lifts and very family friendly.
Is It Right For You?
If Vail is right for you then check out the holidays we can find you at a great price. Or check out our accommodation pages and book accommodation direct with the owners.
Vail attracts quite a high class clientele so there is a lot of luxury hotel and apartment based accommodation. You will find some chalets but they do not form the majority of the accommodation as they do in many European resorts. If you were looking for a self catering chalet you would do better to look at the condominiums here, apartment style buildings.
Vail is a long resort which has two distinct villages-West Vail and East Vail. You do need to be careful where you end up as a lot of the accommodation sits near the 1-70 freeway.
Where to Look for Accommodation in Vail
Try and look for accommodation near to the lifts and pistes as these are not near to the 1-70. For bars and restaurants look in Vail Village, although you will pay more for this privilege.
Vail has recently seen more investment in building luxury apartment complexes. Some are away from the lifts so make sure they offer a bus shuttle service. The pick of these include Solaris which offers a spa and pool and also a cinema and even a restaurant.
The majority of the accommodation in Vail is hotel and apartment based, or condominiums, as they call them in the USA. As the resort also attracts a lot of wealthy skiers and boarders there is no shortage of luxury accommodation here.
The only real downside here is that some hotels and apartments are situated near to the busy 1-70 freeway, so do check location very carefully. The resort is quite long so make sure you are near to the lifts and pistes.
What Type of Apartments are Here
Vail has seen a lot of luxury apartments built here recently so if budget is no option you can find some great condos. Take Solaris for example, these new apartments offer great rooms, a spa, swimming pool and even a restaurant and cinema. They also offer a free shuttle bus to the pistes.
Cheaper apartments are here but they are often situated away from the lifts. Vail Cascade Resort & Spa near Lionshead is a cheaper example. So you can get budget options here but you will need to accept that you will need to travel by bus into the resort each day.
Accommodation in Vail is mostly about hotels and apartments. There is certainly no shortage of luxury accommodation here as the resort attracts moneyed skiers and boarders.
Do be careful when you book your accommodation as some of it is near to the busy 1-70 freeway. Try to look for a hotel or apartment that is near to the lifts and pistes, it has the obvious advantage of allowing you to get on the slopes easily but the lifts and pistes here are not near to the 1-70.
What Types of Hotels are Here?
One of the best hotels here is the Arrabelle at Vail Square, a 5* which offer great luxury. The Lodge at Vail is another 5* which is probably Vails most famous hotel.It is right in the heart of Vail Village and so is also great for all the bars and restaurants.
There are also a number of good 4* hotels here including the Mountain Haus. There are also a number of 3* hotels and also some great apartments. Luxury apartments here include amazing facilities like swimming pools and spas. Some of the cheaper hotels and apartments will involve you having to bus in each day.
Vail is located in the heart of the Rocky Mountains 160km west of Denver. The interstate highway the 1-70 runs right through Vail.The nearest International Airport is Denver, 190km away, which is a 2 hour drive away.
Vail Eagle County airport is the nearest airport only 56km west of Vail. This airport is served by the following airlines, American Northwest, Delta, Continental, and United. The decision of where you fly into is dependent on whether you want an internal flight or a longer drive from Denver.
Driving to Vail
The 1-70 freestate is a direct route into Vail from almost anywhere. There is a good bus service once you are in Vail though and as the parking is quite expensive and limited you may want to forget driving and get a shuttle bus or hire a private taxi from the airports.
There are a number of private transfer companies you can book with. If there are a large group of you travelling it can work out very reasonable. If not opt for the shared service option.
Compare Vail ski schools and then book or reserve your ski and snowboard lessons before you arrive in resort! Reserve your spaces in group or private lessons in Vail so saving yourself a lot of hassles!
Ski Schools in Vail
Whether you want to have ski lessons or snowboard lessons, most Vail ski schools offer a wide range of options including half day lessons, private or group lessons. Use GoSki.co.uk to find out more.
Nearby Resorts
»

Beaver Creek (22km)
»

Copper Mountain (34km)

Nearby Airports
»

Eagle County (0h 37m)
»

Denver (1h 57m)