Keystone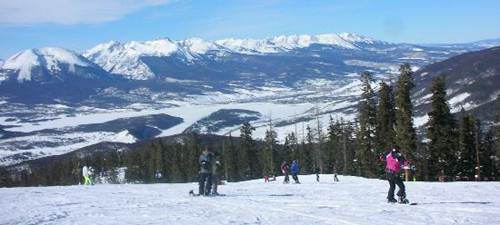 Keystone is America's fourth most visited ski destination. When you go skiing and snowboarding in Colorado it usually ensures great snow, stunning views and relatively easy access from airports on your arrival. Read our review for more information.
Where
If you ski in Keystone you'll be heading in to the heart of the Colorado Rockies - all around 90 minutes from Denver International Airport on a good day. This ski resort is also close to a very exclusive partner resort, Vail, and this area of stunning terrain comes with reliable snow, season after season. Over 116 ski and snowboard trails in Colorado to enjoy starting with that very short hop from the airport.
resort ESSENTIALS
| | |
| --- | --- |
| RESORT ALTITUDE : | 2829 m |
| TOTAL PISTE : | 2870 km |
| LONGEST RUN : | 5.0 km |
| SEASON : | October - April |
WE LIKE
Great skiing and boarding for all levels, a great resort for families and mixed ability groups. Lots of off the slope activities.
Huge night-skiing operation - which is awesome, 10 floodlight runs open until 10pm!
Lift pass enables you to ski other resorts nearby eg Breckenridge is only a 15 minute drive away.
WE DON'T LIKE
Very scattered resort, with a lot of bussing or driving for most visitors. No real village focus.
Apres ski is a bit muted, this isnt a big party town.
Accommodation is dominated by condos, not a great variety of options here.
SUITABILITY RATINGS 1-5
On the Slopes
Ski Keystone to access a wide variety of terrain - there are three mountains to choose from - Dercum, North Peak and The Outback - which between them offer something for all levels of skier and boarder. Advanced skiers will enjoy North Peak's steep, challenging runs, intermediates should head for the Outback, with its uncrowded, tree-lined skiing, while beginners will love Dercum's wide, gentle runs. There's also 16kms of prepared trails and 57kms of ungroomed trails for the cross-country crowd.
Ski Area
If you ski Keystone you are in the US State of Colorado.
Off the Slopes
The range of accommodation in Keystone ski resort is fantastic - choose between the four hotels, or from over 2,000 condominium rooms. At night you have over 30 restaurants, bars, and clubs to choose from, plus regular outdoor concerts and night skiing. There's also good shopping, whether you like designer wear or outdoor gear, and kids will love the Glow Bug Skate Night. If all that isn't enough, there's also mountaintop gondola rides, a fitness centre and indoor tennis to keep you busy.
Who's it Best For?
Great skiing and boarding for all levels, very good for families.
Keystone is a really good choice for families. The accommodation is good as are the nursery slopes and there is lots to do off piste. Add to the mix that Breckenridge is a close neighbour and you are really onto a winner.
If you are looking for a holiday here then check out he deals we can get you with leading UK ski operators. If however you want information on accommodation read our guides and book a great hotel room, apartment or chalet.
Why Choose Keystone in USA
1. Great skiing and boarding for all levels.
2. Great for families.
3. Huge night skiing operation.
4. Breckenridge is only a 15 minutes drive away!
Is It Right For You?
If you think that Keystone is the right resort for you then check out the holidays we have available. Or if you just want accommodation read our accommodation guides and find what is right for you.
There are a number of areas you can choose to stay in in Keystone. Most of the accommodation on offer here is hotel based and apartments, or as they call them here, condominiums. You can find quiet rooms in the forests or be in the centre of the action.
There is also good ski in ski out accommodation. A good tip is that this resort tends to be used by Americans which means there are periods when it is quieter and you will grab some real bargains.
Where to Find a Chalet
As most of the accommodation here is condo or hotel based you wont find a huge selection here of European style chalets. In terms of areas, River Run is smart, as is the Timbers.
If you are travelling with children check out the Mountain House area.It's where the Camp Keystone childrens ski programme is based. Do beware that the Lakeside area doesn't have lift access to the mountain.
If you are looking for an apartment for your ski holiday then you will have a good choice in Keystone. Most of the accommodation here is hotel or apartment based and you will have a number of different areas to choose from.
Another good point is that as it is mostly Americans who come to this resort, there will be periods when it is quieter here, so you can get some really good bargains on the cost of your accommodation.
Where to Look for an Apartment
River Run has some smart apartments and is also the place to head if you want good apres ski. Timbers and the Lone Eagle apartments are well rated and have the added advantage of being ski in ski out.
There are also good apartments in the centre of the resort. If you are a family then the area you should head for is Mountain House as this is where you will find the Camp Keystone childrens skiing club.
Most of the accommodation in Keystone is hotel and apartment based so you will find good choices here. There are different areas to choose from and many of the choices involve ski in ski out options.
Keystone attracts mostly an American audience which means that when there are quiet periods you have the opportunity to get a great bargain on your ski accommodation.
What Type of Hotels are Available Here
If you want good apres ski check out the River Run area. If you are travelling with children head to Mountain House as this is where the Camp Keystone childrens ski camp is held. Do beware if you book accommodation in Lakeside that there is no lift access to the mountain.
Keystone Lodge is well rated as its rooms offer good mountain views. Although it's a 5 minutes walk from the lifts the Inn at Keystone also has good views and is less expensive. For good food also check out the Ski Tip Bed and Breakfast.
Keystone is well placed to get to as it sits on the Highway 6, a few minutes from the main interstate, 170. The nearest international airport to Keystone is Denver which is only 121km away. The journey from Denver by road is about 1 hour 30 minutes on a good day. Most skiers either rent a car at the airport or take a shuttle bus.
Alternatively you could fly into Vail Eagle Municipal Airport which is also a 90 minute drive into Keystone. This is a much smaller airport with less choice of flights.
Transferring to Keystone
Driving here is relatively easy although the 170 can get busy. But you could also hire a private taxi. This could work out very good value if there is a group of you. If you are travelling alone then opt for the shared service option.
There are a number of different private transfer companies to choose from. The choice of vehicles is good including sedans, vans and also, if you really want to arrive in style, you could book a limo!
Compare Keystone ski schools and then book or reserve your ski and snowboard lessons before you arrive in resort! Reserve your spaces in group or private lessons in Keystone so saving yourself a lot of hassles!
Ski Schools in Keystone
Whether you want to have ski lessons or snowboard lessons, most Keystone ski schools offer a wide range of options including half day lessons, private or group lessons. Use GoSki.co.uk to find out more.
Nearby Resorts
»

Copper Mountain (29km)

Nearby Airports
»

Eagle County (1h 11m)
»

Denver (1h 41m)