Breckenridge
Tue
23 Jan: -16°
Wed
24 Jan: -8°
Thu
25 Jan: -6°
Last snowfall: 21 January, Powder snow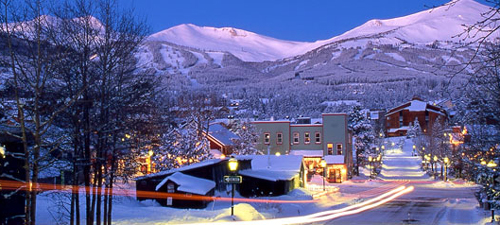 Read our comprehensive guide to Breckenridge in Colorado and discover why it is one of the USA's top ski destination.Enjoy extensive skiing and snowboarding through tree-lined pistes. All this and it's just over 90 minutes from Denver.
Where
Ski Breckenridge in Colorado to be located in the middle of the USA. With an airport transfer of either 60 minutes (Eagle County) or 90 minutes (Denver) you will arrive raring to go. A high altitude ski resort (c.3000m), it's one of the top three USA ski resorts for British travellers. A great skiing and snowboarding area for all levels of skiers & boarders.
resort ESSENTIALS
| | |
| --- | --- |
| RESORT ALTITUDE : | 2926 m |
| TOTAL PISTE : | 240 km |
| LONGEST RUN : | 6.0 km |
| SEASON : | November - April |
WE LIKE
Highest ski area in Colorado making it very snow sure, it receives over 300 inches of snow each year.You can also ski another 4 top resorts on the one lift pass.
Great skiing, authentic atmospheric town, great apres ski and only a 2 hour transfer from Denver.
Good for all levels, gentle nursery slopes for beginners, excellent for intermediates and for experts runs names 'psychopath' and 'boneyard'!
WE DON'T LIKE
Despite the challenging runs the expert skier may find the black runs a little short.
Avoid if you can in January, the cold winds at the top of the mountain are freezing!
The altitude means you may spend the first couple of days 'out of puff' as you get used to it. Also a long haul from the UK.
SUITABILITY RATINGS 1-5
On the Slopes
Ski here in Breckenridge and you have 4 peaks offering every level of skiing and snowboarding you can think of. Ski holidays offer decent pistes and off-piste powder for skiers and boarders. With a shared lift pass that covers Arapahoe Basin, Beaver Creek, Copper Mountain, Keystone and Vail, you can access hundreds more runs. For boarders, a half-pipe and snow park will keep you occupied as well as off-piste powder.
Ski Area
If you ski Breckenridge you are in the US state of Colorado.
Off the Slopes
Due to altitude, you'll need really warm clothes when off the piste - but it really is worth it. An old mining village, Breckenridge offers lots of bars and restaurants as well as a range of off-piste activities including a sports centre, gym, ice rink and para-gliding. For a family skiing break, without a doubt Breckenridge is a top destination that offers childcare facilities, entertainment and on-piste ski schools.
Who's it Best For?
This resort is genuinely good for all levels from the gentle nursery slopes for beginners to great expert runs.
Breckenridge's history lays deep in gold mining which was first discovered here in 1859. It was also the first resort in Colorado to allow snowboarding and instal a high speed detachable quad chair lift. When you ski here you ski against an amazing backdrop of 4 peaks.
For great ski holidays here check out what we have available from leading ski tour operators. If however you are looking just for accommodation read our pages on chalets, apartments and hotels for all you need to know.
Why Choose Breckenridge in USA
1. Very snow sure, highest ski area in Colorado.
2. More skiing available in 4 other ski resorts on the one lift pass.
3. Good for all levels of skier and boarder.
4. Great old gold mining town to stay in.
Is It Right For You?
If you think Breckenridge is right for you then check out all the holidays we have available here. But if you have no time to sort your own holiday out why not let our Breckenridge tailormade ski holidays service help you and pay nothing extra for your break.
Accommodation in Breckenridge is based on bed and breakfasts, hotels and apartments and chalets. In the past it has tended to have lots of accommodation but not at the luxury end. That however is changing now as Vail Resorts, who own it, invest more in high end lodgings.
When choosing accommodation try to either be near to Main Street if you want to be near all the night life, bars and restaurants. Although do be aware that this will be noisy. Or aim to be near the lifts. A lot of accommodation offered can put you out in the suburbs which isn't much fun!
Where to Find Chalets Here
Unless you are desperate to find a chalet then do check out One Ski Hill Place at the base of peak 8. This is all about luxury apartments but they really are worth checking out. You have a pool, bowling alley and is ski in ski out, in fact you have 4 lifts to choose from on your front door!
For chalets we would recommend you check out Chalets USA, a British run catered ski chalet company. They have a good number of chalets in Breckenrige which are flexible enough to let you book the whole chalet or by the room.
There has never been a shortage of accommodation in Breckenridge but in the past it was always pitched at the budget level. But things are now changing as Breckenridge sees the development of more luxury lodgings.
Accommodation here tends to be bed and breakfast, hotels, apartments and even some good chalets. If you want great night life then try to book an apartment near to main Street. Otherwise check out accommodation near the lifts. There is a lot here out in the suburbs which people call 'Breckenridge' but unless you don't want to have to travel in each day try to avoid this.
Where to Look for Apartments Here
For great luxury apartments head to One Ski Hill Place at the base of peak 8. The apartments are great and you get a swimming pool, bowling alley and 4 lifts on your doorstep. For those on a smaller budget check out Crystal Peak Lodge near Peak 7.
Near to Main Street you have apartments like Mountain Thunder Lodge and Pine Ridge Condos which are mid priced apartments. Here you are only a short walk from all the nightlife of Main Street.
Breckenridge has always had a lot of beds on offer, its issue has always been that much of it hasnt been at the top end of luxury. But that has changed as Vail Resorts, its owners, are investing more in luxury accommodation.
If you want great nightlife on your doorstep then try to be near Main Street where all the action is. For amazing ski in ski out try to be near the lifts. One of the problems here is that some accommodation called itself 'Breckenridge' when actually it is way out in the suburbs and you will need to travel in each day.
What Types of Hotels Are On Offer Here?
The best in luxury includes places like the Beaver Run Resort which has great rooms, swimming pool, spas and hot tubs. Another is the Village at Breckenridge which is next to the Peak 9 ski base so great ski in ski out. It is particularly good for those who want good fitness facilities.
One Ski Hill Place is another luxury development although of apartments but is worth looking at mainly as it has a choice of 4 lifts on its doorstep so truly amazing ski in ski out. If you have a tighter budget there are smaller scale lodgings including those like the Breckenridge Mountain Lodge.
Breckenridge is located in north central Colorado in the heart of the Rocky Mountains. The nearest International airport is Denver which is 166km away, only 2 hours away by road. Denver international airport has 500 daily flights and is used by 20 major carriers.
There are in addition two regional airports, Eagle County airport which is 102 km away and Colorado Springs airport, 178km away.
Transferring from Denver
You can hire a car and the drive is quite straightforward via Frisco and Highway 9. A car could also be useful if you want to explore the other ski resorts close by. If not there is also a ski shuttle bus that goes from the airport to Breckenridge.
There are also a number of private taxi companies to hire, either with friends or you can opt for the shared service whereby you share with other people going to the same resort as you. Options include Colorado Mountain Express, Arrow Stage Lines or Powderhounds Transport.
Compare Breckenridge ski schools and then book or reserve your ski and snowboard lessons before you arrive in resort! Reserve your spaces in group or private lessons in Breckenridge so saving yourself a lot of hassles!
Ski Schools in Breckenridge
Whether you want to have ski lessons or snowboard lessons, most Breckenridge ski schools offer a wide range of options including half day lessons, private or group lessons. Use GoSki.co.uk to find out more.