Ski resorts in California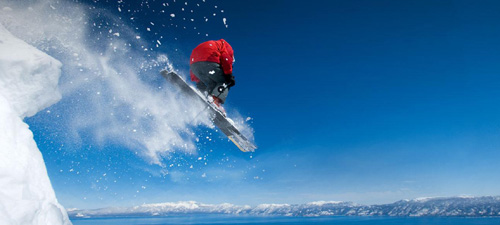 With very reliable snowfall, the ski resorts in California also come with meticulously groomed pistes and efficient lift systems - meaning your Californian skiing holiday will be some experience.
The best time to visit the ski resorts in California is during February, when snow is guaranteed. As well as fantastic skiing and snowboarding, you can experience a wide range of winter sports.
Visiting California
Skiing holidays in California give you the opportunity to enjoy the outdoor life and get to grip with sports such as hiking, fishing and hunting. For those more relaxing moments, you could visit one of the many Californian hot-spring health spas.
The USA is famous for its food, particularly the portions! You will find a selection of quality food at reasonable prices in California ski resorts, although the mountain restaurants are sometimes fairly basic.
With something to suit everyone, on and off the slopes, everyone can enjoy this ski area. The Lake Tahoe area, for example, has both hard-core skiing and more laid back resorts, with plenty to keep you amused when you are not skiing.There are also a number of smaller, old-fashioned resorts, such as Donner Ski Ranch, that are perfect for families.
There is a high concentration of ski resorts in California. There are four main regions in the Tahoe area, each with its own unique identity and eight in Southern California. The resorts are not massive, but they tend to be grouped together, so enthusiastic skiers can cover more than one area in a day.
Ski accommodation is usually provided in hotels, apartments and condos and is generally very spacious. Whatever you choose, you will be happy with the high standards and friendly staff.
Resort Name
Low Altitude
High Altitude
Vertical Drop
Longest Run
Easy
Intermediate
Advanced
Expert/Extreme
Skiing
Boarding
Après
Families
Overall
Alpine Meadows
2080 m
2630 m
550 m
5.0 km
25
40
17
18
Reno/Tahoe

(0h 54m)

Sacramento

(1h 51m)

Heavenly
1993 m
3060 m
1067 m
9.0 km
19
44
29
5
Reno/Tahoe

(1h 19m)

Sacramento

(2h 0m)

Lake Tahoe
1890 m
3060 m
1170 m
19.0 km
124
291
217
Reno/Tahoe

(0h 58m)

Sacramento

(1h 55m)

Mammoth
2425 m
3370 m
945 m
5.0 km
38
60
30
22
Reno/Tahoe

(3h 6m)

Sacramento

(4h 24m)

Squaw Valley
1889 m
2499 m
610 m
5.0 km
44
80
35
18
Other Ski Areas in USA