Ski Skirama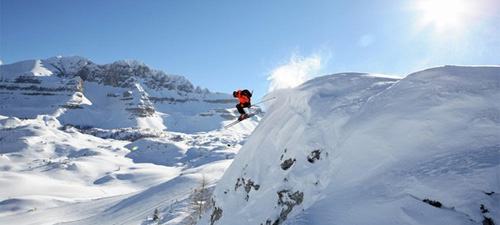 Found in the South of the Alps in Italy, the Super Skirama ski area offers access to a handful of ski resorts providing for 380km of pistes that range over all ski levels making the Skirama ski area an ideal holiday location for all age levels.
The Skirama ski area is located in the Southern Alps of Italy and is composed of several ski resorts including the Pinzolo, Peio, Tonale, Andalo-Fai della Paganella, Monte Bondone, and several more. The Skirama ski area also includes several mountain ranges: the Ortles-Cevedale, Brenta Dolomites, and the Adamello-Pesanella. The ski area can be accessed via air or rail but most people prefer a flight since there are shuttle buses that can deliver you after an approximate hour trip to the ski resort.
Visiting Skirama
There is plenty do at Skirama due to the fact that one ski pass will buy you access to every ski resort which are all linked together via 140 lifts. The gondolas are a favourite of visitors and are a wonderful way to sight see and observe the nature as well as catch a breath in between the slopes. The area boosts over 380km of pistes with a wide variety of slopes for every ski level and multiple ski schools throughout the area to help perfect your skiing or to help children learn the sport.
Additionally, there are several terrain parks and halfpipes throughout the ski area as well as expert trails making the pistes ideal for snowboarders as well as skiers. The snow season lasts from November to April. The slopes reach altitudes of 3,000m and there are snow cannons on 90% of the slopes to augment the natural snow when needed.
Given that Skirama is located across many different ski resorts and villages there are plenty of après ski activities no matter where you turn. The area boasts plenty of restaurants, cafes, bars, pubs and local shops to keep most holiday visitors busy for much longer than they can manage.
Resort Name
Low Altitude
High Altitude
Vertical Drop
Longest Run
Beginner
Easy
Intermediate
Advanced/Expert
Skiing
Boarding
Après
Families
Overall
Folgàrida - Marilléva
1344 m
2180 m
836 m
3.0 km
15
12
5
Madonna di Campiglio
1550 m
2500 m
950 m
4.0 km
0
17
18
8
Bolzano

(1h 37m)

Brescia

(2h 18m)

Verona

(2h 8m)

Passo Tonale
1250 m
3010 m
1760 m
7.0 km
0
12
23
6
Bergamo

(2h 24m)

Bolzano

(2h 14m)

Brescia

(2h 32m)