Madonna di Campiglio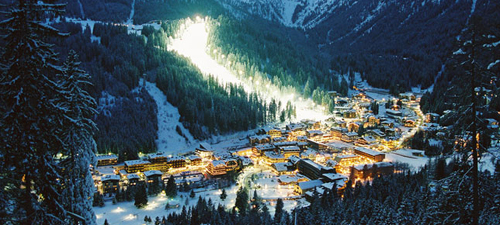 Madonna di Campiglio is one of Italy's most exclusive resorts. With great pistes to ski and snowboard, you get luxury and exclusivity in the Brenta Dolomites with this ski resort. Read our resort review for all the information you need.
Where?
Madonna di Campiglio is in a beautiful, sunny, location, surrounded by pine forests. Linked with two other smaller ski areas, Folgarida and Marilleva, and with the beautiful Val di Genova ski resort just minutes away, there's a variety of pistes to ski and snowboard at all levels. There is also plenty for the snowboarding crowd off-piste. It is part of the Skirama ski area so you get a great deal on your lift pass. The nearest airport is Bolzano.
resort ESSENTIALS
| | |
| --- | --- |
| RESORT ALTITUDE : | 1550 m |
| TOTAL PISTE : | 58 km |
| LONGEST RUN : | 4.0 km |
| SEASON : | November - April |
WE LIKE
Stylish Italian resort, excellent restaurants and nightclubs but not as expensive as Verbier or Courcheval.
Amazing grroomed pistes in immaculate condition. Black runs are especially good here.
If you purchase the Superskirama list pass you can now get into Pinzolo adding 30km of tree lined intermediate pistes to your holiday.
WE DON'T LIKE
There is a lack of off piste here as much of the land around the resort is National Park land.
If you don't like boarders - then maybe not a great choice as this is a mecca for boarders. Has Italy's best terrain park.
A lot of the skiing here is below 2100m so dont leave your visit too late in the season.
SUITABILITY RATINGS 1-5
On the Slopes
With plenty of choice, ski Madonna di Campiglio and you will get some great choice of piste. Linked with Folgarida and Marilleva, and with Val di Genova and Folgarida also close by, there are plenty of options. The 58 km of pistes offer good snow for all, with beginners and intermediates particularly well catered for. There are also some challenging black runs and good off-piste for advanced skiers. This is a top resort, so expect to find first-class piste and minimal lines at the lifts.
Ski Area
If you ski Madonna di Campiglio you are also in the ski region of Skirama .
Off the Slopes
Accommodation is plentiful in Madonna di Campiglio (there are over 27,000 beds) with a choice of apartments, modern ski hotels and some traditional wooden chalets. There are a few choices of restaurants, though not as many as you might expect, but the nightlife is good - there are dozens of bars, pubs and discos. Families might find it a bit lively, but the young snowboard crowd come here in droves.
Who's it Best For?
Good range of pistes for all levels but the black runs are especially good here. Intermediates will love the runs at Pinzolo.
Madonna attracts something of a mixed crowd. Older skiers and boarders love it here for the skiing and the amazing restaurants and young boarders just love to board here. It attracts the stylish Italian crowd but its not as expensive as say a Courcheval or Verbier.
If you want to holiday here on a package deal then check out the holidays we can offer from the UK's top ski operators. Alternatively, if you want to simply book a hotel room or find a chalet or apartment check out our listings, compare online and then book direct with the owners.
Why Choose Madonna di Campiglio in Italy?
1. Excellent resort for restaurants and clubs but not as expensive as Verbier or Courcheval.
2. Good range of pistes for all levels.
3. Famous black runs.
4. The skiing at Pinzolo is now open to you if you purchase the Superskirama lift pass.
Is It Right For You?
If you think Madonna is right for you then check out the great deals we can get you from leading tour operators. Or check out the accommodation we have and book direct with owners.
Ski chalets are very popular amongs't Brits and for many of us they epitomise what a ski holiday is all about. They can come catered or uncatered, slopeside or centre of town and huge 20 bedroom affairs to smaller, more basic models. Alongside chalets are apartments and hotels and also chalet hotels to consider.
Madonna di Campiglio is like a lot of other Italian resorts in that it tends to be dominated by hotel accommodation. If you are looking for catered chalets you will be disappointed as there aren't, at the time of writing, any here! If this is what you are looking for check out instead some of the great hotels on offer.
Where to Look for a Chalet
Madonna di Campiglio is set in a wide valley, the centre itself is fairly compact and is very fashionable with lovely shops and boutiques. The good news is that you will get more for your money here than in the likes of Courcheval or Val d'Isere. Do be aware that a lot of modern developments are being built along the valley road so do be careful that you don't end up too far away from the lifts.
Catered chalets don't really exist here but there are some nice chalets that have been built along the valley. There are also some chalets in great locations around the base of the lift up to Cinque Laghi and the lift to Pradalago. But if you want more choice do check the hotels out.
Apartments have come on in leaps and bounds over the years. Many skiers and boarders remember the concrete monstrosities of apartment blocks that grew up in many purpose built resorts in the 1960's. But apartments now are often light, airy affairs offering great value for money.
Madonna di Campiglio is dominated by good hotel accommodation. There are some apartments and chalets but if you want real choice we would suggest you check out the hotels. Catered chalets are also non existent here and just haven't really taken off as in say France. Madonna di Campiglio is a fairly compact resort but a lot of accommodation is now being built along the valley, so do check that you are not too far away from the lifts.
Are Apartments Really Such a Good Idea?
Many of the newer apartment blocks that are being built by the likes of MGM are attractive buildings offering amazing facilities that would certainly put many hotels to shame. Facilities include swimming pools and shared wellness centres and spas.
In addition apartments can work out cheaper than chalets or hotels. They are also a great idea if you are travelling with another family or in a large ski party as you will get more space and freedom than if you hired one large chalet. You may even still be speaking to each other at the end of the holiday!
Hotels are a great idea on a ski holiday. For many they offer great locations and facilities and also great food! Many are still in family hands offering exceptional service and guidance on the ski area.
Madonna di Campiglio is an attractive compact resort set in the Dolomite region. There are a number of modern developments along the valley road so do be careful when you are booking that you are not too far away from the lifts. The accommodation here is dominated by hotels so you will have a great choice. You will also pay less here than the likes of Val d'Isere or Courcheval.
What Type of Hotels Are on Offer?
For real luxury and great food check out the Hermitage Hotel which has been run by the same family for over 100 years. It also has a great spa. Another good 5* is the Hotel Chalet del Sogno which has the added advantage of being close to the Spinale gondola.
If you have less money check out the Alpen Suite Hotel which also operates a shuttle bus to the lifts. You will also find a good range of 4* and 3* hotels to choose from. Overall the food is good and you wont pay silly prices here.
There are a good choice of airports into Madonna di Campiglio. The nearest international airports are Verona, 173 km away, Milan Bergamo, 174 km away, Innsbruck, 224 km away and finally Venice which is 259 km away. Bolzano is the closest airport but as it has relatively few international connections we haven't included it in our list of options.
Transferring From The Airports
The transfer times are fairly good, Verona is about 2 hours, Milan 2 hours 30 minutes and Innsbruck 2 hours 45 minutes. The roads from the airports are good, the Brenner A22 motorway will take you as far as Trento then you will have a 40 minute drive on slightly slower roads.
If you don't want to hire a car then consider getting a private taxi service. If you are travelling is a large party this can work out a very cost effective option. If you are not opt for the 'shared service' option where you will share the taxi with others you don't know who are travelling to the same resort.
You could take a train from Innsbruck to Trento train station. From there you could get a bus which will take you into the resort itself. So possible but you do need to accept a slightly longer transfer time and connections which can mean having to lug your ski equipment around.
Compare Madonna di Campiglio ski schools and then book or reserve your ski and snowboard lessons before you arrive in resort! Reserve your spaces in group or private lessons in Madonna di Campiglio so saving yourself a lot of hassles!
Ski Schools in Madonna di Campiglio
Whether you want to have ski lessons or snowboard lessons, most Madonna di Campiglio ski schools offer a wide range of options including half day lessons, private or group lessons. Use GoSki.co.uk to find out more.