Passo Tonale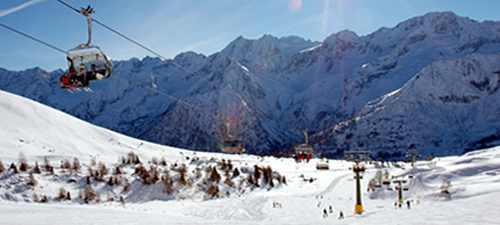 Read our guide to Passo Tonale and discover more about the Skirama Adamello-Brenta ski area and Val di Sole. With some great skiing and snowboarding available for beginners and intermediates, skiing lasts from late October until May.
Where?
One of Italy's highest resorts, ski Passo Tonale for great skiing from late October until the beginning of May - and the possibility of summer skiing on the Presena Glacier. Access is easy via either Edolo or Verona airports and with 11 new lifts, getting around the mountain is now much easier.
resort ESSENTIALS
| | |
| --- | --- |
| RESORT ALTITUDE : | 1800 m |
| TOTAL PISTE : | 100 km |
| LONGEST RUN : | 7.0 km |
| SEASON : | December - May |
WE LIKE
High altitude skiing with sunny, snow-sure slopes until May. Skiing on the Presena glacier all year round.
Great for beginners and intermediates with lots of wide cruisy runs. Excellent ski school.
Good-value resort, accommodation and cost of food and drink much cheaper than you would pay in many French resorts.
WE DON'T LIKE
Despite the legendary black Paradiso run there isnt much for experts here.
Not the most attractive resort to look at. Very popular as a school ski holiday destination.
Apres ski can be a rather quiet affair.
SUITABILITY RATINGS 1-5
On the Slopes
If you ski Passo Tonale as a family you will benefit from cruisy blues and great learner areas. There's plenty of beginner and intermediate terrain, with lifts taking you to the summit at 3010m, from where you can ski all the way back to the village over high-altitude terrain. You benefit from the ski area of the Skirama lift pass and are in the Val di Sole valley. Across the valley lie rolling pastures, with one lift that takes you to the old smuggling route of Passo Contrabbandieri at 2681m.
Ski Area
If you ski Passo Tonale you are also in the ski region of Skirama.
Off the Slopes
Passo Tonale ski resort is a low-key resort, not particularly pretty, but the prices, as in most Italian resorts, make up for a lot. It's a good place for families, with lots of easy slopes, a good ski school, and reasonable accommodation. However, if you are looking for a livelier après-ski scene or more challenging slopes, this is probably not the place for you.
Is It Right For You?
A great resort for beginners and intermediates with lots of wide cruisy runs. Great ski school.
A high altitude resort, Passo Tonale is one of the most snow sure resorts in Italy. Its season usually runs from October until May, with summer skiing on the Presena Glacier. It's also a very well priced resort, you will pay less here than in most French resorts.
If you are looking for a good ski package then check out the holidays we can offer you. Alternatively, you may be looking for a hotel room or a chalet. Check out the accommodation we have on offer, compare online and then book direct wit the owners.
Why Choose Passo Tonale in Italy?
1. Snow sure slopes from October until May.
2. Glacier skiing on the Presena Glacier.
3. Great for beginners and intermediates. Good ski school.
4. Good value resort, food and accommodation well priced.
Is It Right For You?
If Passo Tonale is right for you then check out the holidays we have and book a great deal online. If you are looking for accommodation only check out what we have on offer and book direct with the owners.
Passo Tonale, like many Italian resorts is very child friendly, so much of the accommodation on offer here is based around family friendly hotels. There are also a good range of apartments. Another advantage is that, as it is purpose built, much of the accommodation is cited near to the lifts.
This is not a big chalet resort, so if it was a catered chalet you were looking for you may do better to check out the good range of hotels on offer. Catered chalets have never really taken off in Italy as they have in France, so do bear this in mind when looking for accommodation.
Accommodation Options Here
Apartments have become more popular in recent years as many of the newer apartments blocks offer great value for money and also great facilities. In Passo Tonale for example there is the Residence Adamello which has 73 apartments and offers good shared wellness facilities.
There are a good range of hotels in the resort from some great 4* hotels including the Grand Hotel Miramonti and Hotel Paradiso which have good spas and swimming pools. There are also a good selection of 3* hotels in good locations, very reasonably priced.
Ski apartments have become more popular recently mainly due to the fact that they are often cheaper than chalets or hotels and yet often have facilities that include swimming pools and wellness centres, very useful on a ski holiday.
Passo Tonale is a very well priced resort, the accommodation here tends to be focussed on the hotel and apartment market. Much of the accommodation here is well situated next to the lifts.There are a good range of apartments on offer here. Take for example the Residence Club Ponte di Legno which offers 73 apartments and a wellness centre.
Are Apartments Really a Good Idea?
As we have said already they can work out slightly cheaper than chalets or hotels. In addition,many of the newer apartment buildings offer really good facilities. Some even include restaurants and spas, saunas and of course swimming pools.
In addition, apartments can be a great idea if you are travelling with other families or in a large ski party. If you book apartments in the same apartment block you may get more privacy and space than you would do in one large chalet.
Hotels can be a great choice on a ski holiday. Many are still family run, offering great food and service and some will even come and collect you from the airport.
Much of the accommodation in Passo Tonale is based around family friendly hotels. Many of these hotels are located very close to the lifts so are very convenient. There are a good range of hotels here from luxury 4* hotels and more budget options.
What Type of Hotels Are On Offer Here?
If you want a bit of luxury do check out the Grand Hotel Miramontio. It has a good spa and swimming pool. Also check out the Grand Hotel Paradiso located at the foot of the slopes which, in addition to spa and pool, has a good children's club.
Less expensive but still comfortable with good food is the Hotel Adamello and Hotel Orchidea. Also, check out some of the very good apartments in Passo Tonale, many come with good wellness facilities and in good slopeside locations.
Passo Tonale sits on the border between Lombardy and Trentino. The nearest international airports to it include Verona Airport, 163 km away, Milan, 250km away and Venice Marco Polo which is 240km in distance from the resort. Verona, the nearest airport, has a transfer time of 2 hours and 30 minutes.
Transfer Options From Verona
Verona Airport is situated in Northern Italy and is the gateway to several Italian ski resorts. Airlines that operate here include British Airways, Air France and Lufthansa.
The most efficient way to get from Verona airport to the resort is to hire a private taxi. which will be quicker than using public transport.Most private taxis carry up to 8 people, so the cost can be very reasonable.
If you are not in such a large group then opt for the 'shared service' deal where you transfer with other people going to the same resort. Always pre book this online before you leave home as it will work out cheaper.
Compare Passo Tonale ski schools and then book or reserve your ski and snowboard lessons before you arrive in resort! Reserve your spaces in group or private lessons in Passo Tonale so saving yourself a lot of hassles!
Ski Schools in Passo Tonale
Whether you want to have ski lessons or snowboard lessons, most Passo Tonale ski schools offer a wide range of options including half day lessons, private or group lessons. Use GoSki.co.uk to find out more.