Alpbach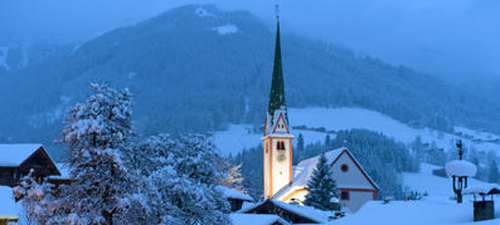 Ski Alpbach for a small intimate ski resort in the Austrian Alps. With a character all of it's own, you get 54km of skiing & snowboarding in the greater Alpbachtal area with a traditional atmosphere and Tyrolean hospitality. Our comprehensive ski resort guide will tell you all you need to know.
Where
A unique resort, ski Alpbach and get some real character of a Tyrolean village thats got over 2000 years worth of history. Only 60km from the capital of the Tyrol, Innsbruck, it's easy to reach from the airport. There's still over 100 working farms in the area - the same as 100 years ago - and every house, restaurant and mountain hut adds to the authentic atmosphere. This really is a traditional skiing and snowboarding resort. Ski transfers are simplest from Innsbruck however Munich, Salzburg or Blozano are also relatively straight-forward.
resort ESSENTIALS
| | |
| --- | --- |
| RESORT ALTITUDE : | 1000 m |
| TOTAL PISTE : | 54 km |
| LONGEST RUN : | 5.0 km |
| SEASON : | December - April |
WE LIKE
Charming, traditional, great for young children and families
Central nursery slopes and ideal for beginners to build confidence
Varied intermediate terrain and lots of off-piste in all directions
WE DON'T LIKE
Limited slopes in quantity and few long cruisy beginner / intermediate slopes
The village is a little way away from the main lift - 5 minutes in a free bus shuttle
Poor snow on lower slopes especially as sun comes out - due mainly to altitude
SUITABILITY RATINGS 1-5
On the Slopes
Ski Alpbach and the Wiedersberger Horn offers you the high point of 2100m. Despite its traditional nature, you get every amenity you need for an unforgettable winter holiday. The resort lies at 1000m, with the highest lift carrying you up to 2100m. There are 21 lifts serving 18 runs spread across 54km of piste, with a longest run of 5km. Beginners will find 5 runs, intermediates 10, and advanced skiers 3 runs to challenge them.

For snowboarders, the conditions are good enough for the ISF World Pro Tour to have been here. But more than that there's great off-piste here, a lot of which is completely untouched for days! This provides a lot more challenge for advanced and expert skiers. There are also 100kms of cross-country skiing trails to allow you to explore the surrounding area. Skiing and snowboarding benefits from the great snow conditions here and as a beginner you get 2 separate areas dedicated to you.
Ski Area
If you ski in Alpbach you are also in the ski area of Ski Juwel.
Off the Slopes
Accommodation in the Alpbach ski resort is right in the village - there are around 2,500 beds available - and you'll also find a selection of local restaurants and bars. This is chocolate box Tyrolean village life - relaxed and very hospitable. Try the local Tyrolean specialties, or a shot of schnapps to warm you after a cold day on the slopes. Other activities to keep you busy include walking, sledding, skating, curling, tennis courts, swimming, and a sauna. You can also take a day trip to the region's capital, Innsbruck.
Who's it Best For?
This resort is great for families and young children. Good for beginners and intermediates too.
Alpbach has often been voted the prettiest village in Austria. It is certainly uncommercialised by modern ski resort standards and has a certain old world charm to it. It still has a strong farming community, is reasonably priced and popular with British families.
If you are looking for a package holiday here simply check out the holidays that we can offer with leading tour operators. Or you may want to find a chalet, hotel room or apartment. We have accommodation lists that you can check through, compare and then book direct with the owner. So whatever your ideal holiday we can help.
Why Choose Alpbach in Austria
1. Good off piste available.
2. Good for beginners with central nursery slopes.
3. Pretty village, great for children and families.
4. Good intermediate runs.,
Is Alpbach Right For You?
If you are sure that Alpbach is right for you then check out the holidays available and get a great deal online today.
Chalets are for many the very epitome of a ski holiday. And in Alpbach, often voted the prettiest village in Austria you will find chalets that are the real chocolate box type that we Brits love . Remember this ski resort is still a very strong farming area so the buildings and architecture still reflect this.
Alpbach is a very peaceful place to ski, this is not the place to come if you want wild apres ski. The village is quiet and is pretty much car free with no main roads that ruin the centre of the resort. The accommodation here is mostly hotels but you will still find good chalets.
Where to Stay in Alpbach
When choosing your accommodation here do bear in mind that the resort itself has a good range of amenities. There are good restaurants in the resort and it also boasts a large indoor swimming complex. Don't worry too much if your accommodation is in the centre of the resort as apart from a few bars it doesn't really get that lively.
As well as some lovely wooden tyrolean style chalets on offer you will also find some good value self catering apartments here. Also do check out some of the good 3* hotels here which work out very good value and do form the majority of the accommodation on offer.
Apartments can be a great idea on a ski holiday. They often work out cheaper than a chalet and many of the newer developments include amazing facilities that would rival any hotel including swimming pools, saunas and even spa facilities.
Alpbach itself has a good number of beautiful tyrolean chalets and apartments but hotels are more popular in this resort. That said you might want to check out Gastehaus Larch which has some good self catering apartments and offers bed and breakfast accommodation.
Are Apartments Really Such a Good idea?
As we have said they can offer very good value for money. But even if you are looking for luxury don't discount apartments as many are now architecturally designed and a million miles away from the awful concrete apartment blocks that have blighted many purpose built resorts.
In addition apartments can be a great idea if you are travelling with other families or in a large group. If you all stay in the same apartment block you get to be together but will have more space and independence than you may have in a chalet.
Hotels can be a great choice on a ski holiday. Many offer great value for money and family suites can be a very cost effective option for families. Some hotels will now come and collect you from the airport and many have great facilities including swimming pools, spas and saunas.
Alpbach has a number of good 4* hotels and some very good value 3* ones. In addition you will find pretty chalets and apartments here. Hotels do dominate the accommodation market in Alpbach however so you are looking in the right place.
What Hotels Are Available in Alpbach?
There are some good 4* hotels in Alpbach. The best value of these is Hotel Alphof which is set in a very quiet area. Set more in the centre of the resort is Hotel Zur Post which has a very good restaurant.
For families check out Romantikhotel Boeglerhof which has a great indoor swimming pool and also offers children after ski activities which are a big hit. If spas are your thing check out Hotel Alpbacherhof which has a very highly rated spa.
Alpbach is a relatively easy resort to get to. The nearest airport is Innsbruck which is 62km away,with a transfer time of about 50 minutes.Other airports to consider should also be Salzburg(144km), Munich(169km) and Bolzano(172km) which are all within a 2 hour drive.
Travelling from Innsbruck
There are a number of private minibus companies that will get you to Alpbach. These include minibuses that can seat up to 8 people and 19-50 seater coaches for larger groups. If you are travelling alone or in a smaller group then do check out the shared service options where you travel with others going to the same resort.
Alternatively you can also hire a taxi at the airport, but do agree the price before you leave. If you are travelling with a private transfer company also book online before you leave home as you will get a considerable discount.
Driving to Alpbach is relatively easy with most of it motorway driving. From Calais the drive is approximately 10 hours 30 minutes and from Paris it will take you nearly 10 hours. You can take a train, they stop at Jenbach(18km away) and Worgl (27km away). From Worgl you will then need to take a 30 minute taxi journey.
Compare Alpbach ski schools and then book or reserve your ski and snowboard lessons before you arrive in resort! Reserve your spaces in group or private lessons in Alpbach so saving yourself a lot of hassles!
Ski Schools in Alpbach
Whether you want to have ski lessons or snowboard lessons, most Alpbach ski schools offer a wide range of options including half day lessons, private or group lessons. Use GoSki.co.uk to find out more.
Nearby Resorts
»

Worgl (37km)
»

Itter (45km)
»

Achensee in Tyrol (46km)
»

Söll (48km)
»

Zell am Ziller (48km)
»

Oberau (49km)
»

Hopfgarten (49km)

Nearby Airports
»

Innsbruck (1h 0m)
»

Salzburg (1h 48m)
»

Munich (2h 1m)
»

Bolzano (2h 23m)
»

Friedrichshafen (3h 12m)