St Johann in Tirol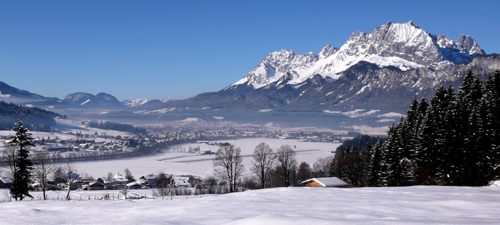 For a great winter holiday, ski St Johann in Tirol for Tyrolean charm and great skiing and snowboarding in Austria. In the heart of the Kitzbühel Alps with miles of excellent slopes for beginners and intermediates, you are based in the Schneewinkl ski area. Read our guide for all you need to know.
Where?
Now including the Schneewinkel pass at no extra charge, ski St Johann in Tirol for a superb range of skiing & snowboarding pistes - based at the north face of Kitzbüheler Horn. With a ski area total of 55 ski lifts and 182km of runs across a variety of smaller resorts, it's only just over the mountain from Kitzbühel. However, the two aren't lift-linked due to bureaucratic conflicts. Access is relatively simple either from Salzburg, Innsbruck or Munich.
resort ESSENTIALS
| | |
| --- | --- |
| RESORT ALTITUDE : | 670 m |
| TOTAL PISTE : | 60 km |
| LONGEST RUN : | 7.0 km |
| SEASON : | December - April |
WE LIKE
Small picturesque traffic free village. Many slopes are north facing so snow record is generally good.
The area pass opens up the Schneewinkl ski area comprising 10 ski resorts. This area is a mecca for cross country skiers.
Intermediates will love it here and at the neighbouring resorts.Lots of good mountain restaurants and traditional food in resort.
WE DON'T LIKE
Local slopes very limited, with little to interest experts.
Can be crowded on peak weekends, or when nearby resorts with less reliable snow are suffering.
Ski areas tend to be on the outskirts of the town so you may have to get a bus first thing in the morning.
SUITABILITY RATINGS 1-5
On the Slopes
Ski St Johann in Tirol and get reliable snow due to many north-facing slopes and a lift pass that gives access to 9 other resorts. This is an established family destination, with wide open cruisy blues and some reds - accessible on the outskirts of the resort. Eichenhof I and II offer a long drag to the top of the mountain for you to access some quiet nursery slopes. Alternatively, use the Harschbischl Gondola straight to the top of the mountain from where you can access all the slopes. There is terrain for all levels, a lot of tree lined runs and with the 60km of pistes available locally, predominantly for beginners and lower intermediates - this is a great place for families or those just learning. More advanced skiers will want to take advantage of the Kitzbühel Alps Ski Pass with its extensive options both on and off piste. You can also drive round to Kitzbühel to get into that circuit of slopes - takes about 20 minutes if you time it right.
Ski Area
If you ski St Johann in Tirol you are also in the ski region of Schneewinkl.
Off the Slopes
When you are tired from a day of skiing, you'll find a great selection of après-ski spots to help you unwind. Whether you opt for traditional food in a Tyrolean inn, or international choices at one of the many restaurants is down to your tastes and your budget. After dinner the après-ski scene really picks up with loads of bars and discos to choose from including the popular Tanzcafe. A great resort for children and families, there are a wide range of off piste activities and facilities.
Who's it Best For?
Great for intermediate skiers and boarders. It's also something of a mecca for cross country skiers.
St Johann in Tirol is a very pretty village to visit. The skiing here is a fairly quiet affair as many Brits overlook this resort in favour of nearby Kitzbuhel and Soll. So if it's quiet charm you are looking for this could be the one for you. Its main downside is its industrial estates on the outskirts.
If you are looking for a good package deal here then we can help you organise that with leading UK providers. If however you are an independent traveller and want to simply find a hotel room or cheap flight we can also point you in the right direction.
Why Choose St Johann in Tirol?
1. Snow record is good, with most slopes north facing.
2. Pretty tyrolean village with lots of charm.
3. Good for beginners and intermediates.
4. Great for those who love their cross country skiing.
Is It Right For You?
If St Johann in Tirol is the resort for you check out all the holidays we have on offer and get yourself a great deal. Alternatively check out the accommodation we have on offer and book direct with owners.
Chalets really can come in all shapes and sizes, from those that cost the earth-catered luxury situated slopeside and offering private spas and even swimming pools to those uncatered chalets for two that are somewhat more basic. There are also a number of chalet style hotels springing up.
St Johann in Tirol itself is a pretty village particularly in the centre. One of its best features is the Panorama Badewelt a recreation centre with a giant 62 metre water chute, a great facility if you are travelling with children.
Where to Look For a Chalet
What you do need to beware of when looking at accommodation here is that the outskirts of St Johann in Tirol, where accommodation is often cheaper, are marred by heavy traffic and industrial estates. So stay in the pedestrianised centre if you can.
Accommodation wise there is a good choice of family run hotels, apartments and chalets. If you want a better choice of accommodation you may do better to stay elsewhere in the Ski Welt in resorts like Kitzbuhel or Soll.
Apartments can be a great idea on a ski holiday as they can work out a very cost effective option. Some of the newer apartment buildings are also very modern designs that offer great shared facilities including swimming pools and wellness centres.
When booking accommodation in St Johann in Tirol do try and stay in the pedestrianised centre. This is very pretty and full of old coaching inns and buildings with ornate frescoes that are very Tyrolean. If however you opt to stay on the outskirts you will find heavy traffic and industrial estates.
Accommodation in St Johann in Tirol
Here you will find chalets, family run hotels and apartments but the choice due to the size of the resort is not vast. If you do want more choice then head to other resorts in the Ski Welt namely Soll and Kitzbuhel.
If you are travelling with children then head to the Sporthotel Austria which has family apartments with adjoining bedrooms. Another good one for families is the St Johannerhof which has a great in house creche.
Hotels can be a great choice on a ski holiday with many family run hotels in Austria offering great service. St Johann in Tirol is no exception to this and if looking for accommodation here we would recommend you look at the hotels.
St Johann in Tirol has a very pretty centre with its old coaching inns. Its not so pretty on the outskirts with heavy traffic and industrialised estates. So we would strongly recommend that you head for the centre.
Hotels Available in St Johann in Tirol
If you are travelling with children we would point you in the direction of the Sporthotel Austria which has good family apartments and the Hotel Gasthof Park is a nice family run hotel. The St Johannerhof has a great inhouse creche that will keep your children happy from 10am to 8pm.
There are also a good range of 3* and 4* hotels that offer comfortable rooms and good restaurants. You will get good value for money here but as the resort is small you wont have a huge choice. If you do want more choice in accommodation, bars and restaurants head to other resorts in the Ski Welt.
St Johann in Tirol is fairly easy to get to. The nearest airports are Salzburg, 60km away, Innsbruck, 90km away and finally Munich, 135km away. Your choices from here include taking the train, car or bus.
Hiring a Private Minibus
One of the quickest ways to get from these airports to St Johann is to use a private transfer company. The journey is pretty straightforward and unless you need a car in resort can work out very cost effective. If there are 8 of you travelling you can share the cost, if you are travelling in a party of less than 8 then opt for the 'shared service' option.
Prices do work out pretty reasonable. From Salzburg, the nearest airport, a one way per person fare would be 33 Euros, from Innsbruck the price is roughly 40 Euros and from Munich the cost is about 49 Euros.
Taking the Train
It is possible to get the train to St Johann in Tirol, from Innsbruck main station the journey would take 80 minutes. From Munich the journey time is round 2.5 hours.
Compare St Johann in Tirol ski schools and then book or reserve your ski and snowboard lessons before you arrive in resort! Reserve your spaces in group or private lessons in St Johann in Tirol so saving yourself a lot of hassles!
Ski Schools in St Johann in Tirol
Whether you want to have ski lessons or snowboard lessons, most St Johann in Tirol ski schools offer a wide range of options including half day lessons, private or group lessons. Use GoSki.co.uk to find out more.
Nearby Resorts
»

Going (9km)
»

Kitzbuhel (10km)
»

Scheffau (15km)
»

Kirchberg in Tirol (16km)
»

Söll (20km)
»

Brixen im Thale (21km)
»

Lofer (24km)
»

Westendorf (25km)
»

Hopfgarten (30km)
»

Kelchsau (37km)
»

Oberau (41km)
»

Maria Alm (42km)

Nearby Airports
»

Salzburg (1h 3m)
»

Innsbruck (1h 6m)
»

Munich (1h 43m)
»

Bolzano (2h 20m)
»

Klagenfurt (3h 8m)