Saalbach Hinterglemm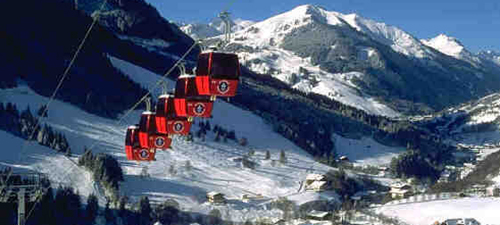 If you ski Saalbach Hinterglemm this winter, on offer is an attractive base and over 200km of great skiing and snowboarding in the heart of Austria. Great as a resort for families, there's some amazing pistes as part of the Ski Circus. Read our review for all you need to know.
Where?
Ski Saalbach Hinterglemm and combine the benefits of two attractive villages in the Glemm Valley, a short drive from Zell am See. There's over 200km of piste that you can explore, with slopes suitable to all levels but particularly intermediates. Access to the resort is best via the airports at Salzburg, Innsbruck or Munich - with transfer times ranging up to just over 2 hours.
resort ESSENTIALS
| | |
| --- | --- |
| RESORT ALTITUDE : | 1003 m |
| TOTAL PISTE : | 200 km |
| LONGEST RUN : | 8.0 km |
| SEASON : | December - April |
WE LIKE
Skiing favours intermediates. But do beware the reds and blues here are steeper than elsewhere.
Famous for its great apres ski which usually starts at 4pm and continues into the early hours.
Lifts and pistes are conveniently close to centres of both villages with some ski-in ski-out.
WE DON'T LIKE
Most slopes are below 2000m and they are sunny, not a good combination in a poor snow season.
Limited steep terrain for real experts.
Some of the apres ski is now getting a little tacky with the introduction of the lap dancing clubs.
SUITABILITY RATINGS 1-5
On the Slopes
Sallbach Hinterglemm is great if you are a beginner or intermediate, you will relish the week from day one. Lots of wide open slopes and a couple of runs of over 5km long is what ski holidays in Saalbach Hinterglemm are made of. There are some more challenging advanced and expert runs - namely the Zwölferkogel - but surprisingly not that much.

Many skiers and boarders like to complete a circuit of the Saalbach-Hinterglemm valley - there are more than 30 mountain bars and restaurants along the way, so refreshment is not a problem. Boarders will also find the terrain parks above both villages to their liking and there are also a couple of half-pipes too.
Ski Area
If you ski Saalbach Hinterglemm you are also in the ski region of Ski Circus.
Off the Slopes
Hinterglemm is the more tranquil of the villages, and thus more popular with families, while Saalbach has a greater variety of hotels, shops, restaurants and nightlife. Popular spots in Saalbach ski resort include Bauer's Schialm by the church, while the King's Disco and the Kuhstall are open late into the night. Late night spots in Hinterglemm include the Glemmerkeller, Road King and Tanzhimmel. At the end of the night, the Nightliner bus service runs between the two villages until late.
Who's it Best For?
Intermediates will love it here and also snowboarders.
Saalbach is one of the biggest resorts in Austria which is very easy to make your way round. From here you can ski Saalbach, Hinterglemm and Leogang in great scenic surroundings. The only really negative point that we can make is that, at a fairly low altitude and south facing slopes, the snow isn't always that reliable.
If you are looking for a package ski holiday here then check out the deals we can get you from leading providers of ski holidays. If however you are happy to organise your own ski holiday and simply want to find an apartment or chalet then check out our accommodation listings and book direct with the owners.
Why Choose Saalbach in Austria?
1. Great ski area that spans 200km of skiing.
2. Great for snowboarders. Famous for its apres ski.
3. Great infrastructure, few lift queues.
4. Beautiful, scenic surroundings.
Is it Right for You?
If Saalbach is right for you then check out the great package deals that are available. If its accommodation or flight information that you are looking for we can also help, simply use our search facility for all you need.
Chalets do come in all shapes and sizes, from luxury catered chalets for large groups to small, basic uncatered chalets for two. Many also offer ski in ski out convenience whilst others can be found right in the centre of the apres ski scene.
In Saalbach most of the accommodation is hotel based although you will find some chalets. The key thing to bear in mind is that you may not have the huge choice that you have elsewhere. One thing to bear in mind is that the apres ski scene here is very lively so if you are planning to stay in the centre of town do bear this in mind.
Where Should I Look for a Ski Chalet?
Whilst Saalbach is a very compact resort and very easy to ski around do bear in mind that its outskirts can go on for miles. So when booking any accommodation do check the map carefully as you could be further out than you think.
Ski chalets arent in abundance here, its hotels that tend to form the majority of the accommodation. But if its a catered chalet you are looking for do check out skichalets.nl who have a number of catered chalets here. If not, check out the hotels, ranging from 3* to 5*.
Apartments can be a great idea on a ski holiday. They can work out cheaper and some of the newer apartment blocks offer great facilities from wellness centres to swimming pools, spas and saunas. Like chalets, apartments can also offer ski in ski out convenience and some can also come catered.
In Saalbach the majority of the accommodation is hotel based. But that said there is also a good number of self catering apartments and also good value pensions. A good starting point is to check out the Saalbach tourist office which currently has nearly 500 apartments on its books.
If budget is really an issue then aside from some of the cheaper apartments also check out the youth hostel-Steinachhof which offers accommodation from just 26 Euros a night. The hostel is also close to the centre so great for the lively apres ski if that is important to you.
So Are Apartments a Good Idea?
We think apartments are well worth considering and many are a million miles away from some of the concrete towers that blighted many purpose built French resorts. Many are now architecturally designed and offer great value for money.
If you are looking for a hotel in Saalbach then you have made a good decision as this forms the majority of the accommodation on offer. Alongside this there are some catered chalets and some good value apartments and pensions. If you are on a really tight budget there is also a good youth hostel based only 500m from the centre of town.
When booking accommodation in Saalbach do be aware that its outskirts can feel like they go for ever so check the location map very carefully. What looks like a central location could end up being quite a way out. However, by staying a little way out you will pay less and there are good bus services into the resort.
What Type of Hotels Are On Offer Here?
Hotels here range from good 3* to 5* so there is a good choice. If you want to be right in the centre check out Hotel Kristiana and Hotel Eva Paradise. The later has a good spa and wellness centre.
The Alpine Palace in Hinterglemm is 5* luxury whilst for those of you on smaller budgets check out the 3* Hotel Wechselberger which also has good value family rooms and a great indoor swimming pool. It is also centrally located so represents really good value for money.
Located to the southwest of Salzburg are the Saalbach, Hinterglemm and Leogang ski resorts. The most convenient airports are Salzburg and Munich. Salzburg is the closest as it is only 90km away. As it is now serviced by some low cost airlines from the UK it can represent a good option.
Transferring from Salzburg
You have a number of choices here. You can take a train from the train station at Salzburg to Zell am See. The train station here is only 18km from the resort so a short cab journey will take you the final leg of the journey. There is also a bus you can catch from the train station to Saalbach.
Alternatively you can drive from the airport. The journey will take around an hour and a half. A car could be quite useful if you are staying outside the centre of Saalbach or intend to travel around the ski area. There are also a number of private minibus companies who will take you from Salzburg airport to Saalbach. If there are 8 of you in the party this transfer option can work out quite cost effective.
Munich Airport
Munich is further away but offers more flight options than Salzburg. You can also take a train from Munich to Zell am See. If you want to drive from Munich the drive will take about 3 hours. If you do want to do the whole journey by train that is entirely possible but you would need to make lots of changes and it isn't quick! You would need to take the Eurostar to Paris, Paris to Munich and then onto Salzburg.
Compare Saalbach Hinterglemm ski schools and then book or reserve your ski and snowboard lessons before you arrive in resort! Reserve your spaces in group or private lessons in Saalbach Hinterglemm so saving yourself a lot of hassles!
Ski Schools in Saalbach Hinterglemm
Whether you want to have ski lessons or snowboard lessons, most Saalbach Hinterglemm ski schools offer a wide range of options including half day lessons, private or group lessons. Use GoSki.co.uk to find out more.
Nearby Resorts
»

Kaprun - Kitzsteinhorn Glacier (38km)
»

Leogang (38km)
»

Fieberbrunn (43km)
»

Kitzsteinhorn (47km)

Nearby Airports
»

Salzburg (1h 42m)
»

Innsbruck (2h 22m)
»

Munich (2h 59m)
»

Klagenfurt (2h 40m)
»

Bolzano (3h 1m)