Seefeld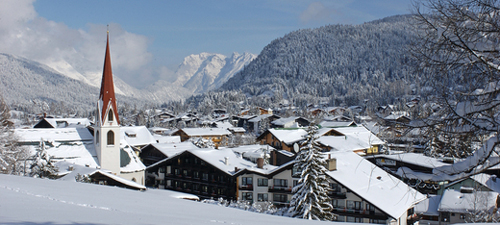 Seefeld provides reliable snow and varied slopes that have helped this ski area host two Winter Olympics. Part of the "Best of the Alps" resorts, skiing and snowboarding is best for beginners and intermediates and just a 30 minute transfer from Innsbruck. Read our resort review for all you need to know.
Where?
Located close to Innsbruck, ski Seefeld and find yourself in a stylish pedestrianised town, with medieval architecture and a real sense of history. The slopes have been good enough to host two Winter Olympics and the 1985 Nordic Skiing World Championships - there are over 120kms of great cross-country skiing trails, starting from the village centre. Transfer is easiest from Innsbruck by coach or hire car, however other airports are also possible like Bolzano or Salzburg.
resort ESSENTIALS
| | |
| --- | --- |
| RESORT ALTITUDE : | 1207 m |
| TOTAL PISTE : | 30 km |
| LONGEST RUN : | 4.0 km |
| SEASON : | December - March |
WE LIKE
Slopes suit beginners and intermediates. Good for families.
Only a 25 minutes transfer from Innsbruck airport.
Amazing array of off-piste activities and facilities including toboganning and sleigh rides.
WE DON'T LIKE
Few challenges for experts or those that want to ski all week and be challenged on the slopes.
The low altitude can mean poor snow conditions.
It's quite an expensive resort thanks to the luxury 5* hotels.
SUITABILITY RATINGS 1-5
On the Slopes
Although there are only 30kms of piste in the immediate resort, there is the larger Olympia Region Seefeld Ski Area that opens up a further 20 pistes. Close to Seefeld itself there's some good pistes for beginners and intermediates with 16 available. You can learn on the Geigenbühel beginners' area - there's also some very good ski schools here. For intermediates, the Gschwandtkopf is close to the village centre and is really for timid intermediates or beginners wanting to progress. You can find more challenging reds at the far end of Seefeld, as the mountain railway takes you up to Rosshütte for some more challenging pistes.

Unfortunately this is not a resort for expert skiers and boarders that want to be on the slopes 9-5 everyday. However, up on the Rosshütte there a couple of runs that will test you. Also on the upper slopes of the Seefelder Joch you can find some mogulled runs, plus the off-piste just off the Härmelekopf is superb but you must really take a guide with you as they are a bit treacherous. Finally, if your here for cross country skiing, there's over 120kms of cross-country skiing trails to keep you busy as well as floodlit night skiing that you can get to with a weatherproof chair lift that has heated seats - perfect for December and January!
Ski Area
If you ski Seefeld you are also in the ski region of Olympia Region.
Off the Slopes
The charming town of Seefeld is well equipped, with over 80 shops. Accommodation is supplied by a mix of hotels, guesthouses and apartments - 8000 beds in all. It also has an amazing number of 5* luxury hotels. The après-ski scene is mellow in a lively sort of way and there are plenty of restaurants, bars and cafés to choose from, whatever your taste and budget. Other activities include curling, tobogganing, sleigh runs, snow rafting, snowshoeing, hiking and climbing, or you can check out the Olympia Leisure Complex, where you can swim, bowl, or try ice-skating. There are an amazing number of things to do off the slopes. This is definitely a resort to add to your "to do" list.
Who's it Best For?
Great for beginners and intermediates. With only a 25 minute transfer from Innsbruck it's also popular with families.
Seefeld offers good skiing in a really beautiful setting. It is famous for its amazing luxury spa hotels but also for the range of snow activities on offer here including sleigh rides and tobogganing. It can be a little expensive but still a wonderful resort to visit.
If you are an independent traveller and want to find your own hotel room or alternatively you are looking for a cheap package holiday check out all the accommodation we have and book direct from the owners or book a holiday with a leading UK ski operator.
Why Choose Seefeld in Austria?
1. Great for beginners and intermediates.
2. Families will love it here, great off piste activities.
3. Only 25 minutes from Innsbruck.
4. Great if you are looking for luxury accommodation.
Is It Right For You?
If you think Seefeld is right for you then check out the range of holidays that we have on offer and book a great online ski holiday.
Ski chalets really do vary enormously from large luxury catered chalets to smaller more basic chalets for two. They can also be situated slopeside or in the centre of a resort. For many they are the absolute epitome of what a ski holiday is all about.
Seefeld is not just about the skiing, it is visited by many who want to relax in one of the many luxury spa hotels that this resort is famous for. It can work out a little expensive, there are some cheaper options but if it's the spa experience you want it will cost you.
Where Should I Look For a Ski Chalet?
Seefeld is really all about luxury spa hotels but if this is not your bag you will find chalets and apartments here. It is best to try and stay as near to the centre as you can as all the amenities from the ice rink to curling courts are readily on tap.
There is a shuttle bus that will bring you on from the outskirts but this can get very busy. If you do want to stay in the centre don't worry too much about noise, this isn't a rowdy apres ski town, if that's what you are looking for head to nearby St Anton or Solden.
Apartments are for many a great choice for a ski holiday. They can work out a slightly cheaper option to chalets and hotels and yet many of the newer apartment complexes offer amazing facilities from swimming pools, wellness centres to spas.
In Seefeld the accommodation is predominantly hotel based as the resort is renowned for its spas. Some of these hotels are expensive options although the spa facilities are amazing. There are chalets and apartments in Seefeld but watch that you don't end too far out of the resort. There is a ski shuttle bus that will bring you in but it can get busy.
Are Apartments Really Such a Good Idea?
Many skiers and boarders can get a little sniffy about apartments based on the ones they remember from some of the awful purpose built French resorts. Yet many of the more modern apartment buildings are designed to fit in better with their surroundings and offer really good value for money.
We think that apartments are definitely worth considering. They can be a great choice for families travelling together or large ski groups as they will often give you more space and independence that one chalet would.
Seefeld is an amazing resort to visit if you want to ski but you also really want to be pampered in a spa hotel. The resort is full of them. There are also chalets and apartments to choose from but this is really the spa hotel resort.
If you can, try and find a hotel in the centre of the resort. This will mean that you have all the non skiing activities on tap including the ice rink and curling rink. But whilst there is a shuttle ski bus that operates it can get busy.
What Kind of Hotels are Available in Seefeld?
If it's a serious spa you are looking for then check out the AlpenMed Hotel Lamm which has a great location in the centre of the resort. There is also the 5* Klosterbraeu and the 4* Krumers which have great swimming pools.
4* hotels which are a little cheaper on the wallet include the Central Hotel and the Larchenhof. So a great resort if you want a little pampering, some skiing and aren't too worried about wild apres ski!
The nearest airports to Seefeld are Innsbruck which is only 20km away and Munich which is 173km away. Innsbruck is serviced by airlines like British Airways and Easyjet. Failing that you could consider Salzburg but it isn't the most convenient.
Travelling from Innsbruck
It will only take you 30 minutes by car from Innsbruck. You could hire a car but unless you need a car during your ski holiday this could be an expensive option. Alternatively you could hire a private minibus which, if there are 8 of you travelling together, can work out very cost effective. If you are not in a group of 8 then opt for the 'shared service'.
You can also get a train from Innsbruck. You will need to get it from the main railway station in Innsbruck not the airport, this is a journey of 6km which will take you 15 minutes. The train journey then from Innsbruck to Seefeld will take approx 40 minutes.
Travelling from Munich
If you drive from Munich then the journey should take you about 2 hours. Again, you could also hire a private minibus. If you opt to take the train from Munich it will stop at Seefeld Bahnhof right next to the pedestrianised district. The train journey takes about 3 hours.
Compare Seefeld ski schools and then book or reserve your ski and snowboard lessons before you arrive in resort! Reserve your spaces in group or private lessons in Seefeld so saving yourself a lot of hassles!
Ski Schools in Seefeld
Whether you want to have ski lessons or snowboard lessons, most Seefeld ski schools offer a wide range of options including half day lessons, private or group lessons. Use GoSki.co.uk to find out more.
Nearby Resorts
»

Innsbruck (24km)
»

Mutters (27km)
»

Axamer Lizum (28km)
»

Igls (33km)
»

Kuhtai (38km)
»

Neustift im Stubaital (43km)

Nearby Airports
»

Innsbruck (0h 19m)
»

Bolzano (1h 36m)
»

Munich (2h 1m)
»

Salzburg (1h 57m)
»

Friedrichshafen (2h 19m)