Neustift im Stubaital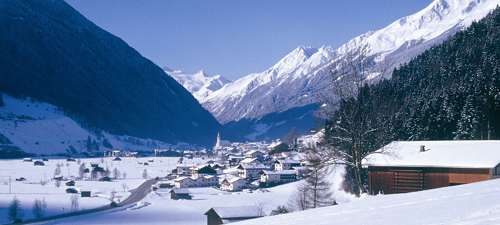 Best for intermediate skiers, ski Neustift im Stubaital and you get the liveliest ski resort in the Stubai valley. Great for après-ski, the nearby Glacier and off-piste conditions provide a Tyrolean winter holiday to remember. Read our guide to find out all you need to know.
Where?
Located in the Tirol, ski Neustift im Stubaital and you are in the heart of the Stubai valley. As the closest large village (it is the 2nd largest in the Tyrol after Söden) to the Stubai glacier you get all the benefits of the stunning scenery and high altitude. You can access Neustift im Stubaital easily via a number of airports - Innsbruck being the easiest in well under one hour and even Munich only requires around a 90 minute transfer on a good day.
resort ESSENTIALS
| | |
| --- | --- |
| RESORT ALTITUDE : | 1000 m |
| TOTAL PISTE : | 110 km |
| LONGEST RUN : | 10.0 km |
| SEASON : | October - May |
WE LIKE
Good skiing for beginners/intermediates and those who want to ski a glacier. Only a 30 minute transfer from Innsbruck.
Great for families, this is the first Disney franchised resort in Europe. Very pretty village.
Excellent facilities and ski schools. Guaranteed snow.
WE DON'T LIKE
There's limited marked terrain for skiing or boarding - although lots of off-piste.
Getting up to the glacier is a pain - but then the bowls and pistes are worth the effort.
Extreme cold in the winter - especially up in the Glacier and on exposed pistes.
SUITABILITY RATINGS 1-5
On the Slopes
If you choose to ski Neustift, unbelievably the season begins in October and lasts through to early May. In the immediate Neustift ski resort area there are a good number of beginners' slopes to help novices learn as well as a ski instructor school and two nursery areas. For those more experienced skiers and boarders there's also a good range of intermediate and expert slopes. However, most people who head here tend to travel over to the five ski resorts that are located within close proximity and of course the Stubai glacier. With one of the world's biggest vertical drops, you will be spoilt for runs.

Transportation on the slopes of Neustift is easy since there are five gondolas and seven chairs which move a large number of skiers on a regular basis. Snowboarders also enjoy the area due to its good snow park and great vertical drop of 1400m that's available right across the slopes.
Ski Area
If you ski Neustift im Stubaital you are also in the ski region of Stubai SuperSki.
Off the Slopes
While the Neustift ski resort is quieter than other resorts in Austria, it is the liveliest spot in the Stubai valley so if après ski activities are important to you during your holiday it is the best place to stay. The village is somewhat commercialised and offers plenty of restaurants, bars, and pubs for those who want to get out and enjoy themselves but has managed to hold onto its rustic charm at the same time. You may also want to take part in ice skating or a snow shoe trail to explore the beauty of the Stubai glacial area.
Who's it Best For?
Great for beginners and intermediates and of course anyone who has ever wanted to ski a glacier!
Neustift im Stubaital really is the epitome of the Austrian Tyrol. Its a pretty little village located in the Stubai valley and is a great resort if you want to experience glacier skiing at its best.
If you want a package deal here then check out the holiday deals we can get you through the UK's leading ski holiday operators. Or if you want to organsise your holiday yourself and want to find a great deal on flights, or simply a hotel room, we can also help.
Why Choose Neustift im Stubaital in Austria?
1. Short transfer, only 30 minutes from Innsbruck.
2. Great skiing for beginners and intermediates.
3. Good for families. Great ski schools, a good place to learn.
4. Very pretty village with excellent facilities.
Is It Right For You?
If you are sure Neustift im Stubaital is the right resort for you then check out the deals that we have on offer and get a great deal online.
Chalets can be a great option for a ski holiday. Many offer ski in ski out opportunities and come catered or uncatered. Some chalets are stand alone whilst others are more like small hotels that you share with others. Whatever you are looking for we can help you find it.
One group of people who will love this resort are those travelling with young children as this is the first Disney franchised resort in Europe. The family ski company Esprit has a base here so you can access some good family chalets and hotels through them.
Where to Stay
Neustift is the main village in the valley and the best place to stay if you are travelling with children as here you will find the nursery slopes as well as indoor tennis and swimming, curling, and a 9km toboggan run.
If you plan to ski the glacier all day every day and want to be nearer it then you should try and stay in Mutterberg. there isn't a lot there though, but if its glacier convenience you are looking for its perfect. Fulpmes is also a good place to stay, opening up access to the Schlick 2000 ski area.
Apartments have risen in popularity over the past few years. Many skiers and boarders were put off apartments as they remembered the horrible concrete blocks that blighted many purpose built French resorts.
But apartment blocks now are often modern loft style apartment complexes that have amazing shared facilities that would rival anything a hotel could offer. Some have wellness centres, swimming pools, spas and saunas. So when looking at accommodation, don't discount apartments, they can also work out a lot cheaper than a chalet.
Where To Stay in Neustift im Stubaital
Nuestift is the largest village in the valley and if you are travelling with children it is by far the best place to stay. Here you will find a good collection of apartments and hotels. For children the family skiing company Esprit is based here so you will have a good choice of family friendly accommodation.
If you want to be nearer the glacier then look at basing yourself in Mutterberg which is great for the skiing but there isn't much here. You could also look at staying in Fulpmes which opens up the Schlick 2000 ski area.
Hotels can be a great choice on a ski holiday. Many now offer great restaurants and bars as well as ski in ski out convenience.Across Austria you will also find that many hotels are still small family run affairs offering great service and local knowledge.
If you are travelling to the Stubai valley then Neustift is the main village to stay in. It's great for families as you will find that the family ski company Esprit are based here. If you want to be closer to the glacier then check out Mutterberg but there isn't much here. Alternatively Fulpmes is a pretty village to stay in and you get to ski the Schlick 2000 ski area.
What Hotels Are Available in Neustift?
If you want to be in the centre of where it is all happening check out the Spa Hotel Jagdhof which has a great spa and also a creche. For families also check out the Alpenhotel Tirolerhof which has good family accommodation and a nanny.
For those who want a spa and good pool head for the Sporthotel Neustift. If you do want to be near the glacier in Mutterberg check out the Alpensporthotel. We have also mentioned Fulpmes as a nice village to also base your self in, check out Sporthotel Cristall which is a really pretty hotel.
Innsbruck airport is the most convenient airport for the Austrian Tirol. It is only 25km from Neustift im Stubaital and 200km from Munich. One of the most cost effective ways to get to the resort from Innsbruck is to take the free ski bus (the Stubai Bus)which only takes 45 minutes.
From Munich airport there is also a shuttle bus called Four Season travel or you could simply take a train from Munich to Innsbruck(2 hour train journey), then the free bus onto Neustift. There are five Eurocity trains that leave each day from Munich to Innsbruck.
Taking the Train
Alternatively if you have the time you could take the Eurostar from London to Paris, get to Gare de l'Est and then catch a train onto Munich and then a train to Innsbruck. It does involve time and lots of train changes but perfectly possible.
Or you could hire a car from either Innsbruck or Munich. From Munich Airport Neustift is 223km along the A8 autobahn, onto the A12 Innsbruck autobahn. Not as cheap as the free ski bus but a car can give you the chance to further explore the area.
Compare Neustift im Stubaital ski schools and then book or reserve your ski and snowboard lessons before you arrive in resort! Reserve your spaces in group or private lessons in Neustift im Stubaital so saving yourself a lot of hassles!
Ski Schools in Neustift im Stubaital
Whether you want to have ski lessons or snowboard lessons, most Neustift im Stubaital ski schools offer a wide range of options including half day lessons, private or group lessons. Use GoSki.co.uk to find out more.