Heavenly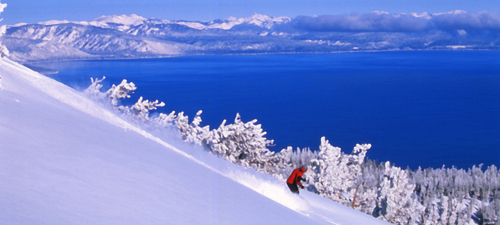 Read our ski resort guide to Heavenly and find out what everyone raves about. Get some spectacular views of Lake Tahoe whilst you're skiing & snowboarding in its largest ski resort. Whether you are a beginner or intermediate get on the slopes after just an hour's transfer from Reno airport.
Where
Adjacent to the Nevada desert, ski Heavenly in California for a family-friendly resort with stunning scenery and views of Lake Tahoe. The resort was bought by Vail Resorts in 2002 - so has had substantial investment. With the closest airports being Reno, Sacramento and San Francisco you are spoilt for choice. Offering good skiing and snowboarding for all standards, access is very easy from the airport.
resort ESSENTIALS
| | |
| --- | --- |
| RESORT ALTITUDE : | 1908 m |
| TOTAL PISTE : | 4800 km |
| LONGEST RUN : | 9.0 km |
| SEASON : | November - April |
WE LIKE
Spectacular setting, with amazing views of Lake Tahoe and Nevada. Relatively cheap by US standards
Offers a great range of skiing with something for everyone. Access to over 500 trails as part of the Lake Tahoe ski pass. Other ski resorts can easily be accessed as day trips.
One of the worlds leading resorts for snowboarders with terrain parks spread throughout the mountain.
WE DON'T LIKE
No trail back to South Lake Tahoe and there's quite a bit of 'flat' for boarders and skiers.
Apres ski here is not for traditionalists, if you dont like glitzy casinos this is not the place for you!
Can get very busy at weekends. It is also a sprawling town, not good if you like a compact resort
SUITABILITY RATINGS 1-5
On the Slopes
Ski Heavenly with great cruisy intermediate long runs and some more technical runs for boarders and skiers up in Mott Canyon and Killebrew Canyon, you get tree-lined slopes and lots of piste with 26 lifts covering the skiing area! Heavenly ski resort offers some great beginner and intermediate skiing with some excellent expert runs in the Canyons and four terrain parks. Ski schools and teachers are, as you would expect, also excellent.
Ski Area
If you ski Heavenly you are in the US State of California.
Off the Slopes
With visiters ranging from families to young party animals, Heavenly ski resort offers a complete range of facilities for non-skiers and those looking for off-piste activities. From shopping through to sledding or hot springs, the one thing lacking is a real alpine feel. Having said that it is a fun and lively resort that you should really enjoy your skiing holiday in. Families choose to return year after year thanks to value for money and good accommodation.
Who's it Best For?
Great trails for all levels. Snowboarders will love it here as there are so many terrain parks.
The skiing here is great for everyone and the scenery is pretty spectacular to . In addition to this you have other amazing ski resorts on your doorstep to explore including Squaw Valley, and Alpine Meadows.
If you want a holiday here then check out the great deals we can get you from leading ski holiday companies. Alternatively, if you just want to find out about accommodation read our guides and book a great chalet or apartment with us.
Why Choose Heavenly in USA
1. Amazing views of Lake Tahoe and Nevada.
2. Skiing and boarding to suit all levels.
3. Other world class resorts easily accessed from here.
4. Leading resort for snowboarders.
Is It Right For You?
If you think Heavenly is the right resort for you then check out the holidays that we have available. Or read our accommodation guides to find the perfect hotel room,apartment or chalet.
In terms of accommodation you have a number of choices here. The town of South Lake Tahoe straddles both California and Nevada. On the Nevada side are huge gambling hotels that you would expect. On the Californian side there are few buildings higher than two storeys but it isnt the prettiest place.
Check out the new pedestrianised village which sits at the bottom of the Heavenly gondola.Accommodation here is good and there is some apres ski. A lot of the accommodation on offer here is hotel or apartment based, so if you are looking for a pretty Swiss style ski chalet you may be disappointed.
Where to Stay Here
Try and stay as close as you can to the bottom of the gondola on the Californian side of the mountain. The accessibility to the skiing is great here.The Marriott Grand Residence is here and offers good apartments and suites.
Away from the lifts on a shuttle bus ride away is the Adler Inn in South Lake Tahoe which receives good reviews. Do accept if you are going to stay here that much of the accommodation is built for gamblers and not skiers!!
There is a range of accommodation on offer in Heavenly but most of it is centred on hotels and apartments. If you are looking for a pretty Swiss style chalet then you may be disappointed.
This area was originally built for gamblers and the accommodation tends to represent that. So whilst the scenery may be amazing some of the hotel/apartment buildings cannot be described in the same way.
Where to Look for an Apartment
This resort really does offer two very different sides so do choose wisely. On the Nevada side you will find large hotel complexes and condos that are glitzy and really built around the casinos, but still great for nightlife. On the California side it is quieter and certainly more laid back.
One of the best places to look for accommodation is around the base of the Heavenly gondola.The Marriott Grand Residence here has a good range of apartments on offer. If however you really want to experience the casinos check out the Embassy Suites.
Most of the accommodation in Heavenly was really built for gamblers in mind rather then skiers, so do bear this in mind when you are looking. A lot of the hotels and apartments here are built around the casinos and nightlife.
The accommodation here is really split between what is on offer the Nevada side and what is on offer in California. In Nevada the hotels are glitzy, huge and offer casinos, the California side is more sleepy and quiet.
What Type of Hotels are Available Here
One of the best places to stay here is in accommodation around the base of the Heavenly gondola. A good example of that is the Marriott Grand Residence which offers a good range of studios and apartments. This is more a traditional ski hotel complex that you may be used to.
If you don't mind having to get a shuttle bus every day then you may want to check out he Alder Inn in South Lake Tahoe which receives good reviews. In addition there are a good number of hotels and apartments in and around South Lake Tahoe.
The nearest International airports to Heavenly are Reno-Tahoe which is 88km away and Sacramento 177km away. Highway 50 connects to the ski resort so travel times are good. It will take you 75 minutes from Reno and 2 hours from Sacramento.
Train and Bus Connections
The Tahoe Casino Express train will take you from Reno Tahoe airport to South Lake Tahoe. There is then a free bus service that will take you throughout South Lake Tahoe and Nevada.
You could choose to drive all the way. Highway 50 is fast and convenient. Driving times from within the US are 8 hours from Los Angeles, 3 hours from San Francisco and 3 hours from San Jose.
If you want to take in more of the resorts in the Lake Tahoe ski area then a car would be good. There are shuttle bus services but these are not as plentiful midweek so hiring a car is always a good option.
Compare Heavenly ski schools and then book or reserve your ski and snowboard lessons before you arrive in resort! Reserve your spaces in group or private lessons in Heavenly so saving yourself a lot of hassles!
Ski Schools in Heavenly
Whether you want to have ski lessons or snowboard lessons, most Heavenly ski schools offer a wide range of options including half day lessons, private or group lessons. Use GoSki.co.uk to find out more.
Nearby Resorts
Nearby Airports
»

Reno/Tahoe (1h 19m)
»

Sacramento (2h 0m)