Klosters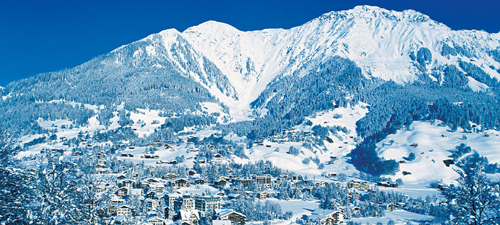 To ski Klosters means to potentially bump into the 'Royals'. With great skiing and snowboarding in Switzerland, this resort is one of the best in the Swiss Alps and you get a traditional Swiss mountain setting too. Read our resort guide for all you need to know.
Where
A place that's been welcoming British skiers since 1904, ski Klosters and you find ski holidays in this Swiss resort are steeped in history. A typical Swiss alpine village where farming is still serious business, the combined lift pass gives access to 6 ski areas with 55 lifts and cable cars, and over 307 km (192 miles) of piste. All accessible by road and air with ease.
resort ESSENTIALS
| | |
| --- | --- |
| RESORT ALTITUDE : | 1124 m |
| TOTAL PISTE : | 305 km |
| LONGEST RUN : | 12.0 km |
| SEASON : | November - April |
WE LIKE
Small pretty village with luxury accomodation, excellent for families.
Lots of accessible off-piste terrain to suit intermediates and experts.
Very extensive slopes, shared with Davos but Klosters benefits from getting more snow than Davos.
WE DON'T LIKE
Ski slopes are spread over five widely separated areas, so be ready to commute. Your children and other beginners will be in a ski area not connected to the main Parsenn.
Preponderance of T-bars, with lots of queues at peak times. Can also get very crowded during peak season.
Expensive resort and quite exclusive for the good properties.
SUITABILITY RATINGS 1-5
On the Slopes
With access to the Davos ski network, skiing and snowboarding in the Klosters ski resort means you share the Parsenn ski field. Klosters also has its own ski area, the Madrisa. There is good skiing for all abilities - snowboarders can enjoy Pischa (a dedicated free-ride mountain with 3 protected runs), while Madrisa and Rinerhorn are perfect for beginners and families with young children. Experts will enjoy Meierhofer Talli and Paresnnhutte-Wolfgang, or the steep off-piste challenges of Gotschnagrat.
Ski Area
If you ski Klosters you are in the Swiss ski region of Graubünden.
Off the Slopes
There are a great variety of restaurants, bars and nightclubs in Klosters, although evenings are a lot quieter than in other resorts. For those who enjoy eating out, there are some great restaurants both on- and off-snow, including the 2 Michelin-starred Walserhof. Off the slopes you'll find a sports centre, ice-skating, curling, ice hockey, sleigh rides and sled runs down the front of the Gotschna, plus some wonderful hiking trails and cross country ski tracks to allow you to explore the area.
Who's it Best For?
Great resort for families. Good off piste for intermediates and experts.
Klosters has a reputation as the resort for royalty but there is more to it than that. It offers really good skiing for all and has a great snow record. It also has lifts which connect you to nearby Davos.
If you are looking for a ski package here then check out the holidays we can offer you from leading UK ski holiday providers. Or if you are simply looking for accommodation then check out the chalets, apartments and hotels.
Why Choose Klosters in Switzerland?
1. Excellent for families.
2. Pretty village with good accommodation.
3. Extensive slopes, shared with Davos.
4. Great snow record.
Is It Right For You?
If you think that Klosters is good for you then check out the holidays we have. If it's just accommodation you are looking for check out our listings and book direct with the owners.
Chalets really do come in all shapes and sizes. They can be catered or uncatered and some offer ski in ski out whilst others are in the centre of a resort. Some you will need to book direct with the owners, others are owned and managed by ski chalet companies.
Like its neighbour Davos, Klosters is divided into two main areas-Klosters Platz and Klosters Dorf. Klosters Platz is very much in the centre of the village and Klosters Dorf is centred around the base of the Madrisa Gondola which has great nursery slopes.
Where Do I Look For a Ski Chalet?
Klosters has traditionally been the reserve of great hotels and apartments. But over the last few years more catered chalets are emerging and here you will find some amazing luxury chalets.
Klosters Ski Chalets are a company worth checking out with two chalets, they offer real luxury, in fact one of their chalets Chalet Bear has been voted one of the top ten chalets in Switzerland. If your budget doesn't stretch this far there are a number of more reasonably priced chalet style hotels.
Ski apartments have become more popular of late. They are often much cheaper than chalets and hotels and yet new apartment developments have great facilities including shared wellness centres and swimming pools.
When booking an apartment in Klosters do check your location as there are two very distinct areas. The first is Klosters Platz which is near the main railway station in the centre of the resort. Klosters Dorf is slightly further out by the Madrisa Gondola, there are great nursery slopes here.
Are Apartments a Good Idea?
In Klosters there are a good collection of hotels, apartments and luxury chalets. Apartments can work out slightly cheaper than other accommodation options. If cost is a real concern you could always check out the youth hostel-Soldanella which at the time of writing is 55CHF per night.
Apartments are not only good value for money. They can be a great idea for families travelling together or for large mixed groups If you book rooms in the same apartment block or in an apart hotel you will get more space and privacy than if you were all sharing the one chalet.
Hotels are still very popular amongst skiers and boarders. Often in great locations they can also offer great facilities and good restaurants. Many are still family run and offer exceptional levels of service. Some may also include picking you up and returning you to the airport.
Choose your location very carefully in Klosters as, like its famous neighbour, Davos there are two distinct areas. Klosters Platz is the place to head if you want to be in the centre of the shops and restaurants. Klosters Dorf is much quieter and is based around the Madrisa Gondola.
What Type of Hotels are Here?
Most of the hotels are centred around Klosters Platz. Smart hotels include Chesa Grischuna and the 4* Alpina which has a swimming pool. Another 4* is the Silvretta Parkhotel which has a wellness centre and a good children's club.
There are also smaller 3* hotels which are worth looking at as are many of the apartments. If budget is very tight then check out the youth hostel here, the Soldanella, which offers great value for money.
The best International airport to use is Zurich which is 154km away with a transfer time of only 2 hours. Geneva probably has a better choice of flights but is 434 km away and will take you 4 hours and 50 minutes getting to the resort.
Transferring from Zurich
You could take the train from Zurich to Klosters. You will need to make changes at Zurich Hauptbahnhof and Landquart. The journey though is only 2 hours and 10 minutes. trains do depart every hour. So well worth looking at although for many changing trains with ski equipment isn't much fun!
Alternatively you could hire a car and drive. The journey is pretty straightforward and most of it is on fast motorway(toll road). If you wanted to ditch the plane and drive the whole way then it would take you 8 hours 20 minutes from Paris and from London 12 hours and 45 minutes.
You could also hire a private taxi. Most take up to 8 passengers so can work out very cost effective. If you are not travelling in a group of 8 then opt for the 'shared service' deal where you share the taxi with others travelling to the same resort.Always pre book online before you leave home as it is cheaper.
Compare Klosters ski schools and then book or reserve your ski and snowboard lessons before you arrive in resort! Reserve your spaces in group or private lessons in Klosters so saving yourself a lot of hassles!
Ski Schools in Klosters
Whether you want to have ski lessons or snowboard lessons, most Klosters ski schools offer a wide range of options including half day lessons, private or group lessons. Use GoSki.co.uk to find out more.
Nearby Resorts
»

Davos (9km)
»

Lenzerheide (49km)

Nearby Airports
»

Friedrichshafen (1h 53m)
»

Zurich (1h 53m)
»

Bolzano (2h 44m)
»

Innsbruck (2h 14m)
»

Basel (2h 34m)