Selva Gardena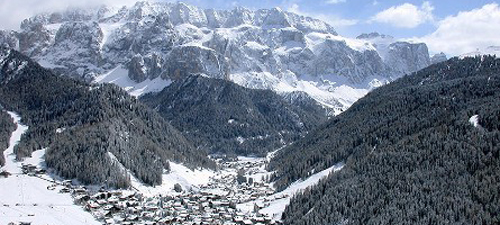 Selva Gardena combines two resorts and benefits from superb snow for skiing and snowboarding in Italy. With a short airport transfer and good pistes for all abilities - read our review.
Where?
Ski Selva Gardena for over 175 kms of local piste. Ski holidays in Selva Gardena have plenty of skiing for beginners, intermediates and experts. A family friendly place located in northern Italy close to the Austrian border, it is just 40kms from Bolzano airport, 190kms from Verona. Combined with the nearby resorts of Santa Cristina and Val Gardena, it forms part of the Sella Ronda circuit, with 175km of runs.
resort ESSENTIALS
| | |
| --- | --- |
| RESORT ALTITUDE : | 1570 m |
| TOTAL PISTE : | 175 km |
| LONGEST RUN : | 5.0 km |
| SEASON : | December - April |
WE LIKE
Great resort for intermediates. Good for families, family ski company Esprit are here.
A big ski area with a highly efficient lift system and great snowmaking coverage.
Amazing scenery and excellent mountain restaurants. Good choice of accommodation.
WE DON'T LIKE
Pistes and lifts can get very crowded. A lot of accommodation is also away from the lifts.
For experienced and expert skiers or boarders there are few challenges on piste, you may do better to head to Arabba.
The village is traditional and charming - but it has a busy road right through the middle. It is also a sprawling resort.
SUITABILITY RATINGS 1-5
On the Slopes
Great for families or expert skiers, ski Selva Gardena for a ski holiday that has something for everyone. Intermediates will find plenty of good cruising to keep them busy, with over 150 kms of red and blue runs. Experts should head to Arabba for the challenges they crave, or else find a good local guide and explore the extensive off-piste domain. This is also an incredible area for cross-country skiing, with an amazing 98kms of cross-country runs, including some really testing terrain.
Ski Area
If you ski Selva Gardena you are in the Sella Ronda ski area and also in the larger ski region of Dolomiti Superski.
Off the Slopes
This is both an excellent family base, and a lively après-ski area. Restaurant choices will please those on a budget as well as the foodies, while after dark the place comes alive, with loads of bars and clubs. Popular choices include Saltas Bar, Luisl Keller and La Bula, while for dancing you can head to the Dali disco. Away from the slopes there's plenty to enjoy including bowling, billiards, indoor tennis, squash, skating, and even a hot spring pool.
Who's It Best For?
Great skiing for intermediates and it's very well set up here for families.
Selva Gardena is set in stunning Dolomite scenery and offers excellent skiing for intermediates in particular and also families. Family ski specialists operate here and there are good package deals available.
If you are looking for a cheap package deal then check out the holidays we have available. If however you are an independent traveller and you are looking simply for a chalet or a hotel room check out our accommodation listings,compare facilities and book a great online deal.
Why Choose Selva Gardena in Italy?
1. Great if you are an intermediate.
2. Good resort for families with specialist family ski companies here.
3. Amazing Dolomite scenery which will simply amaze you.
4. Part of a large accessible ski area.
Is It Right for You?
If you are sure that Selva Gardena is the right resort for you then check out the deals we have and book today. Alternatively, check out the accommodation on offer and book direct with the owners.
If you are tired of skiing in rather tired looking, purpose built resorts then Selva Gardena could be perfect for you. The scenery is absolutely stunning, the skiing is good and families will love it.
There is a good range of accommodation here with hotels, apartments and chalets. Family ski specialists like Esprit Ski run good package deals here with accommodation well suited to families,with a lot of nursery slopes on your doorstep.
Where Should I Look For a Chalet?
One of the down sides of Selva Gardena is that it is quite a long resort so if you are not careful you could find yourself quite a way from the lifts. And as there is no free shuttle bus to the lifts you could end up with a long walk. If you are a beginner look at staying near the north eastern edge of town.
For more experienced skiers look at chalets near the Ciampinoi Gondola. It is busier here as you are near quite a busy road but you will access great slopes very quickly.
Ski apartments have improved hugely over the past few years. Gone are the concrete monstrosities, apartments now are often beautiful architecturally designed buildings, which blend in with their surroundings.
In addition, modern apartments often have facilities that would rival any hotel or chalet. Many come with swimming pools and wellness centres and in some resorts they even have restaurants.
In Selva Gardena there are a good choice of apartments, hotels and chalets. When booking accommodation do remember that this resort is very long and as there is no free bus shuttle service around the resort you could be left with a long walk.
Where to Look For An Apartment Here
If you are a beginner look for an apartment at the north eastern end of town. If you are a more experienced skier then stay near the Ciampinoi Gondola. It is busy here but you will access the best slopes very quickly.
If you have decided to ski in Selva Gardena this winter and are looking for a hotel you have come to the right place. The quality of hotels is very good here. The key challenge when booking accommodation here is to choose the right part of Selva Gardena.
Selva Gardena is a very long resort and as there is no free shuttle bus here you need to be in the right place or you will have a long walk. Beginners should aim to be in a hotel in the north eastern edge of town. More experienced skiers should head to the Ciampinoi Gondola.
What Type of Hotels Are Here
Beginners should check out the 4* Arcadia which is near the nursery slopes. Another one is the Biancaneve which has a good pool. If you are travelling with children do check out the Esprit family ski company.
More experienced skiers wanting to be near the Ciampinoi Gondola should look at hotels that include the Aaritz Hotel and the 3*Hotel Linder. If you do choose to stay in a hotel further out do check that the hotel has its own free shuttle service to the lifts.
Selva Gardena is situated in the Val Gardena region, nestling in the most amazing scenery behind the mountains of Sasslungo and Puez. The nearest airports are Bolzano which is only 40km away, Innsbruck, 120km away, Treviso Airport, 170km away and finally Milan Airport, 300km away.
Driving to Selva Gardena
Driving is quite straightforward. The best way to reach Selva Gardena is by following the Brenner Motorway. If travelling from the south, follow the Verona-Trento-Bolzano route and, if arriving from the north, take the Innsbruck-Brennero-Chiusa route.
Taking a train is also an option. The nearest stations are Bressanone and Bolzano. Shuttle buses operate from both stations to the resort. The stations have good connections from Munich and Innsbruck.
Another option is to hire a private taxi which if there are 8 of you sharing the cost it can be quite cost effective. If you are not in a large party then opt for the 'shared service' option where you travel with others heading for the same resort.
Compare Selva Gardena ski schools and then book or reserve your ski and snowboard lessons before you arrive in resort! Reserve your spaces in group or private lessons in Selva Gardena so saving yourself a lot of hassles!
Ski Schools in Selva Gardena
Whether you want to have ski lessons or snowboard lessons, most Selva Gardena ski schools offer a wide range of options including half day lessons, private or group lessons. Use GoSki.co.uk to find out more.
Nearby Resorts
»

Val Gardena (0km)
»

Ortisei (9km)
»

Santa Cristina (9km)
»

Corvara (19km)
»

Val di Fassa (20km)
»

Canazei di Fassa (22km)
»

Campitello di Fassa (26km)
»

Arabba (31km)