Ski resorts in Quebec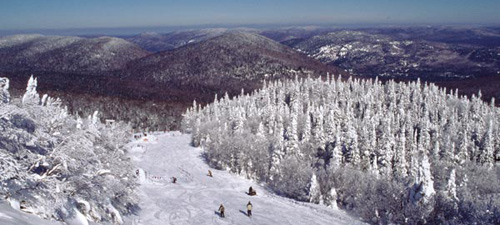 The ski resorts in Quebec offer some of the best skiing conditions east of the Rockies. Many resorts are just 30 minutes from Quebec City, making it easy to combine a skiing and snowboarding holiday with a city break. The mountains may be smaller than those in the west of the country, but Quebec ski resorts are popular with visitors from the UK because of the shorter flight time.
Ski holidays in Quebec give you the chance to experience the region's distinct French Canadian culture, which is steeped in history. You can also sample some great French cuisine. Quebec ski resorts offer everything from family restaurants to intimate bistros.
Visiting Quebec
There are plenty of things to do away from the slopes, such as snow rafting, dog sledding, ice-skating and hiking.
The ski resorts in Quebec range from fairly small to very big. Larger resorts, such as Le Massif and Mont Sainte Anne, have excellent facilities and cater for every level of skier and snowboarder. Ski schools are of a very high standard and some resorts even have childcare facilities.For the more adventurous, night skiing and heli-skiing are popular.
There are three main skiing areas, which are the Laurentians (Laurentides) northwest of Montreal, the Quebec City area and the Eastern Townships. There are about 40 resorts, of all sizes.
Accommodation is mainly provided in hotels, condos, chalets and lodges, which are all well-maintained and spacious. The resort at Mont Tremblant has a ski-in ski-out village, which may be useful when going on holiday with children.Because there are so many resorts within easy reach of Quebec City, many people choose to base themselves in the city and visit a variety of resorts.
Resort Name
Low Altitude
High Altitude
Vertical Drop
Longest Run
Easy
Intermediate
Advanced
Expert/Extreme
Skiing
Boarding
Après
Families
Overall
Bromont
180 m
565 m
385 m
3.0 km
11
16
11
8
Burlington

(1h 13m)

Montreal

(1h 54m)

Charlevoix
36 m
806 m
770 m
5.0 km
12
19
18
7
Le Massif
36 m
806 m
770 m
4.0 km
12
19
18
7
Mont-Sainte-Anne
175 m
800 m
625 m
2.0 km
16
30
12
9
Stoneham
212 m
632 m
420 m
3.0 km
11
8
14
6
Montreal

(3h 29m)

Tremblant
265 m
875 m
610 m
6.0 km
16
31
37
11
Montreal

(1h 49m)

Burlington

(3h 28m)
Other Ski Areas in Canada