Tremblant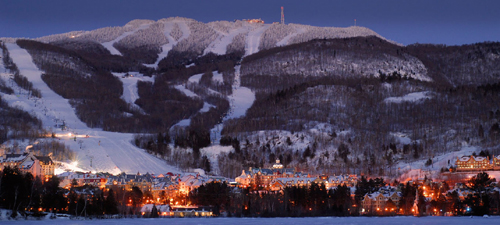 Read our resort guide to Tremblant and discover groomed slopes, an award-winning lift system, a traditional village and great snow. This Eastern Canadian destination offers great skiing and snowboarding with some French touches - like great cuisine.

Where
Ski Tremblant in Canada and start with your flight to Montreal followed by a 90 minute transfer to this pretty village set in the trees. As the largest ski resort in Quebec and Eastern Canada, you get a traffic free resort and easy access to everything. Great for skiers, boarders and families, it's a favourite with Europeans visiting Canada.
resort ESSENTIALS
| | |
| --- | --- |
| RESORT ALTITUDE : | 265 m |
| TOTAL PISTE : | 80 km |
| LONGEST RUN : | 6.0 km |
| SEASON : | December - April |
WE LIKE
Easily accessible resort as it sits on the east coast, ski Canada without the long haul! Traditional, pretty, traffic free resort, popular with families. Lots of ski in ski out accomodation.
One of the largest snowboarding areas in Canada, offers the biggest half pipe in Canada.
Great variety of runs, good for intermediates, great grooming on wide tree lined runs.
WE DON'T LIKE
Ski area is limited in size although future development is planned.
Can be perishingly cold in midwinter - so make sure you bring thermals.
Weekend queues and overcrowding - as people flood out of Montreal (only 90 minutes away) for some piste!
SUITABILITY RATINGS 1-5
On the Slopes
Ski Tremblant for a very user friendly resort in the Laurentian Mountains, characterised by well-groomed slopes which are perfect for beginners. As you move onto intermediate and advanced runs, you are looking at tree-lined slopes that cover over 80km of runs and 600 acres of mountain side. Not as snow-sure as some resorts, Tremblant ski resort however has great snow cannon coverage to ensure you get your skiing in.

If you like the greens trails you will love it here as on this mountain you can ski entirely on novice runs. As an intermediate to expert, you can enjoy the off-piste terrain in the woods - awesome with some fresh snow. Finally, thanks to the tree line, even if the weather does close in you can keep skiing and boarding.
Ski Area
If you ski Tremblant you are in the ski area of Quebec.
Off the Slopes
Alongside the old Mont Tremblant village is a purpose-built convenience. With a dedicated activity centre offering dog sledding, horse riding and walking, there is also a large water park, perfect for family entertainment. Non-skiers also get the pleasure of French cuisine and some great restaurants and cafes to wile away the hours. Good childcare facilities, as well as good ski schools, make this an excellent choice for family skiing holidays.
Who's it Best For?
Great for intermediates and families. Snowboarders will also love it, it has one of the largest snowboarding areas in Canada.
Tremblant sits in the French speaking province of Quebec. It has a very charming feel to it and offers good skiing for all levels. Families will also love it here as it's only 90 minutes from Montreal.
If you are looking for a ski holiday here then check out the packages that are available. Or, if you are going it alone and you want information on accommodation and the chance to book a great hotel room, check out all our accommodation listings.
Why Choose Tremblant in Canada?
1. Lots of ski in ski out accommodation
2. No long haul as it sits on the east coast.
3. Great for snowboarders, the biggest half pipe in Canada.
4. Good with families.
Is It Right For You?
If you think Tremblant is right for you then book a holiday today. Or check out all the accommodation listings we have and book a great hotel or apartment.
If you have skied a lot in Europe over the past few years then you will be used to accommodation that includes chalets, hotels and apartments. In North America you will also comes across motel style set ups and also condos (apartment style accommodation).
When booking accommodation in Tremblant do check the address out very carefully as some providers will say they are Trembalnt when they are outside the resort and a shuttle bus ride away. Places like this include Domaine du Diable and Domaine du Geant.
Ski Chalets Here
There are a good range of hotels, apartments and chalets here. As far as chalets are concerned you will also find them referred to as log cabins. We found a number of providers online.
These include Tremblant Mountain Chalets who provide a good number of chalets and cabins. On the north side of Mont Tremblant is Vacation Tremblant who also have a good number of chalets, some with spas. Tremblant Living also supply chalets with hot tubs and even semi private pools so check them out.
Ski accommodation in Tremblant includes chalets, hotels and apartments(often referred to as condos) and also motel style rooms. When booking accommodation here do check out the addresses very carefully. Some listings say they are in Tremblant when they are actually a shuttle bus ride away.
Addresses to beware of include Domaine du Diable, Domaine du Geant and Domaine Nansen. Ville de Mont Tremblant is also a good 4km away! L'Ermitage du Lac on the other hand is close to the main lifts and offers rooms with good kitchen facilities, so well worth looking at.
In addition, there is also the Marriott Residence Inn which is right in the heart of Tremblant itself, they offer a good range of rooms with well equipped kitchens. So there are a good range of apartments style buildings here, some with better facilities than others.
Are Apartments a Good Idea?
Overall they can work out a little cheaper than a chalet or hotel. In addition if you are travelling with children the chance to self cater can come in very useful. Many modern apartments blocks can also offer great facilities including swimming pools, restaurants and even spas.
Accommodation in Tremblant is mostly hotels, chalets and apartments, often referred to as condos. There is a good range of quality accommodation on offer here, so you should find what you are looking for.
Do check your accommodation address very well though as some providers will say they are in Tremblant when actually they are a shuttle bus ride away. This includes hotels in Domaine du Diable, Domaine du Geant and Domaine Nansen.
What Type of Hotels Are On Offer Here?
A good 5* hotel is the Fairmont Tremblant which sits in the heart of the village, they also offer connecting rooms which is great for families. Another really comfortable hotel is Le Westin Resort & Spa, again right in the heart of the resort. This hotel has a great spa and saltwater pool.
Also, check out the apartment rooms available in the resort particularly if you are travelling with children. In addition there are also a good number of chalet companies here including Tremblant Mountain Chalets, Vacation Tremblant and Tremblant Living.
The nearest airport to Tremblant is Mont Tremblant International Airport. You will need to get connecting flights from places like Toronto (the flight transfer from here is 70 minutes) or Newark (flight transfer time 90 minutes).
By Car
Rather than fly you could always drive from Toronto. The drive is virtually a Canadian highway all the way so driving conditions are good. It will take about 7 hours driving from Toronto. From New York the journey is about 8 hours. You could also consider driving from Boston, this drive is about 8 hours. Do remember if you choose to drive you will still need a valid passport for the border crossing.
From Mont Tremblant airport there is a shuttle bus you could take which will get you into the resort in 45 minutes. Some hotels are involved in a scheme whereby you get a luggage valet service, so do check with your hotel.
You could also get a taxi or even a private limo from the airport! This can work out a good option if there is a group of you travelling together. The journey is short at 45 minutes so costs are very reasonable.
Compare Tremblant ski schools and then book or reserve your ski and snowboard lessons before you arrive in resort! Reserve your spaces in group or private lessons in Tremblant so saving yourself a lot of hassles!
Ski Schools in Tremblant
Whether you want to have ski lessons or snowboard lessons, most Tremblant ski schools offer a wide range of options including half day lessons, private or group lessons. Use GoSki.co.uk to find out more.